It's not every day that veterinarians have to operate on a 300-pound grizzly bear, but that's just what Colorado State University doctors had to do this week in attempt to give 7-year-old "Marley" a new chance at life.
Last month, Marley was rescued, along with 16 other bears, from a "foreclosed bear park" in Georgia where the animals were kept in cramped concrete pits as a roadside zoo attraction and fed apples and bread by tourists, according to a CSU press release.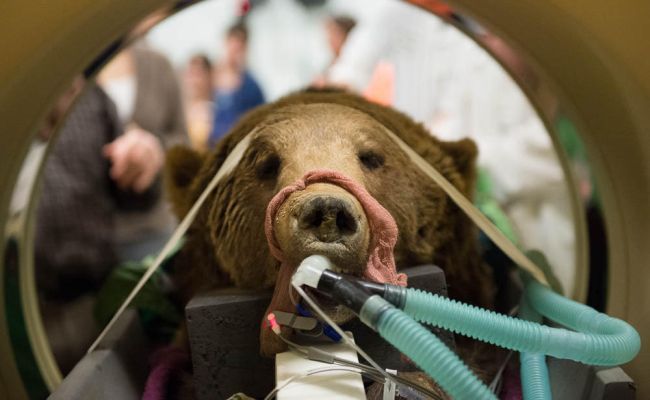 CT imaging helps CSU veterinarians determine how to treat Marley, a 7-year-old grizzly and Syrian brown bear mix. (Photo: CSU)
Marley was taken to CSU's Veterinary Teaching Hospital where vets found that the bear had two forelimb fractures, both more than a month old and one badly infected.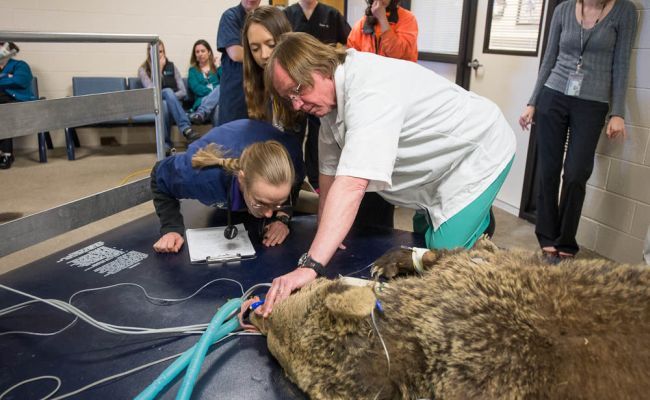 Dr. Terry Campbell discusses anesthesia with veterinary students as the grizzly bear visits the CSU Veterinary Teaching Hospital. (Photo: CSU)
"A draining, open fracture on a bear is anything but ideal, and we will need to surgically treat it immediately," said Dr. Terry Campbell, CSU veterinarian who specializes in treating wildlife and exotic animals in a statement.
Dr. Felix Duerr, a small-animal orthopedic surgery specialist, and Dr. Jeremiah Easley, an equine orthopedic surgeon, together performed a successful surgery on Marley Tuesday morning. Watch the amazing surgery in the video above.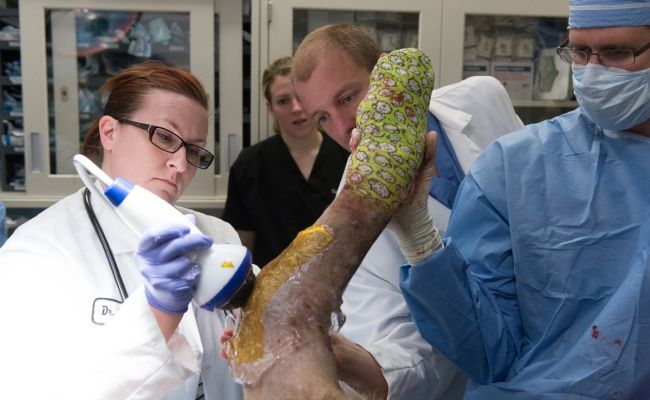 Drs. Jeremiah Easley, an equine orthopedic surgeon, and Felix Duerr, a small animal orthopedic surgeon, cooperate on the procedure to promote complete healing of Marley's front legs. (Photo: CSU)
By Tuesday afternoon Marley was already recovering, and CSU vets hope that she will have a greatly improved quality of life and live for another 20 years.
For CSU's veterinary students, Marley's case was nothing short of a thrill.
"This is the most exciting case I've been part of during my two years of clinical rotations in veterinary school," said vet student Barr Hadar. "That's what interests me in veterinary medicine. You never know what you're going to get."
REAL LIFE. REAL NEWS. REAL VOICES.
Help us tell more of the stories that matter from voices that too often remain unheard.
BEFORE YOU GO
PHOTO GALLERY
Animals In The News