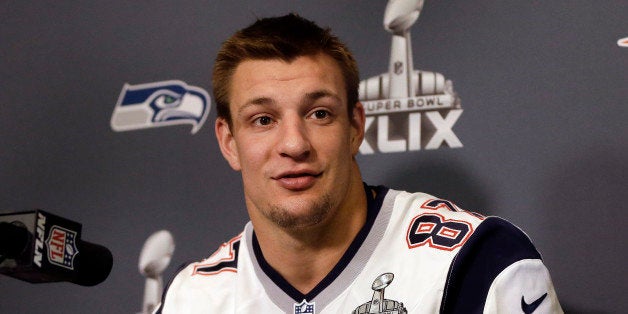 Appearing on Showtime's Jim Rome Show on Wednesday, the football player made some jokes about whether he would prefer a concussion or knee injury. The tight end acknowledged that while a concussion may keep him out of play for a time period, a torn ACL could potentially end a season.
Here's his exchange with Rome (which elicited much laughter from the audience):
Gronkowski: So, if we're sitting here and I had to choose, would I take a concussion right now or would I want my knee blown out, I'm gonna say a concussion.

Rome: Still?

Gronkowski: Yeah. Why would I want to sit there for eight months and not do anything when, with a concussion, I'll just wake up and I'll be ready to go again.

Rome: But what if, for instance, as a result of that concussion or more, you're 50, and all of a sudden, like some of these guys, you get on a plane and you can't remember where you're going, or you're driving around a neighborhood that you've been in a million times and you can't remember how to get home?

Gronkowski: That happens all the time. I mean I don't even know how I got to my hotel last night.
ESPN's Colin Cowherd expressed similar views on his program on Wednesday, according to SportsGrid.
The host also said that he would take two or three concussions before a severe knee injury, but drew the line at four.
While the NFL has faced a lot of questions and concerns over the safety of the sport, and many have said there is a link, questions remain about the exact effects of repetitive brain trauma. However, some players, such as Chris Borland, have left the league, not wanting to take the risk.
The NFL doesn't have a set timeframe for players to return to the field after a concussion. On its website, the leagues says that's because each concussion is different. The decision as to whether a player can return to a game or practice is left to each team's head physician, but must also be confirmed by an independent neurological consultant.
For many players, the health risks associated with the game are just part of the package. Late in 2014, Chris Conte, who at the time was a safety for the Chicago Bears, told a radio station that playing in the league was worth possibly shortening his lifespan.
Related
Popular in the Community