At his very own wedding, this groom busted out his cell phone while at the altar, and put the ceremony on hold so that he could post a status update to Twitter and Facebook.
When Dana Hanna surprises his bride, Tracy Page, by taking out his phone, the pastor informs the congregation, "Dana is updating his relationship status on Facebook."
"It's official on Facebook, it's official in my book," the priest jokes when the groom finishes typing.
According to TechCrunch, here's the Tweet the groom sent out: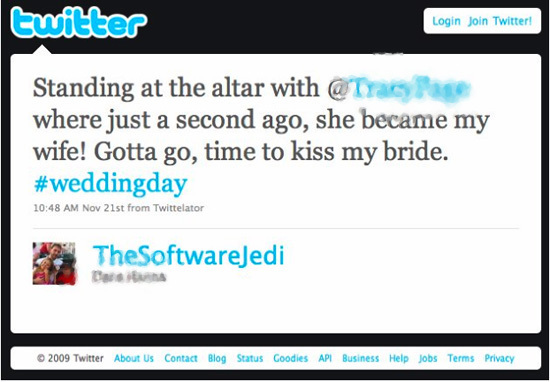 TechCrunch also reports the groom's explanation for what happened:
I surprised not only my guests, but also Tracy by pulling out my phone and posting on Facebook and Twitter from the altar during out wedding. I had her phone ready in my pocket, so when she asked for it I could hand it to her. No one knew about this except the minister, and myself.
Dana Hanna also told HuffPostTech, in an email:
My wife and I are very technology centric, and have been Facebooking and Twittering a lot to keep in touch with our very large families scattered across the USA. In fact, when we got engaged, we changed our Facebook statuses and didn't even call anyone since the word would spread on Facebook far faster than it would have over the phone calling all hundreds of our friends and family. After doing that, we received a lot of laughs, and some minor critisism from family whom were insulted that we couldn't even pick up the phone to call them.
See the Twittering, Facebooking groom for yourself in the video below.
WATCH:
Popular in the Community