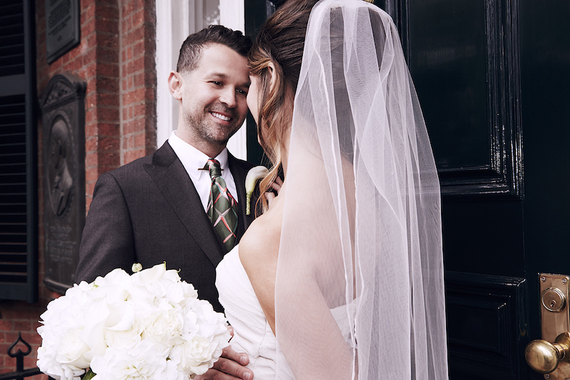 Written from Victor's 2Sense
A wedding suit or tuxedo can be an afterthought or a decision that rivals any fashion peak one might endeavor. I chose the former, having a suit custom made for my October 2014 wedding in downtown Boston. The "bespoke" experience transcended my usual purchase satisfaction. The goal was realized in Los Angeles via a legendary tailor, High Society. Tucked away in Koreatown, the menswear experts are headed by Mr. (Richard) Lim and protege Sunny Choi. Since 1968, Mr. Lim embraced the meticulous practice of what is known as bespoke tailoring. Key points distinguish the distinctive style born out of London's Savile Row (the "Golden mile of tailoring"). The individually patterned and crafted suits liken to women's "haute couture" rather than mass-manufactured ready-to-wear (aka, off-the-rack). In other words, no glue or one size-fits-all pieces that has overwhelmed the precise art of custom suit creation. High Society adheres to the quality demanded, serving Hollywood stars and productions, and political dignitaries throughout its 40-plus years.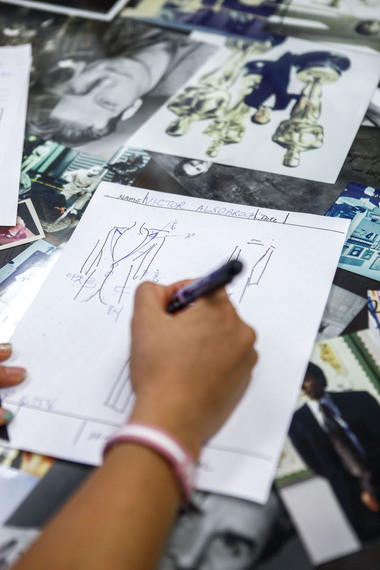 Even with online outlets now able to create "made-to-fit" suits, bespoke's painstakingly handcraft and care surpasses. The unparalleled degree of customization and intimacy bears from the integral involvement of the client, from opinion to adjustments to unending individualism. Online purchasing and savings can substitute for so many items in life, but such care and personal tailoring from a dedicated expert and team should--and must be--experienced at least once. And similar to other seasoned vets spanning generations, Mr. Lim not only mastered his craft, he built upon it. For instance, he developed sizing improvements upon traditions that resulted in more readily covering your back, torso curves and arm angles. The initial fitting leads to a necessary refit that guarantees precision.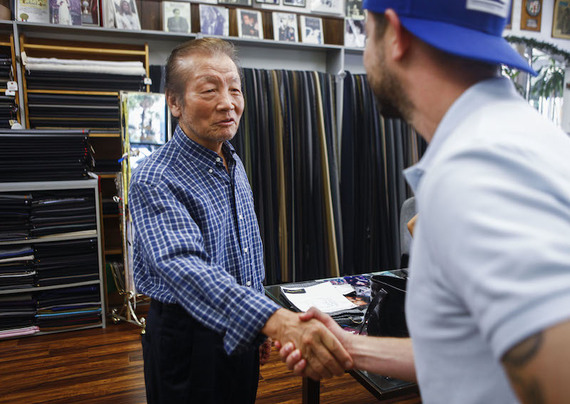 Walking into the shop and suit manufacturing space (yes, all male Korean tailors in-house) on Wilshire, you quickly realize the breadth of Mr. Lim's skill and experience. All the suits and clothing from Brad Pitt and Angelina Jolie's "Mr. and Mrs. Smith" came from Mr. Lim. And, on the shop's headless mannequin hangs Ryan Gosling's scorpion jacket for the movie "Drive". Kobe Bryant and a handwritten note from the cast of Showtime's "True Blood" sit proudly amongst droves of impressive client photos.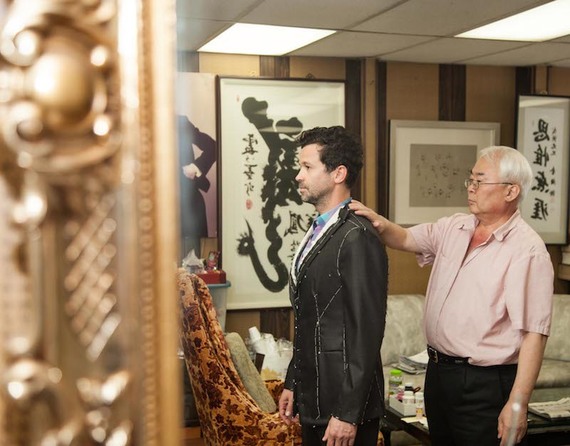 Walking in knowing what I wanted and my direction, I felt confident and comfortable from the start. How I got buzzed in the door? That's where the stylist comes in. How to get the suit made. Where to find shoes (John Varvatos). What fabric and cut, along with finding the best spend for each and every cent of my budget... All of this was taken care of by my stylist. Hailing from a musician and new media background, Chandra Dyani was just what I needed as I shunned a traditional tux. For her eight plus years in the fashion business, she styled and worked with the likes of punk rock icon, Iggy Pop, and travels the world for various projects. Chandra's first stop, the most important, took us to Mr. Lim...She obviously knew what she was doing, no matter the occasion.
Employing esteemed Loro Piana fabric, the coat expressed a chocolate brown with hints of charcoal while the vest boasted pin stripes and a sheer brown tone throughout. With the formality of our evening wedding at The Prescott House on Boston's Beacon Hill, we made sure the suit took on a formal feel. Thus, peaked lapels for the suit coat with a card pocket for contrast and a crisp white dress shirt. On the wedding day, I secured my French cuffs with my father's gold cufflinks. Chandra pushed the inclusion of an ascot to add body and accentuate formal presentation. I sealed the scarf with a 1920's inspired collar bar.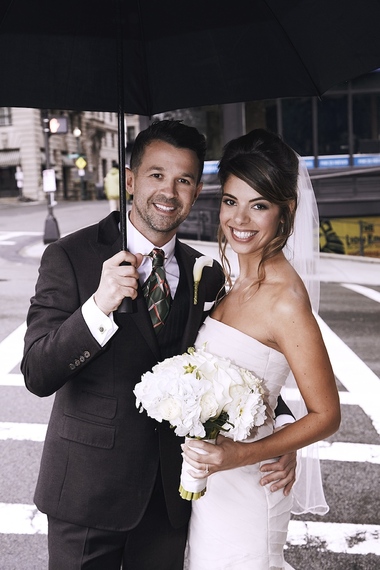 I did not outshine my beautiful bride by any means. I like to think I kept pace with Mary, who wore a White by Vera Wang gown and a veil hand-sewn by her mother. Furthermore, I will wear my suit proudly again, styling it in different ways per occasion. Whether a wedding or important event, you should look to do so too.