Written By: Charlotte Barber and Jack Healey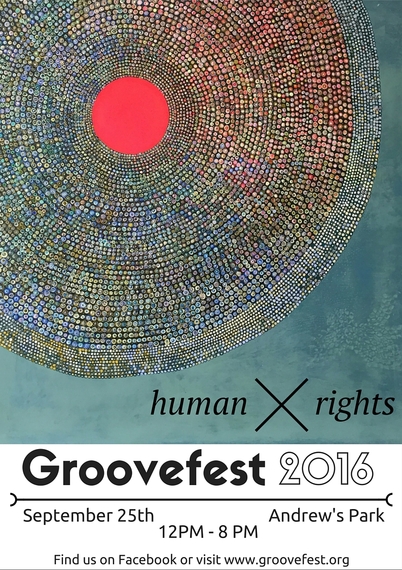 If I told you that the longest running human rights event in the world is held in the same state that just two years ago participated in what can only be described as the state-sanctioned torture and gruesomely failed execution of Clayton Lockett, would you believe me?
30 years ago, a group of young people in Norman, Oklahoma, decided to set up their own human rights chapter of Amnesty International at the University of Oklahoma. They had just watched the power and success of Amnesty International's six-city Conspiracy of Hope Tour produced by Bill Graham and myself, that featured artists such as U-2, The Police, Peter Gabriel, Miles Davis, Bryan Adams, The Neville Brothers and countless more. Feeling inspired the students set up an Amnesty International chapter and started brainstorming how they could start their own music festival for human rights. Little did they know that in the fall of 1986 they would create one of the longest running human rights events in the world - in none other than Norman, Oklahoma.
Norman, a city about 20 miles south of downtown Oklahoma City, can only be described as one of the reddest of the red cities in the United States. But miraculously, on the last Sunday of every September for the past 30 years, hundreds, even thousands, gather at Andrews Park in the name of human rights.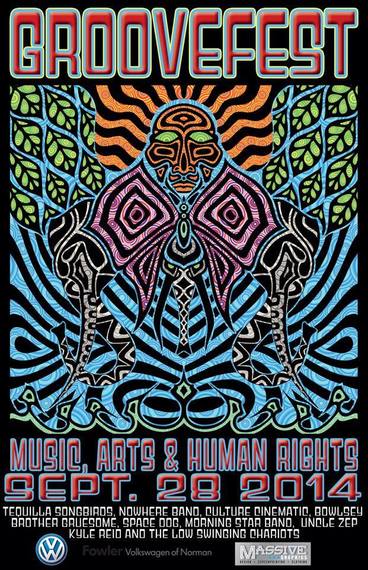 Called Groovefest, it addresses various human rights issues each year; anti-death penalty, institutional racism, Burma and Aung San Suu Kyi, anti-black violence, police brutality, political prisoners, trans rights, queer rights, the list goes on. Each year is thematic and topical to the causes of amnesty and the activists of the world. Groovefest shows deep commitment to human rights and the ever-changing understanding of how they relate to the intersecting systems of oppression and power. The festival uses a human rights framework to provide a fun and accessible platform for learning, collaborating and growing human rights activism from the local to global level. It does all this while being held in the 85% white, majority republican city of Norman.
The original founders and leaders of Groovfest, Mike Johns, David Slemmons, Tom Decker and Alan Hailey described Groovefest as "energizing." Hailey explained, "For all of us liberals, here was this opportunity to have a voice - not only what was happening internationally with human rights, but also what was happening in the United States."
That's not to say that Groovefest hasn't faced its challenges over the years. In 1994, the owner of a bar on Campus Corner approached the young activists. He offered to be the Promoter and pay for all costs, if Groovefest was held at Campus Corner on Liberty Drive. According to Michael Johns, "it didn't take long for us to think about that."
The Promoter paid for everything and even agreed that if Groovefest made any profit, it would go straight to Amnesty International. If right about now you're thinking that this sounds too good to be true, you're right. During the day of Groovefest, the Promoter and Amnesty International Chair went around the festival and collected money. But the next day, the worst had happened; the Promoter and all the money were gone. I asked Mike Johns what they did when they discovered everything was gone; his response, "that didn't stop us and it didn't stop the students."
The anger and disappointment from their experience with the promoter became their fire and drive. The organizers responded by expanding the work even further. They became focused on the issue of the death penalty in Oklahoma. Two men who wrote for an Oklahoma State Penitentiary prison newspaper began corresponding with Johns and the other students. The two men provided insights into prison life and the tangible consequences of the prison industrial complex. The students told the men about Norman, Groovefest and their activism. Eventually, their correspondence led to discussion of how the incarcerated men could get involved with human rights work. The student activists immediately knew what they should do. Mike Johns went to me and said, "Jack, you are going to go talk to a prison."
At the prison I spoke to over 70 incarcerated men. I spoke to them about his past, the reasons why human rights are so important and how they could get involved. After the speech, one of the men who wrote for the prison newspaper interviewed me. To this day, it was one of the best interviews of my life. I got to connect with people that had been denied human connection for years, even decades. I particularly connected with one inmate on death row. His name was Scotty Lee Moore and he had been in prison for around 10 years. The two of us became pen pals. Moore was interested in the work of Dr. King and Mandela; he wanted to learn about "the people who did a lot in their life." So, I would send Moore the writings of great activists and we would talk about human rights, the world and what change needed to come. As with most death-row-pen-pals however, our friendship could only last so long. Eventually, Moore was executed by lethal injection on June 3, 1999 after exhausting all appeals.
Although the death penalty has been a major subject throughout the years, another unique quality of Groovefest is the diversity of causes, speakers and activist-groups that participate. When looking through all the different groups that have attended Groovefest, I challenge you to find a human rights cause that hasn't participated. The multiplicity of organizations reveals the intersectional approach to human rights that Groovefest provides. Just this year, Groovefest is hosting organizations that represent Black Lives Matter, reproductive justice, anti-fracking, anti-death penalty, Indigenous activists, a primate sanctuary, pro-voting, medical marijuana legalization, women and gender studies, and environmental justice.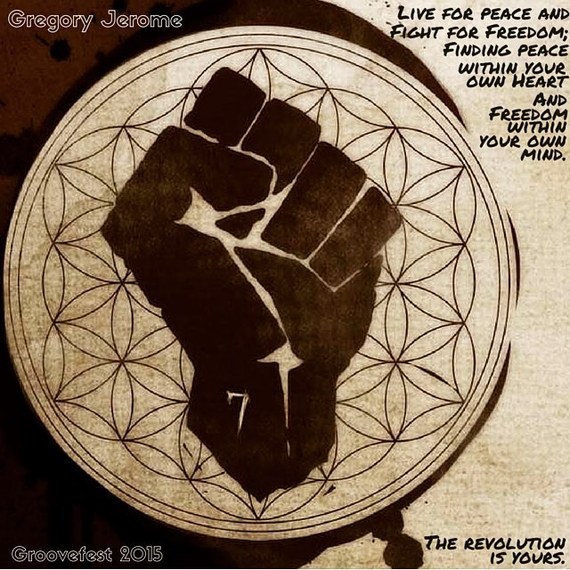 To say the least, it's surprising to witness all the factions of human rights work that are present at Groovefest. You can't help but wonder how Groovefest managed to pull together so many old, new and ever-changing causes. However, Johns says its really quite simple to understand; Groovefest is so diverse in causes because "it's run by the community." Groovefest purely reflects all the people of Norman and the things they care about. The power in the community of Groovefest is made clear when hearing about the actual days of Groovefest. The festival's structure is simple; musicians perform, but before each performance someone gets up and speaks to the crowd about human rights. This helps people understand how much the event matters and what genuine impact it has on the world. Along with the music, the organizations and non-profits set up booths; handing out information, gathering members, joining together. Artists, musicians, activists and families gather, listen to music and fight for human rights. Notably, Oklahoma artists and musical talent have been the source of power and unity for Groovefest. Those artists and bands create the spirit that bonds Groovefest together; something that can only be described as truly powerful and profound, something a simple 'thank you' cannot justly requite. I asked Allen Hailey why he thinks music and activism are such a powerful combination; he told me, "When you are fighting and trying to change a system, music can be something that provides a story for what you're fighting for."
When I first told my intern that the longest running human rights event was a festival in Norman, Oklahoma, she said that her first assumption was that Groovefest would be an event that was radical for Oklahoma but rather modest compared to what she was used to. She explained, "I am from Los Angeles, I am in my early twenties, I go to a traditionally all-women's college and to top it off, I am majoring in the Study of Women and Gender. As you can imagine, I'm constantly surrounded by some of the most radical, liberal activists there are. But Groovefest is truly a festival that defies all odds; because even in Norman, even when there are people actively working to make them fail, Groovefest brings together the most radical ideas and puts them in conversation."
Groovefest presents the beauty and power of human rights, and the people who work everyday to protect them. Groovefest isn't just important because it is the longest running human rights event, it's also important because it gives the people of Norman something to energize and bind them.
When asked how Groovefest has continued for so long, Johns explained, "no matter what people take from you, you'll still fight for human rights, because your rights are the most important things you have"
Related
Popular in the Community