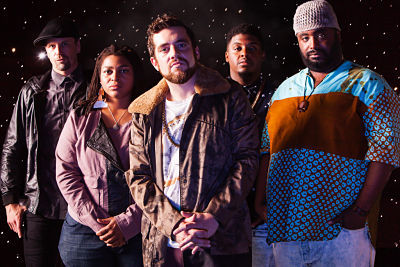 "We all bounce off each other. I will sing Nate a bass line...sometimes Weedie will sing me drum parts...as a matter fact, Weedie sang me this incredible beat to 'Walk On Water.' And my first reaction was 'aw man that is sooooo cool, I'd have never come up with that! Our strength is that we are 'live musicians!' We can play through a song, and that's what you can hear on our record and on stage..." Nikki Glaspie
When legendary music publicist Joan Myers advised that I check out The Nth Power, she casually mentioned that they'd welcome me at their rehearsal studio a few days previous to their highly anticipated appearance at The Hall at MP, a venue strategically situated at the epicenter of contemporary New York City chic: Williamsburg. Right then, I was impressed. As I am well aware from my former pro bass playing days during the Reagan - Koch years, practice rooms are what locker rooms are to athletes; a sanctuary, and absolutely off limits to anyone not hauling road cases, gig bags, duct tape, and coffee. When a band affords you entrance to their asylum, it radiates confidence.
I was further stoked that their space was located in a music mecca unknown to most civilians: the Recording and Rehearsal Arts Building on West 30th Street, which, to my amazement is still standing in this gentrified metropolis.
In another lifetime I shared a room in that temple of Manhattan music with Cyndi Lauper's old band Blue Angel while an unknown singer named Madonna roamed the vicinities and conversations in the lobby and aboard the two rattling elevators with New York City's top session players was a daily ritual. As I anticipated, the band was at ease with themselves and their guest - in fact, The Nth Power had more questions for me about the past then I did about their present. Some things in life come full circle.
Based on their pedigree, I hereby go on record and profess that The Nth Power indeed qualifies as a "super group." The band, which initially formed in New Orleans, is helmed by drummer extraordinaire Nikki Glaspie who excelled in a five-year stretch with Beyonce, in addition to her highly acclaimed work with Ivan Neville's Dumpstaphunk, Ravi Coltrane and Matt Garrison, Chaka Kahn, and Maceo Parker, to cite a very, very select few. Bassist Nate Edgar anchored the "future roots music" reggae powerhouse John Brown's Body for nearly a decade. Singer - guitarist Nick Cassarino, who, according to Edgar "does most of the heavy lifting melodically and lyrically", served with Big Daddy Kane and the Jennifer Hartswick Band. Percussionist Weedie Braimah is a genre unto himself. An educator, performer, preserver of African culture; Braimah was born in Ghana, raised in St. Louis, and counts Baaba Maal, Olatunji, and Tito Puente among his credits. The young band member is keyboardist / vocalist Courtney "Jay' Mel" Smith, a former church choir director and organist who couldn't find himself in better company.
With their initial convergence at a sound-check for Hartswick a few years ago, founding members Glaspie, Edgar, and Cassarino hit upon a magical brew. Glaspie recalls "we all kind of looked at each other and were like, 'man, this is band right here!" Since then, Glaspie has made the band her priority, and The Nth Power has been a staple on the festival circuit ever since. I pity the acts that follow them to the stage!
At present The Nth Power is on the road and focused on getting the word out about their remarkable debut collection, aptly entitled Abundance. Traversing funk, soul, rhythm and blues, jazz, world beat, jam band rock, and every permutation thereof, to my ears, The Nth Power achieve what few bands in their genre are capable of: that is, melding instrumental prowess to song-craft. In generations past Stevie Wonder did it. Ditto Little Feat, Jamiroquai, Earth Wind & Fire, Sly and the Family Stone, The Dave Matthews Band, and Maxwell to reference a few. Yet waxing an album in the modern streaming era is a daunting task that is not lost on the band.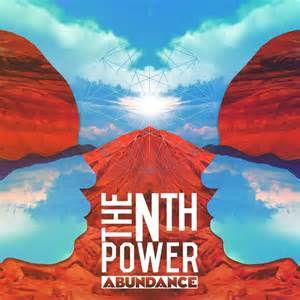 Notes Glaspie "we considered releasing one single or one song a month - but we were convinced that we should do an album." Co-produced by Grammy award-winning producer, songwriter, musician, and recording artist Ira Schickman, Abundance exudes the aura of a thrilling Nth Power concert performance. They all agreed that making a record was a wise decision as no single song can capture the band's diversity.
Schickman worked the band hard on vocals and harmonies, and the grooves came naturally. According to Mr. Cassarino, the only moment of calamity during the recording process, which included cutting tracks in New Orleans at the Lower Garden District studio The Music Shed, was prompted by guitarist's "abundance" of hipster facial hair. "When we finished the sessions down in the 'swamp' I had this huge beard. Now, there can be a lot of weird vibes down there... I was putting a couple back and thought 'f--k it we gotta shave this beard!' As such, each Nth Power band member removed a wedge of Nick's wild whiskers. "It was huge... gigantic. My hair was slicked back... I was one of those dudes..."
A proliferation of fuzz was also found at The Hall at MP in Brooklyn for their celebratory gig. The Nth Power's audience spanned urban hippies in their 20s replete with dreads, along with skinny jeans rockers, bona fide suburban stoners, and pensioners who likely came of age during the first Woodstock. The assemblage brought Hula Hoops, hookahs, and, I assume Viagra to the show.
n addition to a few new compositions, the band cut through their Abundance repertoire with jubilant abandon. Weedie's poly-rhythmic percussion breaks drew the audience to the stage several times. Cassarino's upper register guitar motifs complimented his vocals, which soared into falsetto range with relative ease as he promoted the "power of love" - a theme which underpins the entire Abundance song-cycle libretto.
The rhythm section of Glaspie and Edgar, was, in a word, monstrous! Note to film producers: if you need a cat to play Jaco Pastorius in a bio film, Nate is your lead man! His wiry build, fashionable facial stubble, tilted newsboy cap, sunburst Fender Jazz style bass, syncopated lyrical lines, and rhythmic body motion are all reminiscent of the aforementioned master. However, I call attention to the fact that Nate possesses a signature playing style and identity all his own and is in no way an emulator of the great Jaco. Nonetheless I was tempted to pull the frets out of his bass just to hear what would happen! Heavy weather!
Stresses Nikki "we all believe in the healing power of music...that's why we do this, that's why we're together."
Abundance by The Nth Power is out now. For all things The Nth Power go to TheNthPowerMusic.com
Support HuffPost
The Stakes Have Never Been Higher
Popular in the Community