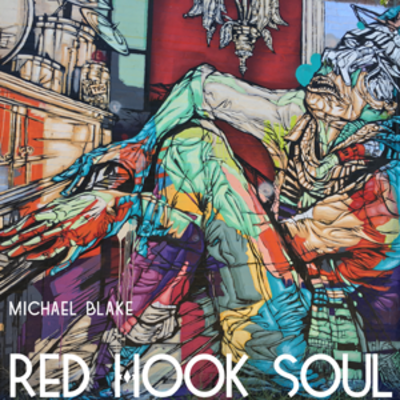 I have followed the career of the Canadian saxophonist Michael Blake ever since I first heard him on the 1998 album Slow Poke at Home, a brilliant, raw and bare bones record made in the basement of bassist Tony Scherr's home, with the slide guitar virtuoso Dave Tronzo and the drummer Kenny Wollesen. I continued tracing his path with the bassist Ben Allison on the fine album Man Sized Safe from 2008.This originally Montreal born, Vancouver based musician calls New York his home since 1986. He was a member of John Lurie's ground breaking Lounge Lizards in the mid to late nineties. He and cohort trumpeter Steven Bernstein, also a Lurie alumnus, were members of Blake's progressive group Hellbent, where Tuba, trumpet, violin and saxophone created some very eclectic music.
As with any creative artist, Blake's musical vision has constantly shifted as his muse takes him, often into unknown territory. In the early 2000's he and his Danish cohorts offered his Blake Tartare with a foot into the experimental free-jazz theater. His Elevated from 2002, found the saxophonist in a more traditional ensemble that featured his gorgeous sound with Allison on bass and the pianist Frank Kimbrough adding their musical gifts to the mix. But in the last few years Blake's search has led him deeper into the past and the music of the masters that have come before him. You can hear it in his warm, lustrous tone when he lets you. He has clearly listened to and respects those who have given so much to this music we call jazz. In 2006 he recorded The World Awakes - A Tribute to Lucky Thompson and in 2014 he gave us his homage to Coleman Hawkins and Lester Young the fabulously retro Tiddy Boom.
In 2016 Blake wrote and recorded Fulfillment, an album inspired by a shameful incident in British Columbia's history back in 1914. The Komagata Maru was a Japanese ship that came to the port of Vancouver bearing East Indian Sikh immigrants trying to take economic asylum in Canada. They were turned away by the Canadians in a shameful act of xenophobic exclusionism. Blake's music is used to great effect to raise awareness of this blot on Canadian history.
On his latest album, Red Hook Soul, Blake returns to history, this time his own personal history, as it relates to the music of his formative years; the music of pop, R and B, rock and roll and especially soul. He takes songs by Ray Charles, Otis Redding, Ben Webster, Gladys Knight and Lana del Rey, mixes them into a gumbo with his own originals and comes up with a thoroughly entertaining recipe for down home cooking of the partying variety.
Blake's band for this outing include his old stalwart Tony Scherr taking up the lead guitar work here, Avi Bortnick on rhythm guitar, Erik Deutsch on piano and electric keyboard, Tim Lunzel on electric bass, Moses Patrou on percussion and Tony Mason on drums.
The opener and title tune, "Red Hook Soul," is a rollicking, joyous bounce that is buoyed by Blake's ebullient soprano saxophone and a freewheeling rhythm section. Red Hook is a reference to the tip of Brooklyn and the home to many dive bars that Blake and company have played at one time or another. The music just cruises like a partying group of friends barreling down a highway in an open convertible on a sunny day. Break out the beer!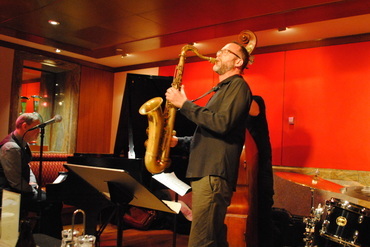 "Volunteered Slavery" is a Rahsaan Roland Kirk composition that has an infectious, funky lope to it, with Blake's raw tenor leading the way over some laid-back percussive work by Patrou and Mason and some very raw, static-laden slide work by Scherr. This one will have you bopping your head up and down. A fine tribute to the master Rahsaan, an underrated jazz musician as ever there was; an exceptional artist whose work was sometimes dismissed because he chose to play multiple instruments at once, which some viewed mistakenly as more trickery than talent.
Blake's "Nitty Gritty" features Bortnick's driving rhythm guitar licks that move the song behind Mason's deft shuffle and Lunzel's pulsing bass. Deutsch uses electric keyboard on organ mode, sustaining his notes as the band rocks on. Blake's tenor wails with his own brand of funk and grit, employing some snarky screeches and snarly honks, but all the while maintain the song's fun vibe.
Lana del Rey's "Video Games" is a dark, foreboding tune, with somber piano chords and echoed guitar riffs in the background. Blake uses this backdrop to explore his more pensive side. He never "overplays," letting his tone and space deliver the emotional impact of what he is trying to portray. The band sets the drone of this march and Blake delivers his eulogistic cry, ending his solo in a beautiful breathy finale.
In another of his homages to his saxophone elders, Blake enshrines the robust, uplifting playing of "King Curtis." The honk-tonk feel of this romp is authentic, with Deutsch's piano sounding a bit Leon Russell -like and Blake playing his full-bodied tenor is in fine form, buttressed by Scherr's on-point guitar work
The music of Blake's formative years, would not be complete without a slow Otis Redding emotion drenched, R & B tune that was emblematic of an era when slow dancing in high school gymnasiums mixers was not the bump and grind of today's scene, but a more intimate affair. "I Love You More Than Words Can Say" finds Blake's tenor evoking just the right blend of earnestness and poignancy following the great Redding's lead.
With Blake, there is always a way to bring the masters to the table and here he takes tenor titan Ben Webster's "Did You Call Her Today" and steeps it in R & B. With a fifties rock backbeat from Mason and some raspy slide work by Scherr, Blake transforms this gem from the early sixties into a rally call to party on down. His sensuous tenor solo is wonderfully fluid and commanding, but more importantly joyful with no pretense.
"Everybody Need Love" was the title song from a 1967 album by R & B songbird Gladys Knight and the Pips. Blake plays this one true to its original easy swaying vibe. Bortnick's rhythm guitar strumming the repeating chord structure as Blake handles the melody line with an unfettered looseness. We need a little more of this uncomplicated sentiment today.
The album ends with the Ray Charles classic "That Lucky Old Sun." Blake has claimed that hearing Charles sing "America the Beautiful" before the famous Ali/Frazier fight "The Thriller in Manilla" brought him to tears as an impressionable ten-year-old. Blake's high register tenor work at the opening, paired with Deutsch's piano, is enough to evoke similar emotions. The song is true to Charles original slow tempo and Blake's tenor is strong, emotional and plaintive.
Red Hook Soul is yet another side of the artistry of saxophonist Michael Blake. Besides being just plain fun to listen to, to the uninitiated, it's probably his most accessible album to date.
Related
Popular in the Community