I only had 48 hours to spend in one of my favorites cities, and I already knew how those two days would play out. Imagine, The Great Race, only with no other contestants but me, and the great wilderness -- the bustling streets of New York with its legions of yellow taxicabs charging through the traffic. With an equal measure of adrenaline and dread, I set out to pack in all I wanted to do against the running clock.
New York was flushed with tourists and art collectors of course. Perfectly sunny spring days, a blockbuster auction week, and dazzling art exhibitions are some of the biggest draws to the city at this time of the season. The much-lauded Alexander Mc Queen exhibition at the Metropolitan Museum, which is now extended for another week because of its popularity, was brilliant. And so was the Picasso and Marie-Therese: L'Amour Fou at the Gagosian Gallery. But then there were other surprises in store that I had not planned for.
Two exhibitions drew me to MOMA -- The Picasso Guitars, and the German Expressionism prints. Ever since my early twenties I have had a fascination with expressionism, their stark and vibrant colors and motifs. Expressionism is a movement that flourished in Berlin at around 1910, and central to its theme was its depiction of modern urban life, the human body and sexuality in a visually and emotionally charged manner.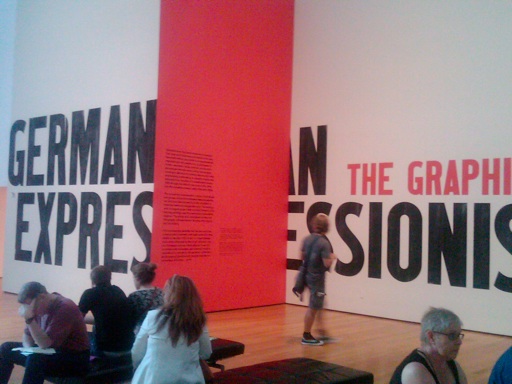 Photo by Angella Nazarian
There is no question that the Expressionists revolutionized the mediums of etching and lithography. And MOMA presented a broad view of this, but the exhibition included not just etchings, but paintings, and sculptures from many famed artists of the time.
So, the surprise came a couple of hours later, as I passed by a gem of a gallery on Madison Avenue, that has been consistently showing quality exhibitions over the past three decades. Having just viewed some works by Grosz at the MOMA exhibition, I was taken by his eye-catching watercolor works displayed on the walls of the Soufer Gallery.
"Grosz was a keen observer of all walks of society -- from high to low -- no one escaped his astute characterization," Stephanie Baron, the chief curator of modern and contemporary art at the Los Angeles County Museum once said about Grosz. "And, some of his strongest works reflect a German society tired of the humiliation and ravages of the First World War, seeking small pleasures in cafes and exotic nightclubs."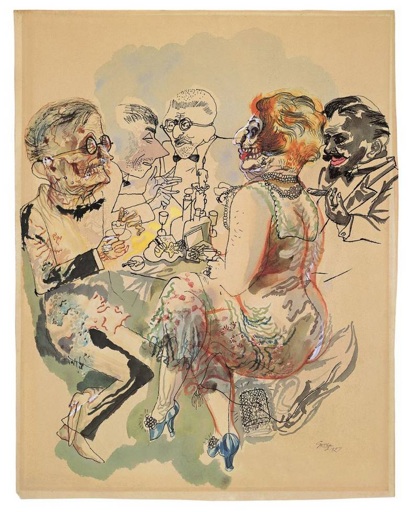 Photo: Courtesy of Soufer Gallery
Grosz did indeed spend hours in cafes sketching various types of social interludes. His most masterful ones (that you will also see on display at the gallery) are the ones done with pen and ink with layerings of watercolor. Such works, along with the paintings of his fellow in the 20s, gives us an inside look of what life must have been like in Berlin at that time.
But this unique exhibition will be of particular interest to New Yorkers and New York fans as well. Why? Legend has it that Grosz became associated with anti-war movements and a leader in the radical Dada movement in Germany -- (a risky business to be sure). And in 1932, Grosz left Germany and immigrated to America days before Hitler's rise to power.
"A great deal that had become frozen within me in Germany melted here in America and I rediscovered my old yearning for painting," Grosz noted in his autobiography. So the luminous images on view at the Soufer Gallery provides the continuing story of this artist's journey through different times and continents. The works certainly have a more serene feel to them, but what is most striking is the overall feeling of New York life he manages to capture with his subjects.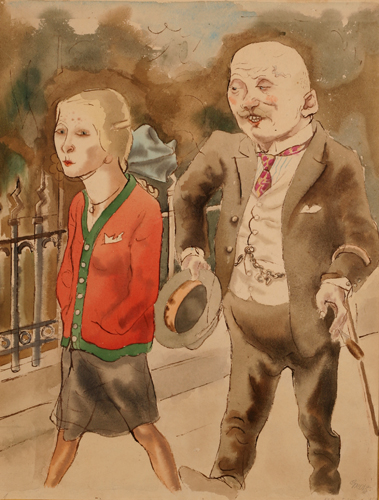 Photo: Courtesy of Soufer Gallery
Seeing Grosz's watercolors presented as a wonderful surprise to top off my inspiring, albeit hectic, New York visit.
Related
Popular in the Community