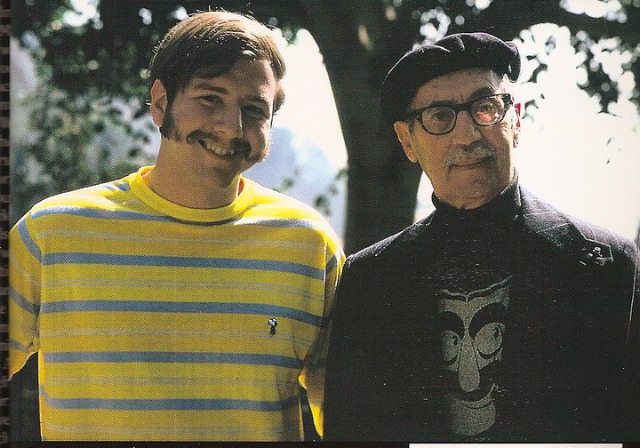 Steve Stoliar and Groucho Marx
In January 1974, a 19-year-old UCLA student named Steve Stoliar started The Committee for the Rerelease of Animal Crackers to pressure Universal Studios into releasing the Marx Brothers' 1930 black-and-white film, which had been in copyright limbo for at least two decades. Executives at Universal were more concerned with their recent releases, Airport 75 and Earthquake, than they were in untangling the legal knots necessary to re-release a 44-year-old movie.

"I probably discovered the Marx Brothers when I was in high school and I wondered where they had been hiding all my life," Steve Stoliar said in a recent interview with us.

"They were such a wonderful blend of physical comedy and clever wordplay -- either Groucho's wordplay or Chico's mangling of the language."
Marx mania swept college campuses in the late '60s and early '70s. Their anarchic shenanigans resonated with baby boomers who weren't even alive when the Marx Brothers were making movies. Abbie Hoffman once said, "Groucho Marx had more to do with my subversion than Karl Marx."

Stoliar's campaign led to a campus visit from Groucho himself, who sat down and chatted with damn-near levitated Stoliar. After collecting a few thousand signatures, Universal announced that they would strike two prints of the film and premiere it in Westwood and New York. It broke the box-office record at the United Artists Westwood.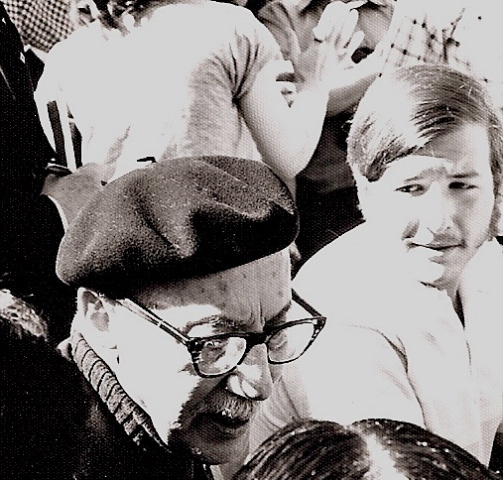 Stoliar, pictured right with Groucho, UCLA 1974


Then the third-year history major experienced the unimaginable.

Groucho hired Stoliar to work out of the comedian's Beverly Hills home to handle fan mail and organize all of the memorabilia -- an extraordinary job that would last three years and become the basis for one of the more honest and complex show-biz memoirs in modern memoryRaised Eyebrows: My Years Inside Groucho's House.


On the surface it is an entertaining tale, especially for Grouchophiles, because of the book's many "pinch-me" moments of dining with George Burns and Mae West, meeting Bob Hope, getting writing advice from S.J. Perelman, or helping Zeppo Marx get a date with a UCLA co-ed.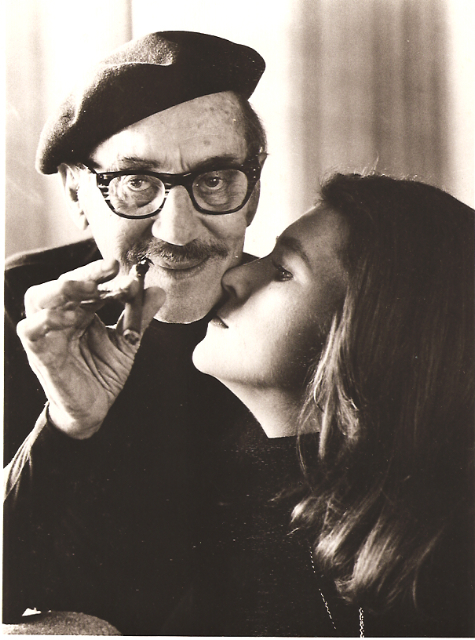 Groucho and Erin Fleming


But Stoliar's storied tenure as Groucho Marx's secretary is tempered with highs and lows, bookended by the psychotic Erin Fleming -- Groucho's young and mercurial life manager and companion who hitched her wagon to the star in his declining years. But before the shadow of Erin Fleming would darken the day -- at least for Stoliar--at 1083 Hillcrest Road, it was an auspicious start to a young man's dream-come-true.
"Erin helped me set up the campaign to get Animal Crackers rereleased," Stoliar said. "She would call me at all hours and just start talking about whatever was on her mind. I felt like I had been specially selected that she'd share all of this information with me."

Most extraordinary was Stoliar's free rein around Groucho's house, not to mention Groucho's egalitarian lunch policy which allowed staff to dine with him and freely interact with celebrity guests.


Although several strokes had diminished Groucho's caustic swagger significantly, there were still many flourishes of the wit that made him Groucho--something which never went unnoticed or unappreciated by his secretary.

"He used to love it when I brought him the mail because he subscribed to the Hollywood trade papers," said Stoliar. "One time he came to the table and said, 'Wonderful mail today, nothing but requests for money.' I said, 'You got a Variety didn't you?' 'Yes,' he said. 'A variety of requests for money.'"

"The only limitation was that I was also fighting against time," said Stoliar. "He was getting hazier and having health problems. It wasn't as though the longer I stayed there, the closer we got, because he was pulling away against his will. It was kind of a strange juggling between time and intimacy."
"Steven was being very parental, almost like he was Groucho's bodyguard," recalled Groucho's nephew and Harpo's son, Bill Marx.
"He was a very important figure in Groucho's life at that time from the standpoint of caring."
It was also gratifying for Groucho to have such an enthusiastic and knowledgeable employee in Stoliar.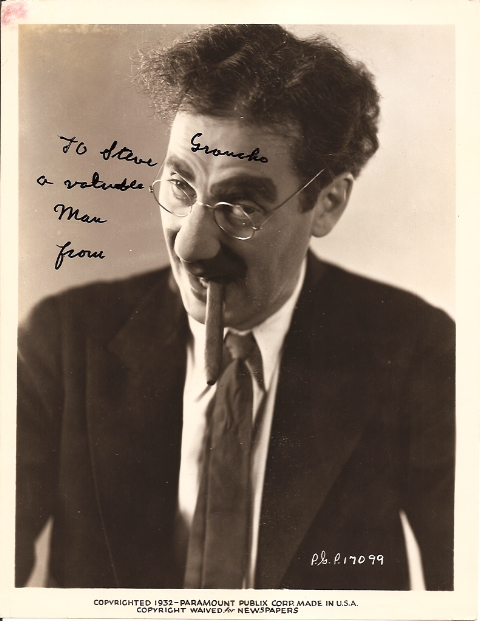 And then there were the many moods of Erin Fleming, which kept everyone--cooks, nurses, maids, and secretary/archivists -- on eggshells and off-balance.
"She would fly off the handle, slam her fist, and slam doors," said Stoliar. We used to tell what kind of mood she was in by how hard she'd throw her keys in the dish. You never really knew what you were in for and it was a release of tension when she'd leave."

There were others who hadn't seen Fleming's dark side and had an altogether different take on her -- at first.

"I didn't see anything wrong with her when I met her," Dick Cavett said.

"She was a little overwrought, always a little on edge -- or had an edge on from something -- but she seemed rather nice and charming and devoted to Groucho. He was pretty lonely and his children were not all that available."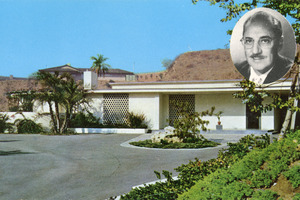 Groucho's final residence in Beverly Hills



Stoliar always remained mindful of the fact that it was Fleming, after all, who made the dream possible and who allowed him access to Groucho and his famous friends.

One star-studded event Stoliar writes about in Raised Eyebrows is Groucho's 85th Birthday party, a who's who of Hollywood royalty including Bob Hope, Jack Lemmon, Peter Sellers, Liza Minnelli, and All in the Family cast members Sally Struthers and Carroll O'Connor, who climbed into bed with Groucho at the end of the night.

"What is fascinating to me about this story is just the combination of these old-timers at Groucho's house and people like actors Bud Cort, Elliott Gould, or Sally Kellerman coming to hang out," said Larry Karaszewski, co-writer of such films as Ed Wood, Man on the Moon, and The People vs. Larry Flynt.
It was impossible to ignore Groucho's diminishing mental and physical condition, which concerned friends and family and only intensified Fleming's megalomania. She alienated him from his children and continued booking him for appearances, despite his failing condition, and members of the household witnessed Erin yelling at Groucho until he cried.

"I began to hear Arsenic and Old Lace-type references to Erin and, of course, lived to find that most of it was true," Cavett said. "Steve was a good source of information and we were friends enough that it wasn't as if he was distributing gossip to a stranger who might make damaging use of it."

"Groucho said to my dear friend [biographer] Hector Arce in the hospital towards the end, 'This is no way to live,'" Stoliar said. "He was painfully aware of how bad things had gotten. It was time and yet still you hate saying goodbye."

Groucho Marx died on August 19, 1977.

In the months before Groucho's death, his son Arthur Marx took Fleming to court for temporary conservatorship of his father. A California Superior Court judge appointed writer Nat Perrin to handle his dying friend's affairs and Perrin tasked Stoliar to not only watch the house on weekends, but gave him the authority to keep Fleming from entering the premises. A battle over Groucho's estate raged on for nearly six years before the case came to trial in 1983, but the judge ruled in favor of Arthur Marx, ordering Fleming to repay $472,000 to the Marx estate, including $221,000 the Bank of America claimed she had swindled from Groucho.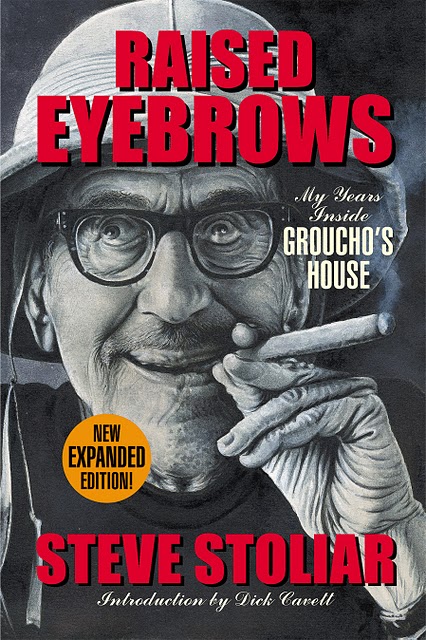 The future was kinder to Steve Stoliar. For more than 25 years, he's enjoyed success as a professional writer and voice-over artist. In the '80s, Dick Cavett hired Stoliar to work on an HBO show in New York, before a lucrative writing opportunity called him back to Los Angeles.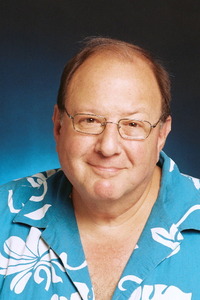 Stoliar today


His book Raised Eyebrows: My Years inside Groucho's House, originally published in 1996, has since been revised and expanded with a new afterword detailing Groucho's children and grandchildren's responses to the book, Stoliar's return to Groucho's house in recent years, as well as a compelling update on the sad fate of Erin Fleming. Stoliar, whose dead-on imitations of old Groucho and many others are not to be missed, recently recorded an audio version of his book, which should be available sometime in February.
"Stoliar was in a unique position, that he did not exploit in a tawdry way--which he could have done--but wrote a reasoned, factual, engrossing version of a very novelistic story, almost partaking in the best qualities of fiction, which it is not," Cavett told us.
"I think it will take its place, as they say, as a really important part of the canon of things about The Marx Brothers. It takes people into something they would never dream of learning anything authentic or inside about Groucho Marx. There's certainly a movie in there."
To order a signed copy of the new edition of Raised Eyebrows: My Years Inside Groucho's House go to Steve Stoliar's website. This newly revised edition, published by BearManor Media, and the Kindle version are also available on Amazon.
RELATED: Comedians Then And Now:
Support HuffPost
The Stakes Have Never Been Higher
Related
Popular in the Community