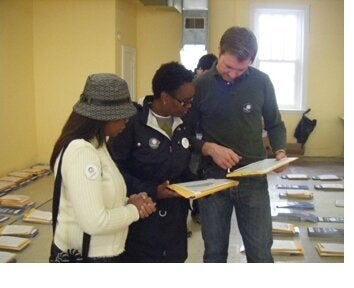 My friend Andy Engelson, a father of two, an editor in Seattle, and one of the nicest people I know, spent the first weekend in October canvassing for Obama in Ohio. Here's what he found...

After flying into Columbus and driving three hours east, I arrived in Youngstown in the early evening. This is a former steel town, and enormous empty steel mills fill the Mahoning River Valley. Most of the city is perched on the hills above the valley, and evidence of a broken economy is everywhere: boarded-up businesses, crumbling homes, a nearly empty downtown.

But the campaign office was a hub of activity--filled with local volunteers with union T-shirts, OSU Buckeye sweatshirts and Obama buttons. The volunteer coordinator (who works long, long hours) was a bubbly college student from Long Island. She quickly put me to work calling volunteers to set up door-to-door canvassing over the weekend.

You may have heard about the strength of Obama's "ground game"--a vast grassroots network of volunteers. It is truly impressive. Both in Philadelphia (where I canvassed for Obama in April), and in Youngstown, everyone who volunteers is quickly trained, put to work and effusively thanked. Every person we call who is voting for Obama is asked to volunteer, and those who say yes get a follow-up call.

During the next afternoon, I headed out to the local Wal-Mart, Home Depot, Target and other big-box stores to register voters. I had done this in Seattle, and in Youngstown I succeeded in signing up about a dozen new voters. Unfortunately, after a while, a cranky middle manager came out of Wal-Mart and told me "You can't gather signatures here!" I told her I was simply registering voters but she wasn't sympathetic. Too bad these companies, which profit so much from working people, don't want them to exercise their right to vote.

The next day, it was into the neighborhoods to canvass. I was paired up with Beverly, a woman from Buffalo, who, like me, had arrived for the weekend to volunteer. She told me she has a 26-year old son, also named Andy, once ran for city council as a Republican, but is an avid supporter of Obama. She was particularly impressed with his leadership and speaking skills, and felt the need to convince others. She'd lost her own election, but it had given her experience going to door-to-door and talking to voters. A number of years ago, she was a Buffalo Bills cheerleader, and there's still a bit of that spirit in her as we went door to door in Youngstown urging people to vote for Obama.

Youngstown is definitely in hard times. In many neighborhoods we visited, it seemed as if every other home was abandoned: broken windows, vines growing up the sides of the house or trees fallen in the yard from Hurricane Ike. There are still some jobs in Youngstown--GM has a plant not far from town--and you will find pockets of nice homes. But often, just across the street, you'll see the burned-out shell of a school or a group of men sitting on a doorstep drinking beer from 20-ounce cans in paper sacks.

In Ohio, voters can go to any Board of Elections building and vote anytime between now and Nov. 4. The campaign was pushing this hard in order to get everyone eligible out to vote and reduce lines on election day. You may remember the news from 2004, when in parts of Ohio there were eight-hour lines at polling places.

What I enjoy most about canvassing is talking to undecided voters. The conversations we had were positive, instructive and encouraging. Generally, these undecided voters are white, working class and over 60. One woman and I talked a good 10 minutes about the economy, about people not getting medical care because they don't have insurance, about the situation in Youngstown. People here are amazingly upbeat and friendly despite the circumstances.

Occasionally, I'd meet less-than-friendly people. I also had one very negative confrontation.

It was late in the day, and I knocked at the second-to-last house on my list. I heard a gruff "WHO IS IT?" from behind the door. I said I was a volunteer with the Obama campaign and inquired about a young voter on my list who lived there. Silence. So I said goodbye and left some campaign literature at the door. As I was walking back to the sidewalk, the man burst out a side door and literally came running at me, red in the face. A young black man was running up behind him, but unable to hold this guy back. Just inches from me, the man, a white man with a beard and shirt with a motorcycle logo, shouted "Who the HELL are you?" He was shaking with rage. I told him again who I was and after a brief pause he yelled at me,"Just keep walking! NOW!" I did just that, moving slowly away. I met up with Beverly, who'd been working another street, and we drove back to the campaign office in the fading light.

It was scary to say the least. Had I flinched I think the guy would have struck me. What may have triggered the outburst was an incident in the neighborhood several days before. Two young African American men had posed as campaign workers just up the street, then robbed the home at gunpoint. So frustrating. Two stupid kids had hurt our efforts and inflamed racial tensions in this hard-hit town. Afterwards, we reported the encounter to the campaign office, and they agreed to stop canvassing in that immediate neighborhood.

But nothing was going to stop me from going out the next day.

On Sunday, I was invited by my hosts to attend a prayer breakfast at their church--the oldest African American church in Youngstown. Everyone was dressed in their finest, and the program featured members of churches talking about what had happened over the past year. There were presentations on what the church was doing in the community for children, for the elderly, and for those who were sick or homebound. A guest speaker joked about being riveted to CNN, and then talked about how many people in the community were worried about the future but were finding solace in the community of the church. There was plenty of singing, clapping, and a huge breakfast of eggs, sausage, bacon, biscuits, and grits. Afterwards, my host, Goldia, introduced me to the pastor, and, he shook my hand for at least a full minute. I was humbled to be so welcomed.

Then back to the neighborhoods. We visited 200 or more homes over the course of the weekend. We talked to many undecideds, most of whom were worried about the economy. Youngstown is already dealing with a recession, they're already "ahead" of the country in that regard. In fact, many, of the voters on our lists had already moved away. Either they'd been unable to make payments or they'd left Youngstown for good.

It's clear Youngstown's problems will not be fixed overnight. Perhaps there's not even much Obama can do outright. But I do think a fairer tax policy, some efforts to boost new energy industries, and getting more folks covered by health care is a start. The last eight years have not been good to this town. It reminded me how much is riding on this election.

After a day knocking on doors in brilliant sunshine, Beverly returned to Buffalo and I spent the evening training a new volunteer, Ann, who had driven to Ohio from Los Angeles and would be volunteering in Youngstown until election day. If only I had the time to do that! I can't say enough about how people respond to one-on-one contact with volunteers. People are appreciative and want to talk about the issues and hear about your personal reasons for supporting Obama.
Even Republicans supporting McCain were appreciative. I talked to an older man named Jim while I was registering voters outside Walgreens. We had a friendly conversation. Even though he supported McCain, he thanked me for coming out from Seattle. It was those sorts of conversations that make me realize we are not as divided as the media portrays us. One of the things that draws me to Obama is that "agree to disagree" philosophy that has been missing from the national discourse for some time.

And there's a real satisfaction when you make a connection. That happened back in Philadelphia, when an older woman took me into her home and confessed that she would vote for Obama (rather than Clinton) but didn't want her neighbors to know. She told me how, as a recently widowed woman, she was struggling to make ends meet. In tears, she told me how heating oil had cost her dearly the previous winter, and how she'd had to keep the thermostat below 60 to afford it. She'd voted for Reagan but was now more excited about the Obama campaign than any since Bobby Kennedy's in '68. She felt Obama actually gave a damn about people like her and was excited to see so many young people inspired by the campaign. And she was thankful, I think, that someone had taken the time to listen to her story.

More than anything, though, this campaign has helped me. Helped me see what people are going through in places less fortunate than my own. Helped me see what issues are truly important to people. It has shown me that even in difficult times, people maintain a sense of humor and a friendliness that is truly inspiring.

It also helped me meet people like Frank and his wife Mary. They are in their late 60s and have lived in Youngstown most of their lives. Frank suffered a stroke a few years ago so Mary asked if Beverly and I would come in and briefly talk to him: "It would mean so much to him. He can understand everything you say, but he can't say anything." We came into the home, and Mary introduced us as two volunteers working for the Obama campaign. "Frank, they've come here to visit you and ask if you're going to support Obama. What do you think of Obama, Frank?"
Sitting at the kitchen table in a wheelchair with his head cocked to one side, he eyed us for a long moment. Then he slowly raised his hand and formed his shaking fingers into an OK sign.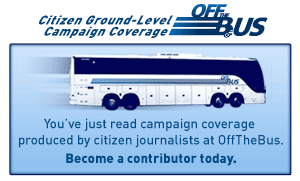 Popular in the Community