More than half of ground turkey samples are contaminated with fecal bacteria, according to a new study from Consumer Reports. In addition, the magazine found that more than 90 percent of the ground turkey samples it tested contained at least one of the five bacteria the test was looking for -- salmonella, Staphylococcus aureus, E. coli, enterococcus and campylobacter (though no campylobacter was found). The test covered 257 retail samples from 21 states and 27 different brands, all purchased in retail stores.
Sixty-nine percent of the ground turkey samples tested by Consumer Reports contained enterococcus, and 60 percent harbored E. coli -- both of which are associated with fecal contamination. Some of the bacteria found in the tested samples can cause food poisoning, as well as urinary, bloodstream and other infections.
"The magazine reported high levels of certain pathogens on the samples tested, but it is important to note that the two most prevalent, enterococcus and generic E.coli, are not considered sources of foodborne illness," the federation wrote.
The American Meat Institute also offered its take on the study in a press release on Tuesday, saying that while "the magazine chooses to focus today's story on four bacteria their labs did find, the more important story is about the pathogenic bacteria of public health concern that they didn't find or found at remarkably low levels."
In addition to evidence associated with fecal contamination, Consumer Reports also found that many of the disease-causing organisms it tested were resistant to antibiotics used to fight them. Consumer Reports tested both conventional turkey meat and turkey meat from birds that were not fed antibiotics. Conventional ground turkey was compared to ground turkey labeled "no antibiotics," "organic," (which doesn't use antibiotics) or "raised without antibiotics" -- and all were found to be equally likely to contain the bacteria the magazine included in its study. However, bacteria on the antibiotic-free ground turkey was less likely to be antibiotic-resistant.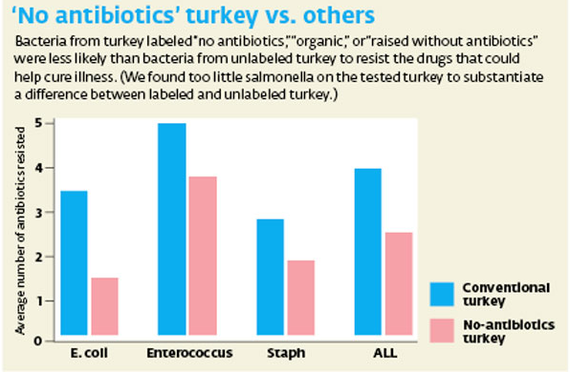 A recent study by the Environmental Working Group found that antibiotic-resistant superbugs are on the rise. The report found that 81 percent of raw ground turkey, 69 percent of raw pork chops, 55 percent of raw ground beef and 39 percent of raw chicken parts purchased in stores in 2011 contained such bacteria.
The FDA objected to the Environmental Working Group report, and warned of oversimplification. In a New York Times letter to the editor, Bernadette Dunham, the Director of the Center for Veterinary Medicine, said that "describing bacteria that are resistant to one, or even a few, drugs as 'superbugs' is inappropriate. Rather, 'superbugs' are pathogens that can cause severe disease and are very difficult to treat."
In response to the antibiotics resistance concerns raised by the Consumer Reports study, Betsy Booren, Chief Scientist the American Meat Institute, said in the AMI press release:
The U.S. meat and poultry industry supports the judicious use of antibiotics. The American Meat Institute recognizes that concerns exist and supports efforts now under way to phase out the use of antibiotics for growth promotion.
Learn more about the report here.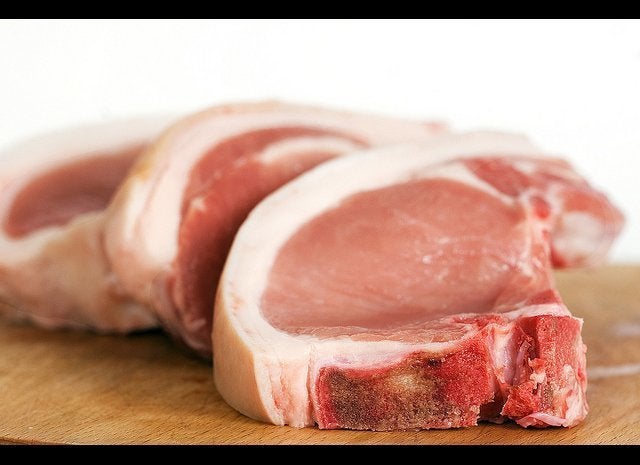 Kinds Of Food Poisoning You Should Know About (And Avoid)