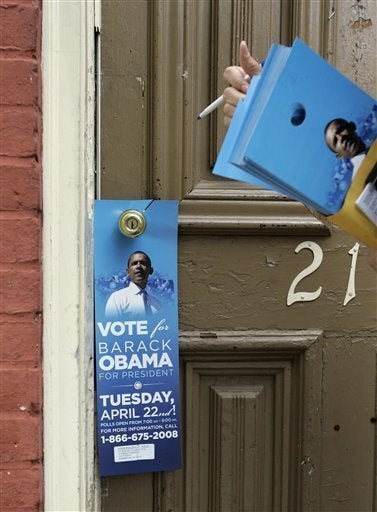 When volunteers sign up to campaign for Barack Obama, they enter the world of e-politics - guided to a web site with a carefully culled, computer-generated list of people who live nearby. The volunteer is instructed to pick 25 people from the list, preferably people he or she knows - or, better yet, actual friends.
The names have been chosen by slicing and dicing a massive agglomeration of government and commercial data, using datamining technologies which identify the magazines, cars, and cookware specific individuals buy; how often they turn up at the polls; the value of their homes; their membership in organizations running the gamut from the NRA to Planned Parenthood; information customers volunteer when they fill out warranties; shopping histories --Target, Whole Foods, Ethan Allen, Sports Authority; and on, and on, and on.
When cross-referenced with the results of public opinion surveys and census information, all these pieces of data can ultimately produce demographic-consumer portraits of voters ranging from guaranteed Obama to locks for McCain and multiple shades of grey in between.
Consultants who specialize in datamining contend that, for a campaign willing to pay, they can tell with 90+ percent accuracy whether an individual voter is for Barack Obama, John McCain or, most importantly, on the fence.
Ken Strasma, president and founder of Strategic Telemetry, is performing microtargeting for the Obama campaign. He argues that, in some cases, the predictive accuracy of his firm's modeling of voter profiles is in the 99+ percent range.
Traditional Democratic get-out-the-vote techniques usually involved targeting urban and minority precincts and simply trying to get everyone in these neighborhoods en masse to the polls. As more and more voters have dispersed, and as the Democratic Party has gained strength among well-educated professionals, the traditional approach has proven inadequate, especially after Republicans in the first part of this decade made huge gains in figuring out how to identify and contact key voters no matter where they lived - for example, black Detroit voters adamantly opposed to gay marriage, or gun-owning union members.
In 2004, the George W. Bush campaign and the Republican National Committee were light years ahead of the Democrats on this high-tech front. Now, four years later, according to knowledgeable Republicans and Democrats, the Obama campaign has caught up with, if not surpassed the GOP.
Strasma, who declined to discuss specifics about the Obama campaign, contended that in 2006, his firm identified 7,368,609 Democratic voters in strongly Republican rural and exurban areas, along with 23,616,066 likely undecided voters. The numbers of voters similarly identified and classified is substantially larger now. Knowing as many possible names, addresses, phone numbers, and emails of such voters is crucial in the ground war currently underway between Obama and McCain.
"It is said that half of all advertising is wasted - the problem is that you don't know which half," Strasma announces on his website. "The same is true in campaigns. A huge amount of time and money are spent trying to persuade people who have already made up their minds, to turn people out who don't support our candidates, and to solicit contributions from people who will never donate."
Both Democrats and Republicans have now reached similar levels of microtargeting expertise. The differences this year are the potential for implementation - in the modestly higher levels of enthusiasm among Democrats, even after the selection of Sarah Palin boosted Republican morale, and the army of volunteers working in behalf of Obama.
The Obama campaign is banking on its legions of volunteers to fill another crucial role: to become "white validators" - emissaries of the campaign to the white working and lower-middle class electorate wary of backing the first African-American presidential nominee, and in need of reassurance.
The adoption of new, high-tech information technologies to locate and contact potential voters began in earnest in 2001 under the guidance of TargetPoint Consulting president Alex Gage, the Republican operative who earned a substantial share of the credit for the highly successful 2004 Bush-GOP turnout drive. Gage, whose firm continues to work for the Republican National Committee, said his impression is that the Democrats have made giant steps in the technology of voter contacts, and are well positioned to capitalize on the support Obama has generated.
This came home to him when a woman he recently hired in his Alexandria, Va., office told him of getting approached by volunteers from the Obama campaign armed with the knowledge that she had recently moved from Detroit, her age, marital status and other key facts empowering them, in Gage's description, to "touch" her, as opposed to just contact her.
"They spoke to her as a single women in her 40s, a new registrant. She clearly fit into one of their contact universes," Gage said.
Some Democrats thought the GOP might have let its sophisticated voter contact system lapse - the information has to be constantly updated and new voter identification techniques tried out or the quality of the data steadily erodes -- in part because Bush is no longer a prospective candidate and in part because the party had no nominee until John McCain became the standard bearer in the Spring.
Gage said, however, that the RNC not only "continued to invest and do things that were needed for the nominee," but it gave open access to the voter lists and back-up data - known as the "Voter Vault" -- to all Republican primary candidates. In return, the candidates had to supply the RNC with new information - voters moving, first-time registrants, surveyed attitudes toward the Bush administration, etc. - so lists are kept fresh.
In the aftermath of the 2004 Republican victory, both the Democratic National Committee and Catalist, a company created by Democratic operatives Harold Ickes and Laura Quinn, began parallel voter list development programs. Strasma has used data from both the DNC and Catalist.
Each category of voter as broken down by Strasma requires different methods of contact. Within the broad category of those committed to vote for Obama are both those who can be trusted to go to cast ballots November 4 with little or no encouragement, and those who are not reliable -- who will have to be pushed, prodded, and possibly driven to the polls. The undecided, in turn, fall into a host of categories, ranging from those with specific issue agendas to be addressed (taxes, Social Security, health care) to those wondering if they can bring themselves to vote for an African American.
Before the actual election, it is very difficult to measure the effectiveness of each sides' ground game, but one strong indicator is the trend in voter registration which reflects both enthusiasm and the ability of the campaign to capture that enthusiasm. On that front, Obama appears to be doing very well.
In the key battleground state of Colorado, for example, the Secretary of State's office reported that from January to August of this year, Republican registration grew by a modest 17,910, from 1,011,152 to 1,029,062. Democrats, in contrast, grew four times faster, by 76,667, from 880,761 to 955,428.
The Associated Press reported Democratic gains both in competitive states -- Nevada, New Hampshire, Iowa, Colorado and Florida - and in such Republican bastions as North Carolina and Georgia.
Over the past two years, according to the AP, 167,000 North Carolinians signed up as Democrats compared to 36,000 as Republicans. In Pennsylvania, the trends have been even more foreboding for McCain and the GOP: Republican registration dropped by 117,000, while Democratic registration shot up by 375,000.
Republicans are worried. GOP media consultant Alex Castellanos noted that he has been impressed with Obama campaign's ground game ever since the January Iowa caucuses, when he began to run into Republicans gearing up to switch parties and vote for the Illinois Senator. "Whoa, they are good," he recounted saying to himself.
In practical terms, Castellanos said, the Obama ground game has the strong potential to produce Electoral College votes: "Virginia, that's a state Barack could take with his ground game."
Popular in the Community