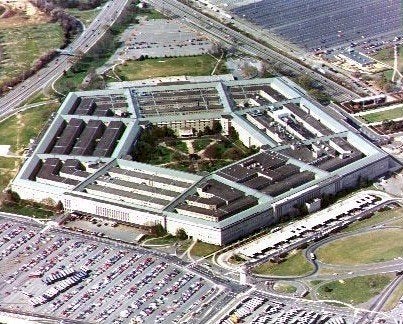 Navy imam Chaplain Abuhena M. Saifulislam lifted his voice to God as he called to prayer more than 100 Department of Defense employees Monday at a celebration of Ramadan at the Pentagon.

God is most great, sang the lieutenant commander and Islamic leader, in Arabic, as iftar -- the end of the daily fast began.

Uniformed military personnel, civilians and family members faced Mecca and knelt on adorned prayer rugs chanting their prayers in quiet invocation to Allah.
When it comes to Muslims praying at Ground Zero, it doesn't get much Ground Zeroier than that! As Elliott observes:
Yes, Muslims have infiltrated the Pentagon for their nefarious, prayerful purposes -- daring to practice their religion inside the building where 184 people died on Sept. 11, 2001. They haven't even had the sensitivity to move two blocks, let alone a mile, away from that sacred site.
Oh, my stars and garters! These Muslims at the Pentagon probably even have security clearances! (Because they are Department of Defense employees who protect America from al Qaeda death cultists, I'm guessing.)
Calling all HuffPost superfans!
Sign up for membership to become a founding member and help shape HuffPost's next chapter