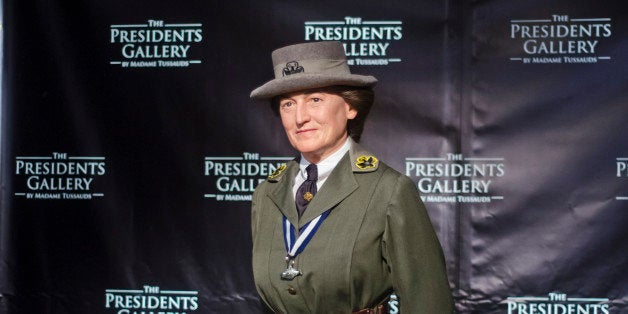 On May 7, 2014, the National Women's Hall of Fame held a groundbreaking ceremony in Seneca Falls, New York (the birthplace of women's rights) celebrating the beginning of the rehabilitation of the Seneca Knitting Mill. This 1844, limestone building was established as a woolen knitting mill by two abolitionists and suffragists (they both signed the Declaration of Sentiments), who never used cotton, as that would have supported slavery. The mill, which operated until 1999, will be the new home of the Hall and the Center for Great Women. I had the chance to speak the night before on groundbreaking women and talk about some of my favorites (I have many favorites).
Here are a few groundbreaking women who blazed the trail for women in the 21st century:
Being that the May 7th event was in Seneca Falls, the place where women's rights in the U.S. began, how could I not start with two very important groundbreaking women -- Lucretia Mott and Elizabeth Cady Stanton? These two women met in London in 1840 at the World Anti-Slavery Convention. Lucretia Mott was a delegate, denied a seat as she was a woman. Elizabeth Cady Stanton was there on her honeymoon; her husband was a delegate. These two women had much time to bond. They determined that when they came back to the U.S., they would advocate for women's rights.
A very important opportunity presented itself in 1848. On July 19th to 20th, 1848, the first women's rights convention was held at the Wesleyan Chapel in Seneca Falls. Mott opened and closed the Convention; her husband James presided. The convention ratified the Declaration of Sentiments, drafted by Stanton. Based on its more famous sister, the Declaration of Independence, the first paragraphs of the two documents are identical. But in the second paragraph, there were words that in 1848 were probably considered heresy: "We hold these truths to be self-evident; that all men and women are created equal... " It would be 72 years before the dreams of the organizers and participants in that convention would be realized; women would be enfranchised on August 26, 1920 with the ratification of the Nineteenth Amendment to the U.S. Constitution. Both Mott and Stanton have been inducted into the National Women's Hall of Fame.
Another of my favorite groundbreaking women is Juliette Gordon Low. You may or may not be familiar with Low, but I guarantee that you are familiar with the organization that she established -- the Girl Scouts. Low was searching for meaning in her life when she was introduced to the Boy Scouts and Girl Guides. On March 12, 1912, she made her historic phone call and launched the Girl Scouts in Savannah, Georgia. "Daisy" (as she was called) founded an organization that today has more than three million girls and adult women members. Seventy percent of women leaders were Girls Scouts in their youth. Low's vision was to establish an organization whereby women could learn leadership, self-reliance and self-resourcefulness. From the beginning, Girl Scouts was inclusive of girls of all abilities as Low never let her deafness, cancer or back problems keep her from advocating for the organization she so loved. She was so dedicated to ensuring the success of Girl Scouts that at one point she sold her pearls to provide for its finances. I am a lifetime Girl Scout. Low has been inducted into the National Women's Hall of Fame.
Admiral Grace Murray Hopper is the woman that I categorize as my catalyst; all of the work that I have done around honoring historical women started with Admiral Hopper. The first individual woman to receive the National Medal of Technology (from President George H.W. Bush), Admiral Hopper devised the computer compiler. This is the software that allows humans to speak to the computer in our languages (in English and other languages), and it translates that language into the zeroes and ones that a computer understands. Admiral Hopper developed the first English-based computer language and was instrumental in the creation of the business computer language COBOL. She loved to take credit for finding the first computer bug; it was a moth. And, she took great pride in educating people about computers; carrying around a "nanosecond" with her. This was a piece of wire 11.8 inches long that demonstrated how fast a computer works -- at the speed of light. Light moves 11.8 inches in a billionth of a second -- a nanosecond. Admiral Hopper was my first successful nomination to the National Women's Hall of Fame and my first successful nomination for the National Medal of Technology.
These groundbreaking women and many more are profiled in the book Her Story: A Timeline of the Women Who Changed America. We thank them for blazing the trail for us.
Popular in the Community