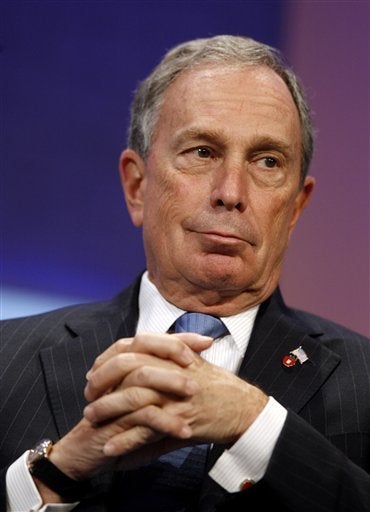 Yesterday being Groundhog Day, New Yorck City Mayor Michael Bloomberg had to schlep out to Staten Island and lure a captive groundhog out of a shack in order to wave it at locals.
Here's what Wikipedia has to say about everybody's favorite marmots: "They prefer to retreat to their burrows when threatened; if the burrow is invaded, the groundhog tenaciously defends itself with its two large incisors and front claws."
So let's say you saw a New York politician coming at you with black gloves and a Twinkie. You'd be confused. You'd feel, maybe, threatened. And you'd retreat into your burrow, readying your two large incisors for a referendum on human flesh.
"He got my finger pretty good," Bloomberg allowed, as he held the recalcitrant groundhog up in the air and declared spring on the way.The Groundhog Day mayor-nipping came just three days after Bloomberg chomped 15% out of the zoo's budget, reducing it to $1.3 million from $1.6 million.

Sticking tongue firmly in cheek, the mayor, who was wearing black leather gloves, said his injuries weren't life-threatening and made clear he didn't buy the revenge theory.He thought it might be more geopolitical.

"Clearly in this case, a terrorist rodent that could very well have been trained by Al Qaeda in Afghanistan. I'm not at liberty to say anything more than that," he said.
Related
Popular in the Community