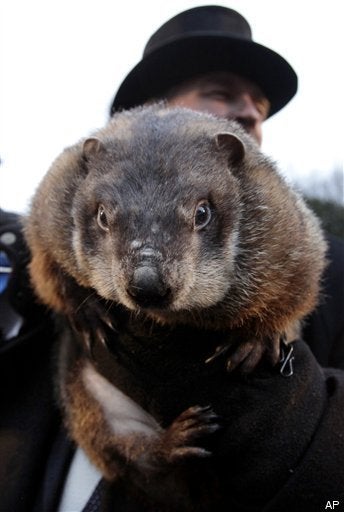 Before we get started, allow me to set the record straight: A groundhog is also known as a woodchuck, but it's not a beaver. And if Punxsutawney Phil (aka Punxsy Phil) sees his shadow -- in other words, if the sun is shining -- on Feb. 2, we're in for 6 more weeks of winter weather. If he doesn't see his shadow, we can expect an early spring.
The average person on the street claims to know all about Groundhog Day, but more often than not, their explanation is less than accurate or limited to the plot of the Bill Murray movie of the same name. So we decided to get ourselves a certified groundhog expert, writer and editor Tom Chapin of the Punxsutawney Spirit, to put an end to all the speculation in his story, The Appeal of Groundhog Day.
The small town of Punxsutawney, PA, 65 miles northeast of Pittsburgh, can attract up to 40,000 visitors -- from party-ready students to families to the global press -- on Groundhog Day every year. "The Appearance" of Punxsy Phil on Gobbler's Knob may be the high point of the day (think "sports rally, rock concert and dance party all rolled into one"), but the festivities surrounding the event are what make it so fabulously kitsch.
"Seniors from the local high school are crowned the 'Groundhog King and Queen.' The Punxsutawney Weather Discovery Center welcomes new inductees to its 'Meteorologist Hall of Fame.' Visitors with a Feb. 2 birthday are invited to attend 'Phil's Birthday Celebration,' and those wanting to get married or to renew their vows can do so at 'Phil's Wedding Chapel' where the town's mayor officiates the ceremony."
The first official observance of Groundhog Day took place in 1886, and Americans have the Germans to thank for engineering this obscure little holiday and for their ingenuity in sourcing the next best varmint in the early 1800s.

"Pennsylvania's earliest settlers brought Groundhog Day to America in the early 1800s through the legend of Candlemas, which says, 'For as the sun shines on Candlemas Day, so far will the snow swirl in May ...' In Europe, Candlemas was associated with weather-prediction lore involving a badger. But German immigrants found the badger scarce in the hills of western Pennsylvania and instead used a groundhog."
Some people continue to make the pilgrimage to Punxsutawney year after year in spite of the frigid February temperatures and hazardous weather. One guy, Jeff Hansen of Watsonville, CA, has been attending Groundhog Day for 11 years and decided to buy a second home there.
This furry ambassador of goodwill has become a "tourism magnet" for the state of Pennsylvania, and not unlike Miss America, finds himself hobnobbing with governors, presidents and celebrities while fulfilling his duties and maintaining his media responsibilities.

"Punxsutawney Phil has had his share of travel and media exposure over the past 25 years. He met President Reagan in 1986, has appeared on Oprah, Live! With Regis and Kathie Lee and had his 2001 prognostication broadcast live on Times Square's JumboTron."
And just who are those guys in the tuxedos and top hats? They're known as the Groundhog Club's Inner Circle, a group of local dignitaries responsible for planning, promoting and preserving the tradition of Groundhog Day, and most importantly, the care and feeding of Punxsy Phil. I'm guessing there's also a secret groundhog induction ceremony and handshake.

"The holiday has inspired the formation 58 Groundhog Day clubs, including the Five O'Clock Shadows of Columbia, SC, and Punxsy Phil's Party Pretties, Political Pundits and Pontificating Old Poops of Annandale, VA. The Farmhouse Fables is based in East Sussex, England. There's even a chapter formed by an American military unit in Tikrit, Iraq."
There was just one more thing that I needed clarification on: How many Punxsutawney Phils have there been over time? And thanks to groundhog.org, the official website of the PunxsutawneGroundhog Cub, I have my answer.
"There has been only one Punxsutawney Phil. Punxsutawney Phil gets his longevity from drinking 'groundhog punch' (a secret recipe). One sip, which is administered every summer at the Groundhog Picnic, gives him seven more years of life."
Long live Punxsy Phil, and Happy Groundhog Day to all!