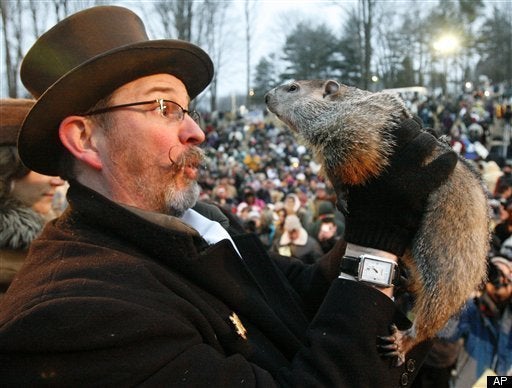 Punxsutawney, PA -- In a tradition that began in the 18th century, the so-called Punxsutawney Phil predicted an early spring today at Gobbler's Knob. While that gives hope to millions of Americans that have suffered through a brutal winter, the prognostication might have been forced.
The Punxsutawney Police Department is investigating a claim against the groundhog's handler, John Griffiths. Witnesses say that Mr. Griffiths, Groundhog Club owner, was seen threatening the docile rodent.
"He kept pointing his finger at Phil," said Molly Crawford, a 33-year-old local woman. "I couldn't hear what he was saying, but it looked like he didn't like what Phil had to say."
"I heard him say, 'You'll do it if you know what's good for you. Or no more dewy leaves and grasshoppers!'" said Stanley May, a 42-year-old local man. "There was an awkward moment in the crowd after that, but it was forgotten when he held up that adorable fur ball and told us what we wanted to hear."
Of the 115 predictions on record, Punxsutawney Phil has predicted an early spring 15 times (13%). The groundhog has not predicted an early spring since 2007. Since then, we have had some of the worst winters on record. New York has had more snow accumulations in the last 12 months than in the previous three years combined. Philadelphia has seen more snow in the last 13 months than in the previous five years.
"There's a lot of pressure on Mr. Griffiths," said Walter Gibson, president of the Punxsutawney Business Alliance. "Businesses in Punxsutawney are struggling and the mayor's approval ratings are down. Everyone kept asking John what Phil thought. I don't blame him if it's true."
Phil, who has been detained by Punxsutawney PD for his safety, could not be reached for comment.
REAL LIFE. REAL NEWS. REAL VOICES.
Help us tell more of the stories that matter from voices that too often remain unheard.