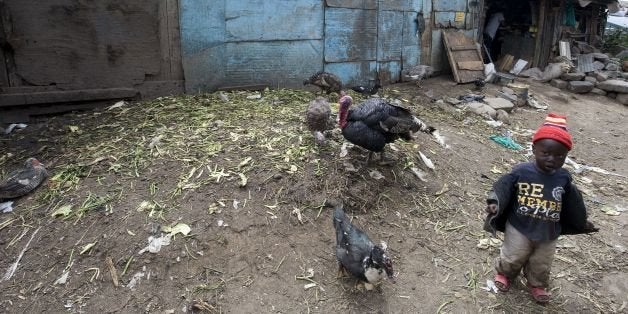 WASHINGTON, June 18 (Thomson Reuters Foundation) - When Erica Hagen started mapping schools in the sprawling Nairobi slum of Kibera, she was surprised by their sheer number. Primary education is free in Kenya, yet its poorest people were supporting hundreds of informal, private schools.
By geotagging the schools crammed into ramshackle huts and tucked down dirt alleyways, Hagen created a map that starkly depicts how Kenya's free education system was failing to reach the neediest. She also made the informal school system visible.
The map from Africa's largest slum, home to some 250,000 people, has become a tool for community activists to campaign for better education, to focus government resources where needs are greatest, said Hagen, director of GroundTruth Initiative.
Projects like hers connect data points to reveal hidden patterns. It is a technique the World Bank and development agencies are beginning to use to better inform their decisions on how to spend development dollars effectively.
Dan Runfola, a geospatial scientist for the AidData project at the College of William and Mary, used data to help answer the question: Do legal rights to land help people protect their natural resources?
The World Bank, USAID and other development agencies pour money into land titling projects in the belief that legal rights to land are an anti-poverty tool that empowers people to make better decisions over how to use their resources.
So Runfola mapped a forest community in northern Brazil that had received land title, overlaid it with daily satellite images of forest cover and compared the results to a community without secure land rights.
The combined data maps, known as mashups, revealed a decline in deforestation rates for the land-titled community.
"The findings show weak evidence of impact so far, and it may reflect reforestation happening, too, but it's a start in better understanding the effect," Runfola told the Thomson Reuters Foundation at a conference on data for development.
Janaagraha, the citizens action group in Bangalore, has compiled a quality-of-life map that scores how well electricity, water, transportation, health services and other public services are delivered to each ward in the city. Only a handful of wards win top marks and are colored green on the map.
India faces a $1 trillion shortfall in infrastructure investment, and rapid urbanization is placing intense pressure on old roads and broken sewage lines, said Srikanth Viswanathan, a Janaagraha coordinator at the OpenImpact conference.
These data maps show the impact of crumbling infrastructure on the quality of life neighborhood by neighborhood, and it is one tool to help improve how tax dollars are spent, he said.
(Reporting by Stella Dawson,; editing by Alisa Tang. Please credit the Thomson Reuters Foundation, the charitable arm of Thomson Reuters, that covers humanitarian news, women's rights, corruption and climate change. Visit www.trust.org)
To take action on pressing education issues, check out the Global Citizen's widget below.
Calling all HuffPost superfans!
Sign up for membership to become a founding member and help shape HuffPost's next chapter