A massive storm pounded drought-plagued California last week, but it hasn't eased long-term concerns over the state's ongoing water issues.
During the Almond Conference in Sacramento, Wednesday's session on "Water: Policy and Politics" was among the most popular panels at the Almond Board of California-sponsored event, with growers, media and professionals from the ag industry packing the Sacramento Convention Center to make sense of the myriad of water issues being grappled with at the local, state and federal levels.
While no politicians spoke on the panel, attendees used the Q&A session after as an opportunity to voice their concerns to state officials over drawn-out plans and the possible state regulations that could come with the recently signed Sustainable Groundwater Management Act, which has a timeline spread out over 20-plus years.
"We're tired of broken promises," one attendee shouted from the corner of the room.
But even with a timeline that could span a quarter of a century, Lester Snow of the California Water Foundation said the Sustainable Groundwater Management Act is a necessary, "fundamental change" in how California will manage its groundwater supply.
Snow also stressed that the SGMA should be geared toward allowing local authorities to manage groundwater, rather than having the state come in and take over management of the more than 400 delineated groundwater basins in the state.
"It's based around local empowerment," Snow said, "not that the state will manage it, but giving tools to the locals - authority and clear tools."
Despite skepticism from some in the crowd, Dorene D'Adamo, a member of the State Water Resources Control Board, noted "this is not something we're anxious in stepping in on."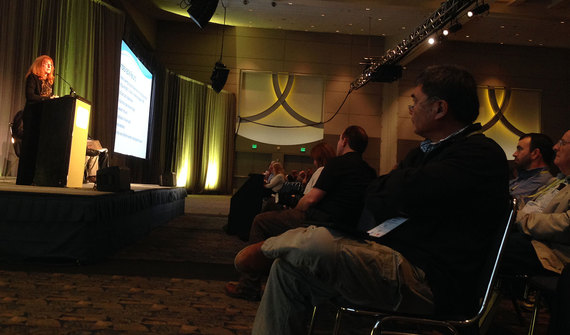 Dorene D'Adamo, a member of the State Water Resources Control Board, talks to attendees at The Almond Conference.
Timeline and Expected Results
To that point, D'Adamo unveiled a timeline and expected results of the groundwater legislation passed and signed by Gov. Jerry Brown on Sept. 16.
"June 30, 2017: Formation of Groundwater Sustainability Agencies (GSAs).
Jan. 31, 2020: Completion of Groundwater Sustainability Plans (GSPs) in critically overdrafted basins.
Jan. 31, 2022: Completion of GSPs in all other basins.
20-year implementation period: Implementation of GSPs under local management."
D'Adamo added there could be state board intervention if there is no GSA in place or if the GSA/GSP is "inadequate and the basin is in long-term overdraft." The state board could also step in during situations where the "GSP is inadequate and (there are) significant depletions of interconnected surface waters."
Other "undesirable results" from the state board's perspective would include:
" Chronic lowering of groundwater levels (not including overdraft during drought, if a basin is otherwise managed) AND there are significant and unreasonable ...
Reductions in groundwater storage
Seawater intrusion
Degradation of water quality
Land subsidence
Surface water depletions adversely impacting beneficial uses"
"We really are hoping for the best," D'Adamo said of drought relief, "and planning for the worst."
Litigation on the Horizon
David Orth, general manager of the Kings River Conservation District, was recently reappointed by Brown to the California Water Commission. During the panel, Orth underlined the importance of "keeping water in the hands of the stakeholders that use it" ... and keeping these decisions out of the courtrooms.
But with hundreds of basins and agencies affected by the implementation timeline, many believe disputes, delays and litigation are inevitable. 
Prior to the act, conflicts about pumping groundwater have regularly ended up in court, and this will likely continue to occur on some of the most impacted groundwater basins.
The next and biggest challenge of all will be implementing the groundwater management law.
Local GSAs will not only have to be put in place over the next couple years, they'll have to come up with plans, and, more importantly, adequate funding to carry out sustainable basin-wide management.
That's where panelists at Wednesday's Almond Conference said the public needs to come into play, to make sure their input and concerns are heard, and local agencies (and the state) are acting in their best interest. 
"Let's harness this energy, and get involved," Snow concluded. "This is not a time to sit on the sidelines and let other people decide for us."
Calling all HuffPost superfans!
Sign up for membership to become a founding member and help shape HuffPost's next chapter