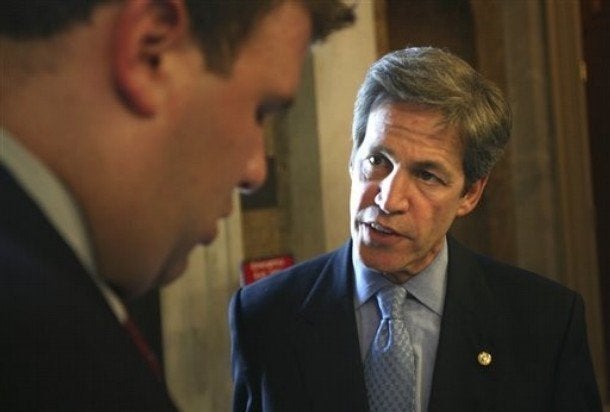 A good government group in Minnesota has filed two letters -- one to Congress the other to the FBI -- asking for an investigation into allegations that Sen. Norm Coleman's family received $75,000 in potentially illegal payments from a friend and benefactor.
The Alliance for a Better Minnesota sent letters on Wednesday to the Minneapolis office of the FBI, as well as to the Democratic and Republican chairs of the Senate ethics committee.
The FBI version requests an investigation into "allegations of fraud ... allegedly committed by Minnesota residents and companies and were allegedly pursuant to a scheme to benefit one of Minnesota's U.S. Senators, Norm Coleman." Read the full letter here.
The Senate version -- addressed to Sens. Barbara Boxer and John Cornyn -- is a "complaint against Senator Norm Coleman," for potentially violating Senate rules.
Senator Coleman and his wife may have accepted and, subsequently, failed to report gifts worth $75,000. These actions constitute a potential ethical violation on the part of Senator Coleman, and deserve further investigation by the Senate Ethics Committee. As the recent conviction of Senator Coleman's colleague Senator Ted Stevens demonstrates, strict enforcement of the Senate's gift rules is critical to maintaining the public trust. We request that the Committee undertake this investigation immediately.
Coleman has been accused in two separate (but related) lawsuits of having received $75,000 from Minneapolis businessman Nasser Kazeminy. The first suit, filed in Texas, alleges that Paul McKim, the founder and CEO of Deep Marine Technology, was urged by Kazeminy -- a DMT shareholder -- to send three payments of $25,000 to Coleman's wife. The payments were made under the guise of insurance purchases from Laurie Coleman's company, the affidavit alleges, but the true purpose was the financially betterment of the Senator's family.
A second suit, filed in Delaware by other DMT officials, makes similar allegations. However, in this filing, the $75,000 in payments were allegedly designed to be for Norm Coleman himself.
Coleman has denied any wrongdoing. Saying that his wife earned only salary in her position at the insurance firm Hays Company, he has decried the charges as unethical attacks on his family. He has also insisted that the issue was drummed up by the Al Franken campaign, an allegation that Franken and the paper that initially reported the lawsuits have both denied.
In an interview with the Huffington Post several weeks ago, ethics lawyers argued that, because of this issue, Coleman could face a wide variety of legal and political hurdles should he ultimately be reelected to his seat. The Senate Ethics Committee, of course, will only investigate the matter if he is in Congress. The FBI may be more prone to take on the case regardless of whether or not Coleman bests Franken in the Minnesota Senate recount.
Update: The Coleman camp responds by saying it has nothing to hide.
"As another Democratic group that spent millions of dollars attempting to defeat me calls for a politically motivated investigation, I want to be clear that I not only welcome such an investigation, but I am eager to have it move forward immediately. The fact that a United States Senator is being used as a tool of extortion by private parties should be of concern to all Minnesotans. I reiterate that none of the allegations which attempt to besmirch my family's good name and reputation are true. This investigation should move forward, and it is my hope that those who were behind this matter, their motives and what their connections may be to my political opponents be reviewed aggressively by the appropriate authorities and the media. This matter, which has emerged again as a result of the tactics of my political opponents, during a recount, ought to raise even further suspicions in the minds of Minnesotans as to its motives and purposes."
Calling all HuffPost superfans!
Sign up for membership to become a founding member and help shape HuffPost's next chapter