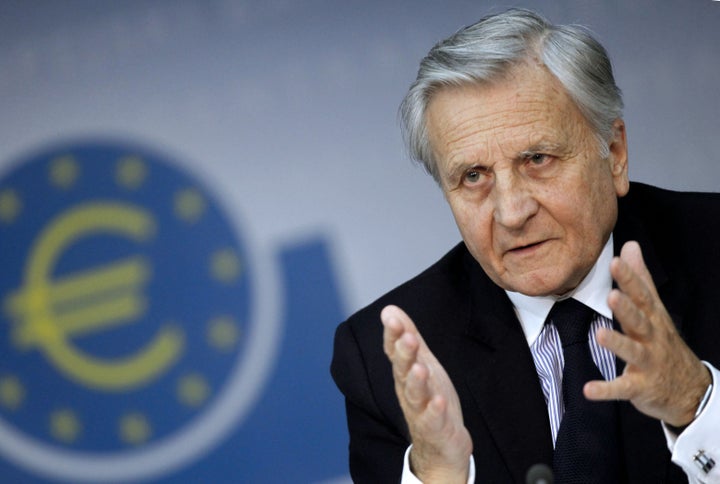 * Economic advisory group fingers boards, execs, shareholders
* Regulators warned against interfering in corporate strategy
* Bad governance seen as major contributor to financial crises
NEW YORK, April 12 (Reuters) - The Group of Thirty, a private organization of influential regulators, financial executives and academics, has thrown its weight behind reform of corporate governance practices at the world's biggest financial companies, implicating executives, board members, shareholders and regulators for past failures.
"The global economic crisis, with the financial services sector at its center, wreaked economic chaos and imposed enormous costs on society," the G-30's year-old working group on corporate governance wrote in an 81-page report released Thursday by the group's Chairman Jean-Claude Trichet, the former president of the European Central Bank.
The report blamed "pervasive failure of governance at all levels" as a large contributor to the 2008-2009 financial crisis.
Released as many companies prepare to confront shareholder resolutions at their annual meetings and as companies such as Goldman Sachs Group have rejiggered their board structures to avoid executive suite crises, the report proposes some familiar guidelines for financial companies. [ID: nL2E8ET05W].
They include splitting the corporate roles of chief executive and chairman of the board, a proposal that has been made this year by shareholders at 37 U.S. companies, according to Instituional Shareholder Services, a proxy adviser to investors.
"If the job of the board is to control management, then an irresolvable conflict of interest arises when the most powerful board member (the chair) is also the most powerful member of management (the CEO)," the G-30 report says.
It also urges regulators to lighten their tendency toward rules-based supervision with common-sense observations about board independence. "It is all too tempting to rely on indicators such as the number of times the board said no to or argued vehemently against management proposals," the report says. "In fact, too many no's from the board is more likely a sign of dysfunction."
Regulators, in addition to continuing to improve the use of stress testing and other capital reviews, should also take "real-world" looks at how companies react to outside events and question the sustainability of areas where financial companies are performing unexpectedly well, the report said. It also urges regulators to refrain from interfering with corporate strategy.
"There have recently been examples of (financial institutions) selling subsidiaries just to avoid inappropriately intrusive supervision that had overstepped the boundary between supervision and board prerogatives," the report said, without citing specific incidents.
"Significant long-term shareholders" generally have a right to be represented on boards, the G-30 argued, but fellow directors and executives have to serve other constituencies as well and should be able to vote against shareholders who are focusing on performance "to the detriment of prudence."
It is more important for boards to be diversified by ethnicity and gender than to ensure that every director has deep familiarity with financial concepts, the group said. "An indispensable characteristic of an effective board is its openness to different ideas, ways of thinking and points of view," steering committee member William Rhodes, a former Citigroup executive with an expertise in Third World debt, said in prepared remarks.
The report puts a heavy emphasis on values, arguing that the key to governance reform is changing the way that directors, executives and regulators think about their responsibilities.
"The G30 is not the first to reach the conclusion that proper behaviors are the key," it concludes. "But this report endeavors to describe those essential behaviors and to provide implementable ideas for engendering them. The key to changing the way peole behave is to change the way they think."
The report was based on interviews with executives and directors of 36 of the world's "most complex" banks, insurance companies and securities firms, the G-30 said. Its governance steering committee is chaired by Roger Ferguson, former vice chairman of the Federal Reserve System and current president and CEO of TIAA-CREF. Its vice chairmen are Rhodes, former U.S. Comptroller of the CUrrency John Heimann and fomer Morgan Stanley International Chairman Sir David Walker. (Reporting By Jed Horowitz)
REAL LIFE. REAL NEWS. REAL VOICES.
Help us tell more of the stories that matter from voices that too often remain unheard.
BEFORE YOU GO