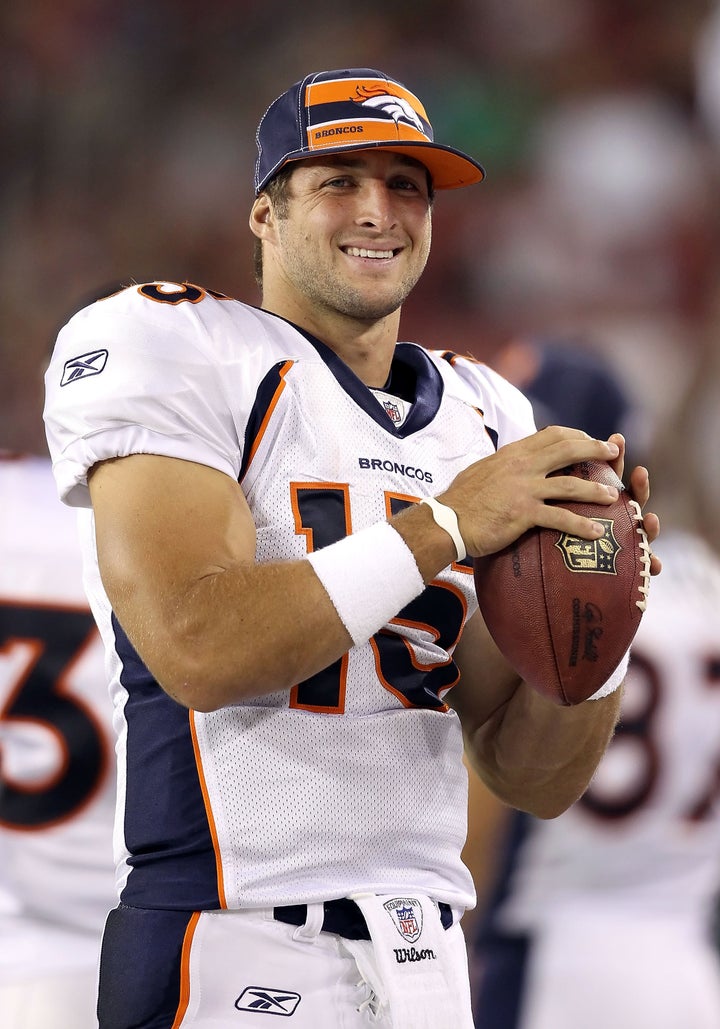 The self-described "die-hard" Broncos fans, led by Jesse Oaks, are planning on using their savings to possibly buy two billboards, at $10,000 a piece, in downtown Denver encouraging Coach Fox to play Tim Tebow and ditch Kyle Orton, The Denver Post reports.
Tim Tebow appreciates his fans, but trusts Broncos leadership in what has become a bit of a circus of rumors and fan adoration swirling around the backup quarterback. When asked about the potential of billboards supporting him, according to ESPN, Tebow said:
I guess I appreciate the support, you know, but we got people in charge here that we trust and [I] trust they're going to do the right thing.
Tebow also said that he would rather the fans donate the $10,000 to his charity instead of spend it on the billboards.
Coach Fox appears to be keeping both his resolve and his sense of humor about the whole thing, he said to The Denver Post with a smile:
I've seen a lot of billboards and can't remember one that really influenced me.
John Elway tweeted about the loss to the Raiders and what presumably seems to address the criticism being lobbed at starting quarterback Kyle Orton, saying:
| | |
| --- | --- |
| | @ johnelway : We're all disappointed with the outcome of our first game, but there's still a lot of football left to be played. |
| | |
| --- | --- |
| | @ johnelway : If decisions were made based on one week, I'd have been outta here after my first start! |
But the fans are willing to wait one more game to put up their pro-Tebow messages onto Denver billboards, they want to see how Orton performs against the Bengals this Sunday, according to 7News.
Bronco Talk posted the original statement from Oaks from Wednesday (since removed) on the Denver Broncos website forums:
Me and 7 of my buddies who are all die hard Broncos fans have finally raised enough money for 2 downtown Denver billboards to read: Bench Orton play Tebow w/ a few different on the field photos. We are waiting to see how Orton does this week vs the Bungals [sic]. No we are not Timmy fanatics, we are true Broncos fans for years and years and we are sick of seeing all the excuses for Orton. So hopefully by week 3 the billboards will be up!
Fox has made it clear that he is sticking with Orton as quarterback despite the poor performance and chanting from Broncos fans during the first regular game of the season. But Orton may be in for a whole new set of problems this Sunday, 9News reports that the Broncos could be less six of their key players due to injuries from the Raiders' punishing defeat of the Broncos on Monday night. Another Broncos loss could make some fans turn on Orton for good.
The final score of Denver's loss to Oakland was close (23-20), but the most ominous indication of trouble ahead for the Broncos was their inability to either run the ball (38 yards) or stop the run (the Raiders rushed for 190). Those are staples of a John Fox-coached team, and it didn't help in the least that quarterback Kyle Orton turned back into a pumpkin in that orange Broncos jersey.
Calling all HuffPost superfans!
Sign up for membership to become a founding member and help shape HuffPost's next chapter