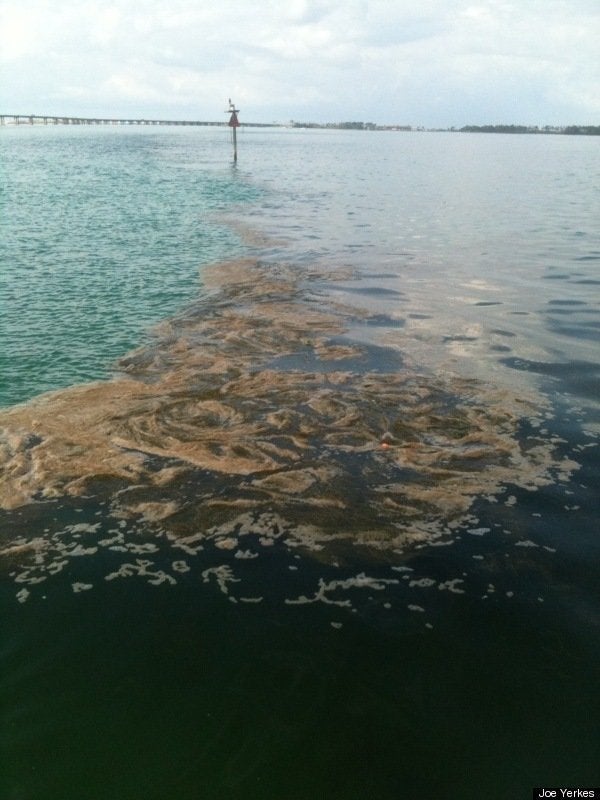 What led Obama administration officials to wildly understate the size of the BP oil spill until it was all over? Was it just a series of honest mistakes? Or was science being manipulated for political purposes?
An environmental whistleblower group suspects the latter, and its distrust has only grown as the U.S. Geological Survey, one of several agencies involved in assessing the flow rate, has refused to turn over relevant documents including directives from political appointees
So the group, Public Employees for Environmental Responsibility, filed suit in federal district court on Thursday, claiming that hundreds of pages of reports and communications are being withheld in violation of the Freedom of Information Act.
"Our concern is that the administration took, and is still taking, steps to falsely minimize public perception about the extent and severity of the BP spill -- a concern that the administration could start to dispel by releasing these documents," PEER Executive Director Jeff Ruch said in a statement.
For now, PEER is focusing on the first official report of the National Incident Command's Flow Rate Technical Group, which was comprised of federal and independent scientists. After five weeks during which the administration stuck to a preposterous 5,000 barrels per day estimate, USGS Director Marcia McNutt, who chaired the group, issued a public statement May 27 declaring that the "best estimate" of the flow was between 12,000 and 19,000 barrels per day.
But that statement was tremendously misleading. As I reported a few days later, scientists in the group had agreed on that range only as the lower range of "lower bounds" of the spill.
Even when a summary of the report was released a few days later, it only generally described the assumptions made by scientists. The underlying technical work was not made public. And rather than state any upper boundary, the report borrowed from the lexicon of Bush-era Defense Secretary Donald Rumsfeld to assert that such a figure was incalculable due to "known unknowns" and "unknown unknowns."
Several more estimates ensued. Finally in early August, after the well was capped, the government announced that the daily flow had ranged from about 62,000 barrels at the beginning of the spill to about 53,000 barrels a day at the end -- making it the worst accidental offshore oil spill in the planet's history.
Administration officials have never explained why their estimates were so far off, or why they spun them in a way to even further minimize them.
Asked to respond to PEER's lawsuit and the group's charge that the administration intentionally downplayed the extent of the spill, Interior Department spokeswoman Kate Kelly e-mailed me back: "We don't comment on pending litigation."
A similar mystery to that which surrounds the flow rate estimates involves the administration's public release in early August of a report based on an internal "oil budget calculator" that had been put together in a hurry and solely to provide general guidance to the emergency response.
Instead, the report was released with great fanfare, media appearances and a White House press conference -- and top administration officials cited its conclusions as evidence that "the vast majority of the oil is gone".
But the report was sketchy at best. The National Oceanic and Atmospheric Administration has consistently refused to disclose supporting documents. Officials falsely gave the impression that a group of eminent scientists had peer-reviewed the report, when they hadn't even seen it.
One reason the administration remains susceptible to charges of political interference with science is that, as I wrote in July, despite President Obama's promise to deliver a strategy for restoring scientific integrity to the federal government, federal agencies still have not received any new directives. And some government scientists say that conditions have not improved noticeably since Obama took power.
In its complaint against the USGS, PEER notes that after its initial request, USGS did start posting some internal documents that were "partially responsive" on its website.
But those documents don't explain much. For instance, a fragment on an e-mail thread titled "Re- Oil Budget Tool gets high praise - ACTION by 3.30PM today" raises -- but doesn't answer -- the question of who praised it and why it suddenly went public. Was it a political appointee eager to get the spill off the public's radar?
Several documents show administration officials consulting each other regarding the best way to duck questions from reporters -- one of those reporters being me.
In early August, I e-mailed one official whose name appeared on the "oil budget" report, asking for the supporting documentation.
"People are still finding the document where my email is unfortunately permanently etched and asking questions," wrote USGS official Sky Bristol. "This one is from a reporter with the Huffington Post. I answered his basic logistical question about the material already posted online, and I would like to just use the basic statement (slightly modified from the earlier version) I sent earlier as a canned response about this effort. Do you have any problem with me going ahead and sending this, or should I put him off? Thank you."
As it happens, she just put me off entirely.
Another e-mail suggests a somewhat cavalier attitude when it came to identifying the actual authors of the "oil budget" report. One of the authors listed was Mark Sogge, chief of staff for the USGS's Western Region.
An e-mail from Western Region communications chief Vic Hines notes: "When this thing came out Mark was surprised to be listed as a co-author, as he said he made a few comments about it but really had very little input."
*************************
Popular in the Community