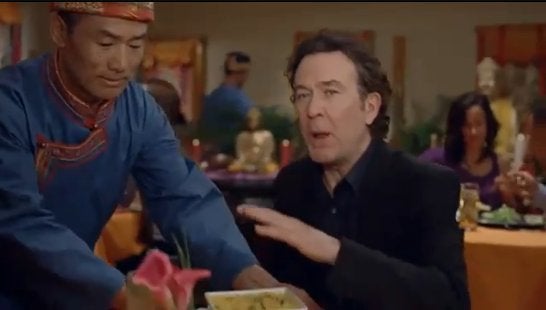 Groupon CEO Andrew Mason defended his company's controversial Super Bowl ad about Tibet in a blog post on Monday. Mason said that the ad had been misconstrued, and that Groupon was trying to bring attention to the erosion of Tibetan culture that it seemingly mocked in the commercial.
The commercial features actor Timothy Hutton telling viewers, "the people of Tibet are in trouble. Their very culture is in jeopardy. But they still whip up an amazing fish curry." Hutton then says that he's at a restaurant in Chicago enjoying Tibetan food thanks to a Groupon deal. Many objected to the ad, saying it was offensive and misguided. Groupon has similar ads running featuring Cuba Gooding, Jr. talking about whales, and Elizabeth Hurley talking about Brazil.
In his post, Mason said that Groupon was raising money for all of the issues mentioned in the commercials, and he directed people to a site where they could donate to different organizations, such as Greenpeace and the Tibet Fund.
"We take the causes we highlighted extremely seriously - that's why we created this campaign in partnership with many hallmark community organizations, for whom we're raising money at SaveTheMoney.org," Mason said.
He also said that the spots were meant to make people take the causes the actors talk about "more seriously":
When we think about commercials that offend us, we think of those that glorify antisocial behavior - like the scores of Super Bowl ads that are built around the crass objectification of women. Unlike those ads, no one walks away from our commercials taking the causes we highlighted less seriously. Not a single person watched our ad and concluded that it's cool to kill whales. In fact - and this is part of the reason we ran them - they have the opposite effect...we would never have run these ads if we thought they trivialized the causes - even if we didn't take them as seriously as we do, what type of company would go out of their way to be so antagonistic?
Popular in the Community