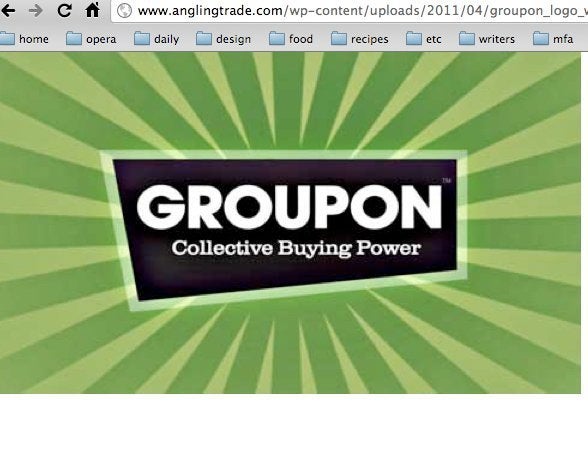 Groupon is no longer just a daily deals site featuring wacky prose and cats in sunglasses. Thursday's IPO filing has revealed the extent of Groupon's insane success over the past two years. It's also left more than a few people wondering how exactly it happened and whether the site's enormous valuation is an indication that the tech industry is headed for another bubble.
Groupon's S-1 filing with the SEC reveals incredible, almost unbelievable growth. In the past year, Groupon expanded outside the U.S. to over forty countries around the world. Revenue in the first quarter of 2011, over $644 million, is more than 200 times what it was in the same period in 2009, $3.3 million. Groupon's subscriber base grew from about 2 million in the beginning of 2010, to over 83 million by March 2011.
Today, everyone is trying to stick a thumb in the daily deals pie. After Groupon reportedly rebuffed Google's buyout offer in 2010, Google launched its own local deals service. Facebook, AT&T, smaller Groupon-esque companies like Livingsocial and dozens of other businesses have made their bids to provide daily deals. But of course, Groupon was there before any of them.
Groupon's become known for its love of the unconventional, a philosophy expressed in its non-Silicon Valley headquarters in Chicago and truly quirky ad copy. The site launched in 2008 as an off-shoot of a site called The Point, a platform for group action and fundraising. From that spirit of community and group power came Groupon, a site letting people purchase deals collectively on the cheap.
Between 2008 and 2009, Groupon got off the ground, slowly adding U.S. cities to its base. About a year and a half ago, in December 2009, the company raised $35 million in fundraising. At the time, it served 26 U.S. cities and had a staff of 126, with just over 150,000 subscribers. In that time, it doubled the number of cities it served. Revenue from 2008 to 2009 exploded from $94,000 to over $30 million.
By March 31, 2011, Groupon had expanded at a rate so remarkable, it seemed as if someone had put a decimal in the wrong place somewhere. At the beginning of 2010, Groupon had just over 1.8 million subscribers. By the end of the year, it had over 50 million. The same exponential growth was true of revenue: Groupon went from $30 million in revenue in 2009 to over $700 million in 2010. That's an increase of about 2,333 percent. The site also went international, adding 43 countries within the year.
These numbers are especially startling in comparison to those from the first three months of 2011. Groupon's subscribers have grown to 83 million and revenue for those three months alone was over $644 million.
By the end of 2010, the sharks started to swarm. Rumors that Google was in talks to buy Groupon once again drew massive media attention to the Chicago startup. Reports speculated that Google would offer $2.5 billion. In the end, Google reportedly offered $6 billion to grab Groupon. But Groupon, to the astonishment of many, turned Google down.
By 2011, Groupon was thrust onto center stage, a position that seemed uncomfortable for the formerly tiny operation with the big personality. Mishaps that might have gone unnoticed became full-fledged scandals, such as a deal for flowers turned out to be less than a bargain. Later, the company again faced the consequences of being in the public eye when its Superbowl ads seemed to make light of issues including the Tibet-China conflict and the Brazilian rainforest.
2010 also saw ballooning Groupon valuations. In April, after a $135 million fundraising round, the company was valued in the $1.35 billion dollar range, about 18 times less than its valued upon filing its IPO on June 2. By November 2010, the company sought fundraising that would value it at $3 billion. After a near-billion dollar fundraising round, Groupon closed 2010 at about a $4.75 billion valuation.
Groupon's valuation tripled within the month to $15 billion in January 2011. And by March, that number was revised upwards again, to as much as $25 billion, where it currently stands.
The company is seeking to raise $750 million. And, in light of LinkedIn's spectacular first day at the markets back in May, everyone's looking to see how Groupon will fare.
Calling all HuffPost superfans!
Sign up for membership to become a founding member and help shape HuffPost's next chapter