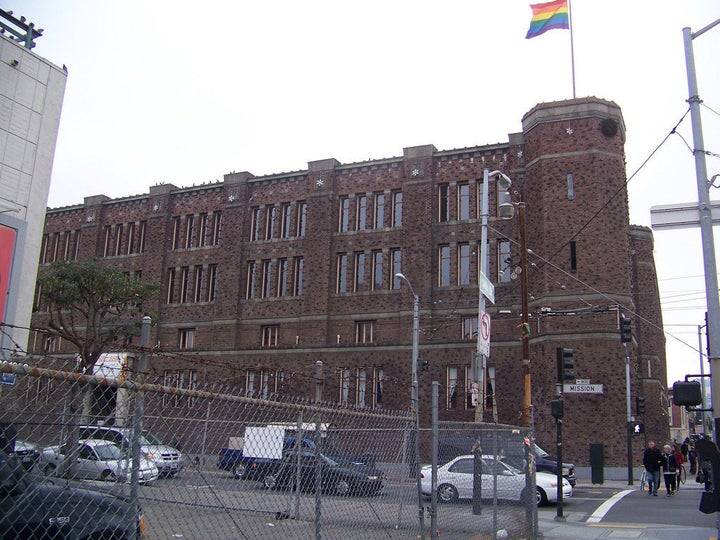 Kink.com (CAUTION: link contains extremely graphic, NSFW images) is the world's largest producer of fetish pornography and hosts tours of its headquarters, located in the historic San Francisco Armory building. The Groupon experience included a tour of the building's historically significant features, as well as a visit to Kink's film sets, prop rooms and production facilities. "Depending on the timing," wrote Groupon in the tour description, "groups may also glimpse a live filming in progress." Kink films frequently feature BDSM (bondage, discipline, sadism, masochism) themes.
[Kink.com] specializes in the live filming of "young sexy teens who are overwhelmed and outnumbered…who need to learn a lesson by multiple men;" of women being "bound, whipped, objectified and humilated. They are immobolized, caged and humiliated as objects;" of women "suspended and tied in rope bondage…tormented beyond all reason;" and of women "naked, tied up, bound, punished, exposed in public…who are taken to public bars for public sex and public humiliation…" (The material in quotations are descriptions written by the porn site Groupon is advertising for.) Is this really corporate responsibility? Shouldn't we demand that Groupon refrain from selling torture porn tours that exploit and degrade women?
WOIP contacted Groupon, asking the company to revoke the offer, but Groupon defended both Kink and its coupon. In an email to WOIP, Groupon wrote:
We strive to offer interesting and exciting deals that will appeal to our diverse customer base. […] We thoroughly vet the businesses we feature, which is why we take these concerns seriously. Fortunately, this business has proven to be a responsible member of their community and the tour offered in this deal is historical and informational in nature.
But WOIP Executive Director Dawn Hawkins told The Huffington Post that Kink's array of amenities act as a veil for the company's true intentions.
"This is a savvy tactic that is frequently used by pimps and pornographers, and I would argue that they are warping a message," said Hawkins. "It doesn't matter your sexual orientation; it is never ok to abuse another human being. We want Groupon to have more corporate responsibility and recognize that it doesn't profit them to promote companies that abuse and humiliate women." (Read Hawkins's blog entry for HuffPost here.)
Kink responded to Hawkins's argument, claiming that the company's mission is often misunderstood.
"A huge part of Kink.com's mission is to empower people to explore their sexuality," said Kink.com Spokeswoman Alison Voss to HuffPost. " While many misinterpret BDSM as degradation, we celebrate it as a positive, authentic expression of human sexuality."
In an email to HuffPost, Kink.com Founder and CEO Peter Acworth also defended Kink's contribution to the community:
Prior to our (admittedly unusual!) use, the Armory was vacant and was boarded up for 30+ years while many rehabilitation efforts failed. We've been amazed by how many people have been fascinated by its history. We are grateful to Groupon for helping us open the doors of the Armory to the public. Doing so not only satisfies folks' curiosity about the building, but also helps fulfill our mission of demystifying and celebrating alternative sexuality.
Calling all HuffPost superfans!
Sign up for membership to become a founding member and help shape HuffPost's next chapter