The first real e-mail was sent in 1971. By the 1980s, e-mail was replacing traditional letter writing at astonishing speeds. Thirty years later, services like Gmail and Yahoo have made letters and stamps obsolete. In perhaps much more time than it should have taken, hundreds of services offering local bargains want to fill up your inbox everyday. Now, the "Daily Deal" landscape is home to the fastest growing new players in the start up scene.
One of the first successful ventures to jump on the daily deal scene was Groupon, which launched in November 2008 in Chicago and has since expanded into 65 North American markets and 13 countries including Chile and Brazil. Now considered the largest social commerce site, Groupon, founded by Andrew Mason, sells a "deal of the day" at an average discount of 50%.
Since Groupon's success, over 100 similar enterprises have launched. But the idea of subscribing to a hundred different e-mail newsletters is daunting. Navigating the e-coupon waters might have been a terrifying feat until Yipit popped on the scene. When Yipit first started in February 2010, they only aggregated about 30 services. Now in July 2010 they aggregate over 90 services in 7 cities, a testament to the growing e-coupon market.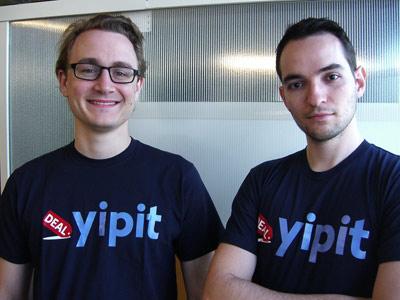 While at Harvard, Yipit founders Jim Moran and Vin Vacanti sold ads for local businesses in their college magazine. After graduation, they both spent time on Wall St before leaving to work for start-ups. In the winter of 2009, Jim noticed that everything was on sale; even high-end restaurants were offering recession deals. So, Jim and Vin decided to start focusing on deals, thinking about what the Yelp reviews of deals or the Facebook graphs of deals might look like. Pretty soon, they had an incredible database and a recommendation algorithm for single sales, restaurants and happy hours. "We were growing steadily," says Jim, "But we weren't really blowing everyone away." Then, following the success of Groupon, "We noticed this incredible trend booming beneath us," he says, as more and more e-coupon enterprises popped up. To aggregate this herd of businesses, a new, streamlined version of Yipit was born.
To be clear, Yipit doesn't have their own deals. They are like the Kayak.com of the e-coupon industry, grabbing deals just as their announced. Their system automatically receives deals, and interns and content managers categorize the deals based on user preferences. Yipit customizes your "Deal Perch" by categories such as dining and nightlife, health and beauty, retail and services, activities and adventures and fitness. An algorithm takes the deals and sends unique emails out to users based on their preferences. "We learn about our users and send them customized deals. If you tell us you never want to see a spa deal, you'll never see a spa deal from us," says Vin.
Traditional coupons and Sundays spent clipping are a thing of the past. "With all of the deal sites out there today," Vin says, "It's financially irresponsible to not take advantage of these deals."
Since Jim and Vin at Yipit spend their days navigating the e-coupon waters, we asked them which e-coupon sites they liked best. Here is a list of the best ways to save money, (by spending it).
According to Yipit, the biggest national players in the E-Coupon scene are Groupon, LivingSocial and BuyWithMe. Local businesses love Groupon because of its "collective buying power" feature. The daily deal is only released once enough people buy in, creating an incentive to share with friends and family and a set minimum sale for vendors. Groupon literally sells deals in every category such as entertainment, clothing, restaurants, spas and travel. Groupon even offers virtual currency called Groupon Bucks. Earlier this month, Groupon entered into an outsourcing partnership with The McClatchy Company, which owns several major newspapers such as the Kansas City Star, the Miami Herald and the Sacramento Bee. The selected newspapers will offer exclusive and localized Groupon discounts, which is a cute nod to the days of coupon clippings and one more way newspapers can get themselves up to speed in the Internet era.
LivingSocial is the second largest daily deal site, which sells everything from photo classes in Central Park to Brazilian waxes to rock climbing. The experience is more intimate than Groupon since it provides users with free deals if they can get three of their friends to buy the same deal. The third national player, BuyWithMe is an up and coming daily deal site, which provides multiple daily deals per day per city. BuyWithMe reaches a smaller audience and provides an average deal of 50-60% off.



In New York City, Yipit ranks the top 5 deal sites: Village Vines is a membership only site which provides access to a small selection of handpicked restaurants in New York City like Soho's Kittichai, Public in NoLita and West Harlem's Dinosaur BBQ. Diners make reservations through Village Vines, paying $10 in advance to secure exclusive pricing which is usually about 30% off at restaurants. BlackboardEats is another restaurant focused deal site offering users redemption codes to prix fixe discounts, tasting events and weekly dinner bargains which are live for one day, good for one month and usually save about 30% off of the total bill or free appetizers and drinks. BBE is edited by food critics and is also located in San Francisco and Los Angeles. RelishNYC offers dining, activities like bike rentals, and entertainment deals in New York with a focus on local businesses and merchants and fewer chains. Lifebooker is an NYC based salon and beauty deals site that users can use to make appointments, helping to reduce wait time.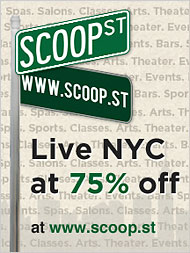 Lastly, Scoop St offers a variety of marquee New York businesses and experiences. Founders and former Georgetown roommates David Ambrose and Justin Tsang aim to combine the elements of online communities and the power of group buying. Ambrose, an expert in online car forums and Tsang an experienced consumer in Chinese consumer flashbombs called "tuangou," were called "New York's Answer to Groupon" by Business Insider. In spring 2010, they held the "Taste of 7th Street Food Festival," which offered signature dishes to over 1,000 consumers half-off. Since beginning in January 2008, they've managed to close an angel round in addition to another round of private investing. They have plans to open up in the Asian market this fall.

In Los Angeles, Yipit recommends Social Buy, a site for general deals like Osmosis powered facials plus social events and celebrity recommendations and endorsements like "Want to stay Fab, Fit, and Fun with Giuliana Rancic? See which deals she recommends!" And AtCost, an L.A. based general deals site with discounts that increase for users who share deals with friends via social networks like Twitter and Facebook.
In San Francisco, Yipit recommends Zozi, which is perfect for the crunchy folk with deals focusing on outdoor activities and adventures, usually daytrips. Zozi's savings hover around 50%. Bloomspot, which maintains an intimate feel because it's based around local merchants and businesses, offers 1 or 2 deals per day in luxury goods, services, and hotels for discounts of usually 30-40% off.

In Boston the best local site is Boston Bargains, which offers "wicked" general deals for small businesses with around 50-60% savings.
Based in Seattle, Yipit's likes Tippr, which offers general deals, focusing on dining and services and an incentive plan with discounts that increase as more users purchase the deal.
In Atlanta, Scoutmob takes the trophy home for it's mobile initiatives. Launched in January 2010, Scoutmob offers iPhone focused daily deals with an emphasis on restaurants and personal services. In Atlanta, Scoutmob has about 100,000 customers and they just launched their New York marketplace last week, on July 8th, 2010. At the moment, they are on track to launch a market a month.
Scoutmob's mobile app provides insights on local culture and activities. "It's similar to Foursquare," says Scoutmob Co-Founder Michael Tavani, "But the difference is Foursquare users check in at places they already go to, while we are driving users to places they haven't been to."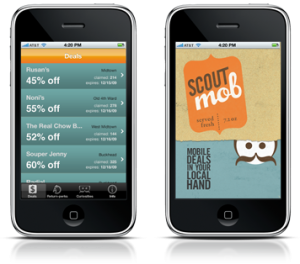 Scoutmob bridges the gap between two of the hottest trends right now, real-time location based mobile apps and daily-deal-e-coupons. "We're in a red hot space right now," says Michael, "But there are a lot of people doing it, and there are a lot of poor versions of it." Michael believes the rest of the competition drops off dramatically beyond Groupon and LivingSocial.
All deals are free for consumers, which is a powerful difference in the e-deals scene. Scoutmob doesn't accept payment on their site; they receive payment on the backend when the customer checks in at the deal location. Scoutmob makes less revenue than their competitors who manage their pay model with upfront buying but they didn't want to be a Groupon copycat. They wanted to turn the initiative upside down.
Especially because deals are free, Scoutmob has gone viral. The company doesn't need to advertise; it relies purely on word of mouth marketing. In just 24 hours, 4,000 people claimed a deal in Atlanta today at a casual Mexican restaurant called Pozole in Atlanta's Virginia Highlands district. "No one is driving these numbers outside of Groupon," he says.
Looking forward the online deals market is just getting started. "I think local publishers and established major media companies will come into this market. Anyone with an incumbent audience and local authority will start recommending deals that they've structured," envisions Yipit's Jim Moran. "And while daily deals are still a desktop experience, expect that the future of the industry will be all about mobile."
Currently Groupon leads the pack, but the industry is evolving. It's helpful to think of each e-coupon service and deal site as a small business that sells to consumers just like anyone else. "Similar to online sample sales, which Gilt pioneered, this is not a winner take all market. There's definitely enough to go around," says David Ambrose of Scoop St. Speaking of which, this spring Gilt launched a beta version of Gilt City, its own local deals service that currently offers 5 vendors a week in New York. Gilt City offers deals like Rufus Wainwright tickets, golfing in the Hamptons and private blending sessions at City Winery.
Yipit hopes to make the landscape easier for new services to challenge Groupon. By offering to take care of distribution, Yipit forces sites to focus on the quality and not the quantity of the deals. "Yipit is really valuable in this marketplace when you have 100 plus operators. They will definitely help the entire market," says Justin Tsang of Scoop St, an NYC based daily deals site.
"There's plenty of room in the deal industry for growth," says Jim Moran, "The industry will remain fragmented. I don't think there will be just one player. What was once a former salesman is now an entrepreneur. Let's say he or she takes $3,000 to kick up a website and if the company can get 100 deals sold a week, that's about $50,000 - $100,000 a year in revenue."
And while even Yipit now has some copycats like DailyD and 8Coupons, Vin believes they have the first mover's advantage. "Our goal right now is to make sure they all succeed," says Vin. "I think eventually we will look into charging but right now our goal is to focus on the product and watching to make sure all of these new data sites will be successful."

But Michael Tavani at Scoutmob sees it from a different angle. "I suspect that during some point in the next year, the copycats will drop out because they won't be growing. And when there are only three or four enterprises, what role do the aggregators play?" He adds, "The magic of this space is creating unique deals."
It appears that over the next year, we still have a great deal to look forward to in this industry.


Popular in the Community