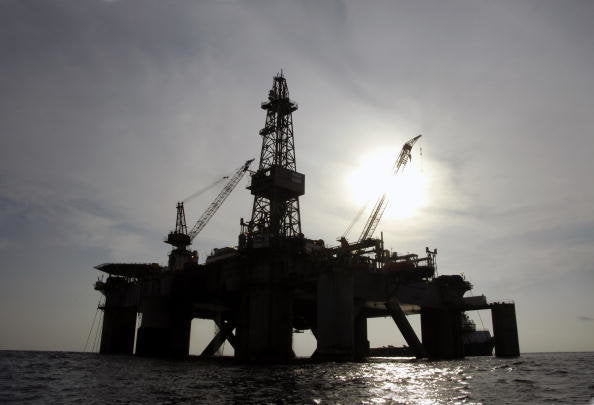 Human rights groups on Thursday called on the Securities and Exchange Commission to hurry up and issue a final rule instructing publicly traded companies listed on U.S. stock exchanges to start disclosing exactly how much they pay foreign governments to acquire drilling and mining rights.
The measure is intended to make it more difficult for foreign leaders to secretly abscond with some fraction of the billions of dollars that energy and mining companies pay them each year.
"I think they've had enough time," said Corinna Gilfillan, who heads the U.S. office of Global Witness, a group that works to stop natural resource corruption. Her worry, she said, is that the pro-accountability movements all over the globe that were electrified by the passage of Dodd-Frank will start to lose energy. Gilfillan spoke at a press event on Thursday, the eve of Dodd-Frank's one-year anniversary.
The SEC has tentatively scheduled the final rule to be issued sometime between August and December. Gilfillan said she's hoping for August.
"We don't see any signs of backsliding," said Isabel Munilla, director of Publish What You Pay, a pro-disclosure group funded by humanitarian and human-rights groups. "But from our perspective, we want to see these really soon."
The bill specified that the provision should be implemented by April 15. As it turns out, it is only one of dozens of measures with deadlines that have slipped. Dodd-Frank called for at least 240 rulemakings, creating an enormous workload for the already strapped staffs of regulatory agencies -- and an instant backlog.
Neil Brown, a senior staffer for Sen. Richard Lugar (R-Ind.) -- who along with Sen. Ben Cardin (D-Md.) championed the measure -- said on Thursday he has "every reason to believe that SEC is working diligently to get the rules finalized."
But it's not just people in the U.S. who are awaiting the final rule. Mohammed Amin Adam, who represents Publish What You Pay in Ghana, spoke at the Thursday event about how his country has a long history of watching mining proceeds vanish before they reach the public. "We have been mining for 100 years, " Adam said. "And there's nothing to show in terms of the visible impact of mining in our communities."
Without the kind of reporting mandated by Dodd-Frank, there is no way to verify what the government is telling the public about the proceeds, Adam said.
By enabling Ghana's people to hold its government accountable, he said, "you will be doing a great service to my country."
Oil and mining interests have historically shielded the recipients of their money from public exposure, and they are now complaining that the new rule will endanger contracts and give an advantage to competitors unburdened by reporting requirements.
But supporters say it's imperative to do something about what's often called the "resource curse", whereby exploitable natural resources often leave poor countries worse off due to corruption and instability.
"We're talking about payments in the hundreds of millions of dollars, and billions of dollars," said Bennett Freeman, a senior vice president at Calvert Investments, a company that specializes in socially responsible investing.
"We want to have some sense of where those bodies are buried."