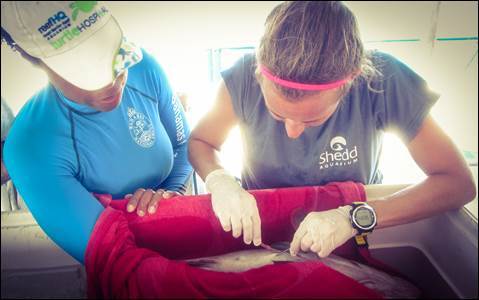 Dr. Kristine Stump, Postdoctoral Research Associate at Shedd Aquarium, surgically implants a tracking transmitter into an adult Nassau Grouper while Bahamian PhD candidate and collaborator Krista Sherman from the University of Exeter holds the fish in place.
Photo credit: Lindy Knowles
There is great news coming out of The Bahamas today regarding one of the Shedd Aquarium's conservation research focus species, the endangered Nassau Grouper.
The economically and culturally important fish has become endangered throughout the Caribbean due largely to unsustainable fishing practices. Normally, the grouper are spread out over thousands of miles of reef habitat, living by themselves under coral heads and ledges. On December and January full moons in The Bahamas, however, they migrate up to hundreds of miles to spawning aggregation sites, where thousands of them come together for a few days of elaborate reproductive displays. The times and locations of these aggregations are very predictable, and fisherman have historically fished them out in a matter of days each year. Unfortunately, quickly harvesting the majority of the spawning stock from hundreds of miles of reef habitat is not a sustainable practice.
After several years of "soft closures", in which the Minister of Agriculture and Marine Resources announced a fishing closure during the spawning season at the last minute each year, The Bahamas announced today that it has legislated a permanent annual closure of the Nassau Grouper fishery during the two months that they migrate and spawn. This is fantastic news, though the efforts to sustainably manage the species are not over. Enforcement across thousands of miles of the island nation with limited resources is still an issue, as is domestic and foreign poaching. In addition, preliminary research has shown spawning migrations may also be occurring both earlier and later in the winter than previously thought.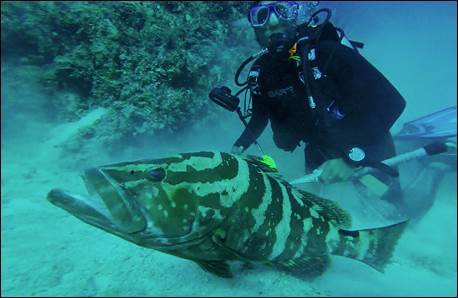 Bahamian PhD candidate and collaborator Krista Sherman from the University of Exeter releases a tagged Nassau Grouper back onto the reef.
Photo credit: Shedd Aquarium/Kristine Stump
REAL LIFE. REAL NEWS. REAL VOICES.
Help us tell more of the stories that matter from voices that too often remain unheard.