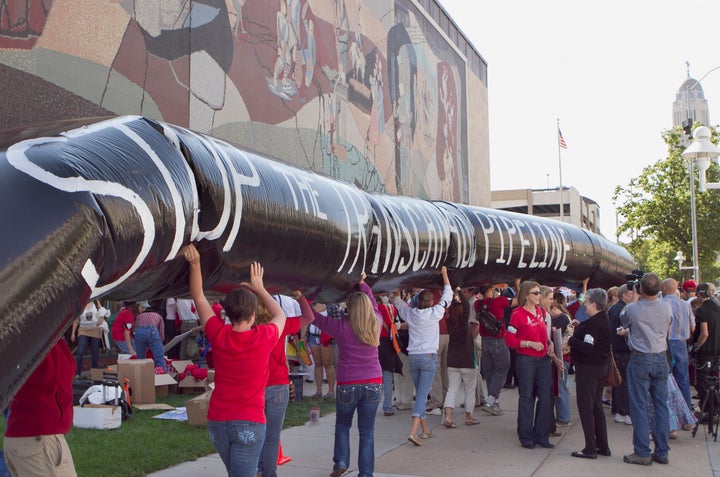 WASHINGTON -- Environmental groups filed suit against the Obama administration on Wednesday, alleging that U.S. federal officials illegally allowed work on the Keystone XL oil pipeline to begin before the proposed project had been approved.
The Center for Biological Diversity, Friends of the Earth and the Western Nebraska Resources Council sued the State Department and the U.S. Fish and Wildlife Service on Wednesday for violating the National Environmental Policy Act by allegedly allowing construction of the pipeline to begin in Nebraska.
"It's outrageous that TransCanada is already clearing the way for the Keystone XL pipeline before the public has had a chance to have its say and, indeed, before federal agencies have even said it can be built," said Noah Greenwald, endangered species program director at the Center for Biological Diversity, in a statement. "It looks like the fix is in on this dangerous project, and the sham public process is nothing more than an afterthought."
The lawsuit marks the most recent development in a larger fight over the construction of the controversial pipeline, which would carry crude oil from Alberta's tar sands roughly 1,700 miles -- across the Ogallala Aquifer and Sandhills of Nebraska -- to oil refineries along the Texas Gulf Cost.
The State Department, which has purview over any infrastructure projects that cross an American border, completed its final environmental assessment in August, and is currently sponsoring a round of public hearings in states along the proposed route of the oil pipeline. The last hearing will take place in Washington, D.C. on Oct. 7.
"Quietly, the State Department and Fish and Wildlife Service have allowed TransCanada to mow a pipeline corridor through about 100 miles of native prairie grasslands in Nebraska's Sandhills and to remove endangered species living in the corridor," wrote the groups in the Wednesday statement.
When asked by HuffPost whether the State Department could be held accountable for TransCanada beginning work on the pipeline, Greenwald said government officials had given at least "passive" consent.
TransCanada long ago issued orders for pipeline and other equipment -- rolling the dice in anticipation of approval. Some of that material has already been delivered, and preliminary work is already being done at the Hardisty Terminal in Alberta.
The State Department did not immediately respond to a request for comment.
A final decision from the Obama administration on whether to approve the Keystone XL oil pipeline is expected before the end of the year.
Popular in the Community