It's Sunday morning and I'm huffing and puffing up the Grouse Grind a 2.9-kilometer climb on Grouse Mountain near Vancouver. I'm trying to see how fast I can climb because it's my last day in Canada and I can recover on the long plane ride home.
It's easy to see why the Vancouver Canucks climb the Grind as part of their training routine. While less than two miles long, the Grind gains 2,800 feet in elevation with 2,830 stone boulders and wooden steps, making it as grueling as slogging up Mt. Rainier, just shorter. The Grind record is 24:22 for men and 31:04 for women, though the average person takes from one and a half to two hours to reach its 3,700-foot summit. I'm determined to do it in less than 60 minutes, and this shouldn't be a problem because I've been doing a lot of running since I arrived in Canada a week ago and took the Rocky Mountaineer to Whistler.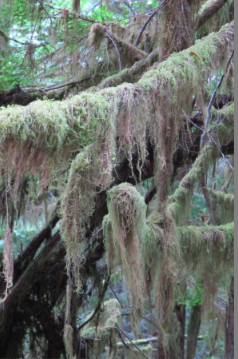 Mossy Forest, B.C.
The Rocky Mountaineer parallels the Sea to Sky Highway, passing through forests of fir trees with mossy branches dripping like boa feathers and snaking parallel to the river and waterfalls of Cheakamus Canyon. As soon as the train arrived in Whistler on Monday, I rolled my suitcase one block to Nita Lake Lodge and changed for my one-on-one trail running session with Innovative Fitness Coach Mark Coates. We ran past Whistler's Olympic Village to a fragrant rolling pine forest trail which was so silent that our footsteps on the spongy earth sounded noisy.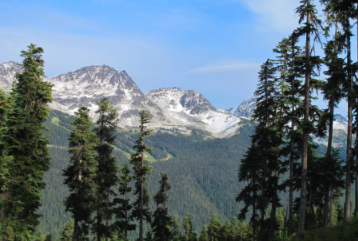 The evening before, I sabered a champagne bottle and had a mouth-watering meal at Bearfoot Bistro. Sitting at dinner, I thought about my activities for the next day. I would not be tearing down the mountain bike park swathed in padding like a football player. Maybe I'd try the skeleton run at the Sliding Center or go rock climbing or go ziplining or bungee jumping, or maybe another run or a long hike -- so many decisions to make.
"Passing on your left." A man wearing shorts and a T-shirt barrels past me up the Grind -- surprising because no one seems terribly competitive in Vancouver, not even when they're running or biking along the Seawall, my new favorite place to work out. They also didn't seem competitive in Tofino, where I went on Wednesday, right after Whistler.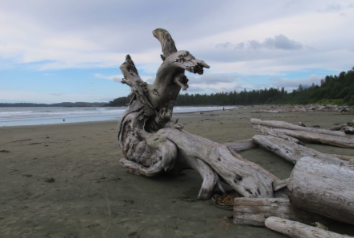 Chesterman Beach, Tofino
Tofino is considered the best surfing town in North America, but I didn't come to hang ten. I came to run the secluded beaches, hike the moss-draped rainforest trails and eat delicious seafood fresh off the boat.
And then there were the unexpected things such as when I was returning from the hot springs on an aquatic safari and suddenly some orcas popped up in the water. And then there was the day I was sitting on my ocean-facing terrace at the Wickinninish Inn when a giant storm rolled in and I had a front row seat.
"Is it much farther?" asks a teen-aged girl sitting off to the side of the Grouse Grind trail. She has taken off her sneakers and is rubbing her feet. I shrug. I have no idea. "Do you think I should go back down?" she asks.
"I think you're probably half way. Do you have water?" I ask. She nods. "Drink it, you'll feel better." I take a swig of my own water bottle, knowing nothing will make me feel better except summiting. It's around 60 degrees but my clothes are soaked in sweat. The endless wooden steps looks like a stairway to Hell. "It might be easier for you to go down rather than up," I offer. She looks relieved.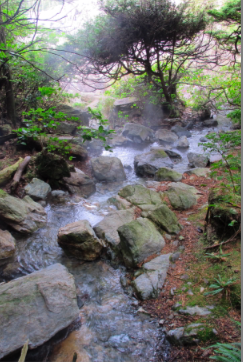 Hot Springs, Tofino
I look down the mountain. A woman with blond hair, my same build and around my same age is coming up the trail. Her gait is steady, her steps determined. No way am I letting her pass me. I start out again, faster. Last summer, a guy shaved three full minutes off the existing Grind's record. Just thinking about that makes me push harder, but she's gaining on me. I gasp for air and force myself to move faster even though my legs feel as stiff as the surrounding tree trunks.

I come to a switchback and sneak a peak down at her. Good, she's still a ways behind, but the steps are now granite boulders and they're so far apart I have to claw with my hands to propel me forward. Finally, there are no more trees ahead. Yahoo! I haul myself over the last rock, catch my breath and gulp the last of my water as she arrives and smiles.
"That was close," I say. "I almost thought you were going to catch me."
She looks puzzled. "Were we racing?"
"I'm from New York," I explain. "We're just competitive by nature."
Together, we walk towards the Gondola for the ride down. I make a stop in the gift store to buy a T-shirt which says, I Survived the Grind. But truthfully, it's not just lasting through the Grind. For me, all of British Columbia is a new frontier to conquer: the forest trails in Whistler, the beaches of Tofino, the Seawall of Vancouver and the incomparable food everywhere.
Everywhere I go, I pack as much into each short trip as I can and do it all at top speed. Someday I'd love to be able to come back to this westernmost part of Canada with the time and luxury to do every single trail and adventure, including those I've just done once more; then I will have really earned a T-shirt which will say: Lucky Me -B.C.