LOS ANGELES -- Nobody can accuse Rick Caruso of being a Scrooge.
The Grove, his Los Angeles shopping center, has been preparing for Christmas since before Halloween. On Oct. 28, a massive 105-foot tree was delivered to the grounds and installed at the center of the square to prepare for a Christmas lighting ceremony that would be held one week earlier than normal -- in mid-November.
"One thing our organization always says," Caruso Affiliated COO Paul Kurzawa told The Huffington Post, "is that we own Christmas."
"We're not bashful of the word -- we're celebrating Christmas," he said. "We're proud to celebrate the tradition of Christmas here."
And indeed they do. In a bid to become the "Rockefeller Center of the West Coast," the Grove staged a tree lighting ceremony on Sunday that was chock-full of holiday-friendly entertainment like the operatic acts Il Divo and Jackie Evancho, as well as pop stars Colbie Caillat, Robin Thicke, Sean Kingston and Gavin DeGraw, who all sang their own renditions of classic Christmas songs.
While the Rockefeller Center Christmas Tree tradition has about 70 years of history on the Grove's, Los Angeles seems to be making up for lost time with sheer size. This year's centerpiece is 105 feet tall, and it would tower over the 74-foot tree that was just installed in New York last Friday.
The tree and everything else at the Grove were all covered in Christmas lights, baubles and fir, and the evening was punctuated with bursts of fake snow, bubbles and a fireworks grand finale. The VIP seating section was filled with city officials, Citi Bank corporate sponsors and friends of the Caruso family like Maria Shriver, Katherine, Patrick and Christopher Schwarzenegger, and packed alongside were the more than 10,000 expected spectators waiting for a free show.
But the Grove's transformation into a top destination spot for Christmas doesn't come without growing pains. Shoppers and fans who were waiting for the 7:30 p.m. start time reported hours in wait times, as well as problems with accessing restroom facilities throughout the evening.
For L.A. natives LeVon Moon and her friend Gloria Dale, this was the first time they had been to the Grove for the tree lighting ceremony. The pair had been waiting since 3 p.m. in their spots, and Moon complained, "I have to go to the bathroom, but they won't let me!"
Dwayne Xavier was there to see Mario Lopez and Robin Thicke. For Xavier, who has lived in L.A. for twenty years, this was the first time he felt compelled to make it to the Grove for the tree lighting. "Each year, I did notice that it was growing," he said, and the press from last year's event made him want to come this time. He was excited for the show but still said he'd been waiting too long -- three hours to get a good spot.
Jenna Clay, a veteran who just finished five years of service with the United States Army, had been waiting since 4 p.m. for a good viewing spot to see Robin Thicke and Sean Kingston. She called the event "my own little present to myself for Veteran's Day weekend."
NBC4 has more on the space problems at the Grove:
For Angelenos who didn't get the chance to see the spectacle live, KCBS will broadcast the "Hollywood Christmas Celebration at the Grove" on Thanksgiving Day, Nov. 24 at 9 p.m. and across 160 stations nationwide throughout December.
After the event, Caruso left the red carpet area to shake hands with waiting bystanders. Now on its tenth year of tree lighting and fireworks, Caruso told The Huffington Post that the show is "really becoming a part of the community." "People in the neighborhoods around us are throwing parties and waiting for the fireworks," said Caruso. "And I love it."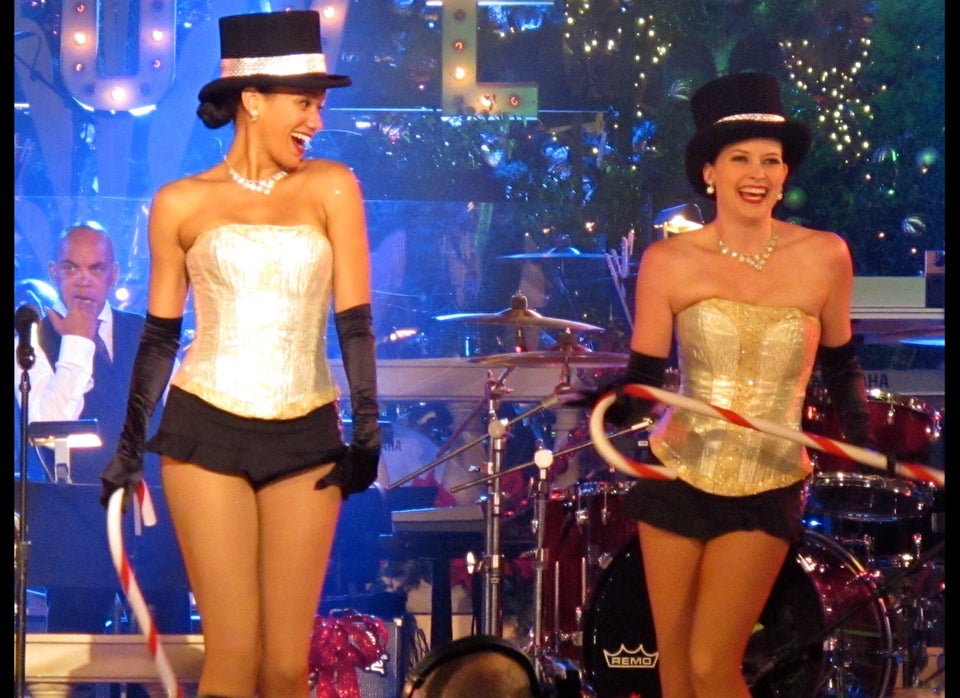 Grove Christmas Tree Lighting 2011
Popular in the Community