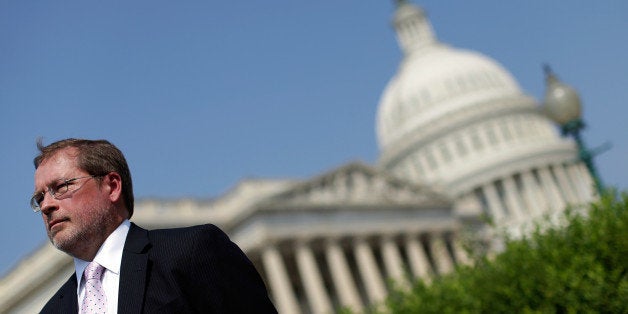 WASHINGTON -- Grover Norquist would like Republicans to shut up about how bad the economy is, and instead take credit for the recovery.
The prominent anti-tax crusader hasn't turned into a bullhorn for President Barack Obama's economic policies; he still thinks they're a drag on jobs and wages. But he's also grown critical of his fellow Republicans for making poor strategic and messaging decisions on several key issues. Rather than tying the economic recovery to spending cuts ushered in by the sequester and to the continuation of 85 percent of the Bush tax cuts, he said, some in the party have insisted their own leaders fumbled those items.
"There were outside voices advising Republicans on what to do. They missed both calls," Norquist said in an interview with The Huffington Post. "I object as much as some of the guys on the right who are never satisfied in the moment. I'm never satisfied over time. But they go, 'This was a disaster.' No it wasn't. We played our hand as well as you could and better than we had any reason to expect we would be able to."
Norquist, known for demanding fealty to his pledge never to raise taxes, has yet to move many Republicans on this specific debate. Few in the party have been willing to talk up good economic news, even if only to credit it to conservative-leaning legislation. The preference has instead been to bemoan the president for ignoring longterm deficits and debt, and for pushing "job-killing" regulations.
Norquist himself has dabbled in this rhetoric. He predicted that Obamacare would encourage companies to send jobs overseas (the worst of this is yet to come, he now says, pointing to delays in several of the law's penalties). And though he eventually praised the Bush tax cut deal crafted after the 2012 elections, his journey to that point was, well, difficult to follow. At one point, he floated the idea of a tax-cut showdown that would result in impeachment.
Because of this, Republicans have probably concluded that a pivot like the one Norquist now envisions may be simply too hard to execute. Still, he wants members to try.
"He gave us what we asked for on spending," Norquist said of the president. "Would we like more? Yes. Did we get more than we got under Bush? Yes. Because we broke the appropriators and Bush was never able to."
Norquist's case for why conservative philosophy is behind the economic recovery has its detractors on both political and substantive grounds.
"Deficit reduction in and of itself is not a conservative economic policy. Spending-cut-only deficit reduction is," said White House senior adviser Dan Pfeiffer during a taping last week for The Huffington Post's Drinking & Talking. Pfeiffer's comments came before Norquist made the case for Republicans to take ownership of the recovery, but they addressed the same general theory.

Meanwhile, in a post on Monday, Danny Vinik of The New Republic made the case that Norquist is conflating correlation and causation. While the economy has gained a better footing as spending as a share of GDP has dropped, that doesn't prove that Obama's spending -- whether on TARP, the bailouts or the stimulus -- was ineffective. Indeed, there is widespread agreement among economists that the stimulus stopped the economic bleeding and, subsequently, created jobs. Moreover, one of the reasons that the United States has lower government spending now is because of economic growth, not the other way around.
Longterm unemployment insurance is a good illustration of this. In 2010, Republicans started pushing to reduce the duration of this insurance, a routine and major part of the federal government's response to every recession since World War II. At the end of last year, Republican budget negotiators insisted that the longterm benefits die altogether, meaning people laid off by no fault of their own would have access only to six months or less in state benefits.
But Republicans were not very vocal about their position, deeming it politically unhelpful to seem callous toward the jobless. Meanwhile, if the cutoff hurt the economy, strong overall growth masked the damage. The first year without longterm unemployment insurance since the Great Recession saw the strongest job growth of Obama's presidency -- which, in turn, helped move even more people off of unemployment insurance.
Norquist, for his part, argued that the economy would be doing even better if spending had been cut even further. As evidence, he notes that Ronald Reagan, who experienced a severe recession during his stint in office, had a far better recovery than Obama. The latter, he said, is thrilled when there is a month with 300,000 jobs created. The former "had dozens of months like that."
Reagan had 19 such months, according to Department of Labor statistics. Obama has had five, one of which could still be revised. But the recessions were different and, it should be noted, Reagan was not exactly a paradigm of austerity. Congressional Budget Office data show federal spending as a percentage of the economy slightly above the historical average during the eight years of his presidency.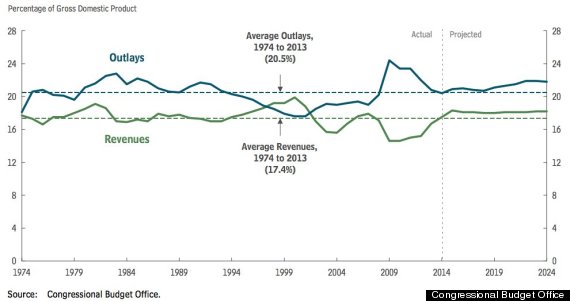 This CBO chart of federal spending as a percentage of gross domestic product shows the 1980s weren't the stingiest time.
Meanwhile, Bureau of Economic Analysis data shows that government spending rose in 13 out of the first 16 quarters of the Reagan's first term. It dropped in 10 out of the 16 quarters of Obama's first term.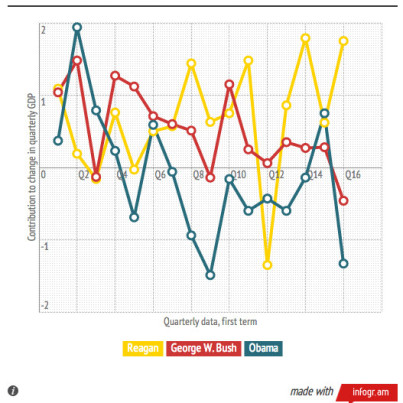 Still, the Reagan mythology on government spending cuts persists, which may explain why Norquist and the Obama White House are now locking horns over who is to credit for the current recovery.
"Because the economy did well under Reagan, even though some of the work was done before Reagan got there, we believed in this country for a long time that it was less government and less taxes is good for economic growth," said Pfeiffer. "And we have been battling that conception and Democrats were forced to play on that field for a very long time. We want to change the field."
Before You Go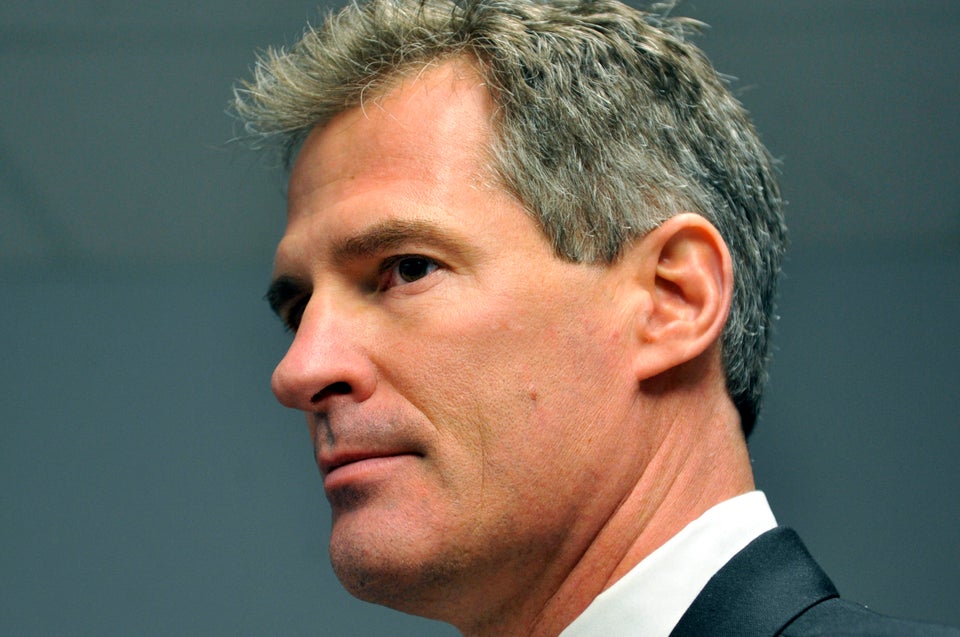 Scott Brown
Popular in the Community