 Americans For Tax Reform head Grover Norquist targeted GOP Senate candidate Eric Hovde on Monday, suggesting that the Wisconsin Senate hopeful can't be trusted to vote against Democrats' efforts to raise taxes if elected.
"Without the written commitment to oppose higher taxes, it only seems logical that Hovde's plans are to join with Democrats to implement dangerous tax reform that includes higher taxes on everyone," Norquist said in a statement. "Wisconsin voters should be aware both of Hovde's rhetoric on higher taxes and his refusal to commit to Wisconsin taxpayers that he won't raise their taxes."
Of the four candidates vying for Wisconsin's Republican nomination for Senate, Hovde is the only one who has not signed Norquist's anti-tax pledge and has chosen instead to produce and sign his own independent tax pledge, according to the Milwaukee Journal Sentinel.
Hovde faces former Rep. Mark Neumann, State Assembly Speaker Jeff Fitzgerald and former Gov. Tommy Thompson in the GOP primary. The winner will challenge Congresswoman Tammy Baldwin for the seat now held by retiring Democrat Herb Kohl.
10 more election stories from beyond the presidential field:
Rep. Connie Mack Is Overwhelming Favorite In Florida GOP Senate Primary[The Miami Herald]
Hoekstra Doubts Tea Party Surge In Mich. Senate Race[Michigan Live]
Sen. Kyl Condemns Controversial Anti-Ben Quayle Campaign Mailer[AZ Central]
ND Senate Candidate Heidi Heitkamp Touts Support For Veterans' Benefits[The Hill]
Eric Cantor Holds Fundraiser As Social Security Dominates In Indiana Congressional Race[WISH Indianapolis]
Missouri GOP Senate Race Comes Down To The Wire[Roll Call]
Maine Senate Race Flooded With Negative Ads, Independent King Targeted [WCSH Portland]
Before You Go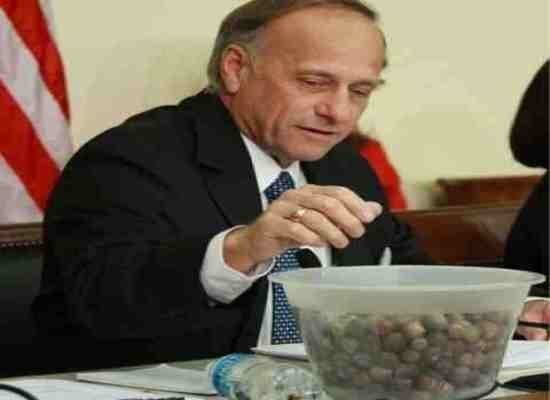 More Crazy Examples of Congressional Theatrics
Popular in the Community