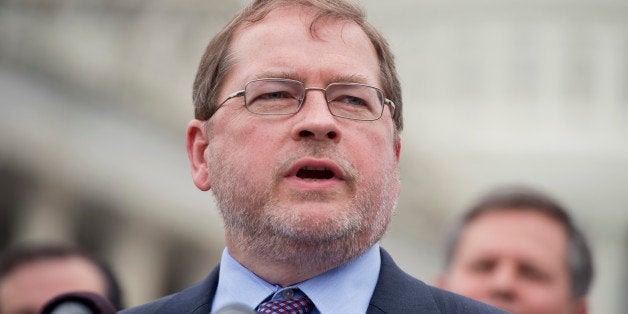 (Grover G. Norquist and Patrick Gleason are Reuters contributors. The opinions expressed are their own.)
By Grover G. Norquist and Patrick Gleason
Sept 5 (Reuters) - For Republicans to win control of the Senate next year, top officials in both parties say, all paths to a majority have to go through Alaska and Louisiana. In addition to being crucial in determining Senate control, the Democratic incumbents in these two battleground states share the same political and policy vulnerabilities.
Louisiana Senator Mary Landrieu won reelection by 52 percent in the 2008 Democratic wave buoyed by President Barack Obama's victory. Alaska Senator Mark Begich, even with those same Obama coattails and an assist from Justice Department officials putting their thumbs on the scale in his favor, was barely able to knock off longtime Republican incumbent Ted Stevens - 47.7 percent to 46.5 percent.
Since these Democratic wins, however, Republicans in Louisiana and Alaska have completely taken over the state governments - legislature and governors' mansion. Today Democrats don't hold a single statewide post in Louisiana. They couldn't even find a credible contender to put up against Governor Bobby Jindal, who cruised to re-election without breaking a sweat in his 2011 landslide.
Given the positions that the Obama White House and national Democrats have staked out on issues important to Louisiana and Alaska, it's easy to see why Democratic statewide office holders have become an endangered species in these two key states.
Energy production is vital to both. Louisiana has more oil rigs off its coast than any other state, and is the third largest energy producer. Alaska is right behind it, the fourth largest oil producing state. Louisiana and Alaska also consume the second and third most energy per capita, respectively.
But Obama and congressional Democrats are now promoting policies that limit energy production - under which, as Obama put it, "electricity rates would necessarily sky-rocket." So it's understandable why Landrieu and Begich find themselves in a difficult and awkward position with their constituents.
Whether it's thwarting offshore energy production, holding up the Keystone XL pipeline despite bipartisan support, or the runaway Environmental Protection Agency waging a regulatory assault on the energy industry, the policies championed by the White House and national Democrats undermine the economies of Louisiana and Alaska.
Teams Landrieu and Begich argue that they can help their states because, as Democrats, they have a better working relationship with the Obama White House and can easily mitigate any harm that the administration's policies would inflict. But it hasn't worked out that way.
In fact, even when Begich and Landrieu had the most leverage with the White House - when their votes were needed to pass Obamacare in 2010 - they couldn't get anything meaningful for their states in exchange.
Begich definitely did not. He couldn't deliver on drilling in the Arctic National Wildlife Refuge or strike a deal to fix the Kafkaesque EPA permitting process that is holding up so many projects crucial to the Alaskan economy.
As for Landrieu, all she was able to do was negotiate bonus Medicaid funding for her state that no other state received. Critics referred to this backroom deal as the Louisiana Purchase - and what it really did for her state was increase the rate at which Medicaid goes belly up. It was also partially repealed by House Republicans after they took the majority in November 2010 - and this reversal was signed by Obama.
Obamacare is the other political Achilles heel shared by Begich and Landrieu, who clearly thought when they voted for the law that it would grow more popular. That hasn't been the case, though. After passing this legislative monstrosity on a single-party vote, the public reception is still far from warm.
A recent statewide poll in Louisiana found that 62 percent of residents have an unfavorable view of Obamacare. This is far more than nationally, where 52 percent of Americans have an unfavorable view of Obamacare, compared to 41 percent who view it favorably, according to the most recent Rasmussen poll. A Gallup poll released last week found that a plurality of those surveyed, 44 percent, think Obamacare will make the healthcare situation in the United States worse, compared to just 35 percent who think it will improve care.
This unpopularity is not surprising, given that the law imposes 20 new or higher taxes - at least seven of which directly hit families making less than $250,000 per year. Senator Max Baucus (D-Mont.), chairman of the Senate Finance Committee, described its implementation as "a train wreck."
Even the White House has acknowledged that the law isn't ready for prime time. Obama made a decision, announced in a Treasury Department blog entry posted during the July 4 congressional recess, to delay the employer mandate - a key portion of the law that he holds up as his signature legislative achievement.
Landrieu and Begich are also facing credible GOP challengers. These are not candidates like a Todd Akin or Christine O'Donnell.
In Alaska, Republican Lieutenant Governor Mead Treadwell is running for Begich's seat. Now a state official, Treadwell was a successful entrepreneur in the private sector. He is responsible for bringing the technology behind the Google Street View camera to market.
A strong conservative - who is a better political match for his state - Treadwell is also an expert on issues unique to Alaska. He served as head of the Arctic Research Commission under both Presidents George W. Bush and Obama.
In Louisiana, Representative Bill Cassidy is running against Landrieu. He is a physician who started a clinic for the uninsured and developed numerous public health programs. This makes him particularly well-suited to explain to Louisiana voters how Obamacare could adversely affect the healthcare system and the overall economy.
Unlike so many Senate races during the last two election cycles, Republicans, with Treadwell and Cassidy as their nominees, would be going into must-win races with experienced, strong candidates who can raise the amount of money it will take to knock off to two well-funded incumbents.
With "Duck Dynasty," "Ice Road Truckers," and a host of others, it seems as though nine out of 10 reality shows now on television are filmed in either Alaska or Louisiana. However, the biggest drama coming out these two states next year will be the high-stakes campaigns that could decide which party controls the Senate. (Grover G. Norquist and Patrick Gleason)
REAL LIFE. REAL NEWS. REAL VOICES.
Help us tell more of the stories that matter from voices that too often remain unheard.
BEFORE YOU GO
PHOTO GALLERY
United States Governors