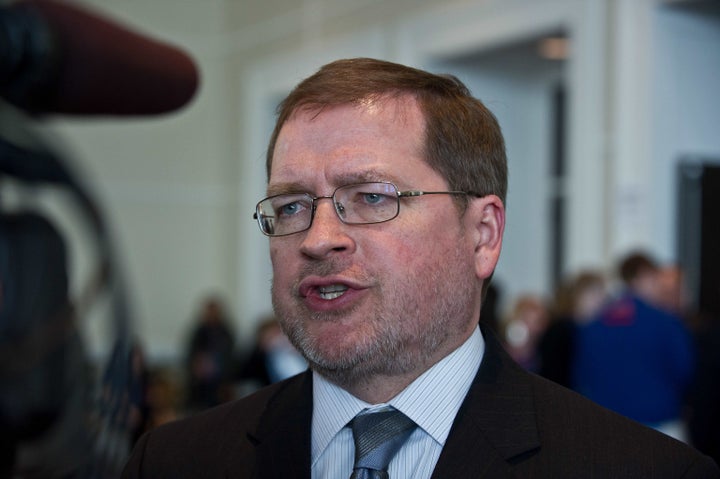 Why on earth did Americans For Tax Reform's Grover Norquist take No. 14 seed Valparaiso to the Final Four in his NCAA Bracket? Because of taxes, natch.
Over on the Americans For Tax Reform Pinterest page, which is a thing that is happening in contemporary America, Norquist explains how he derived his Final Four picks for the 2013 NCAA Men's College Basketball tournament. To his credit, Norquist's bracket probably involved goodly more research than yours or mine did:
Hey, taxpayers, I chose my winners based on the lowest top marginal income tax rate in each team's home state. In case of a tie, I went with the RIGHT TO WORK state. Good luck with your brackets.
Fealty to this system forces Norquist to make a range of odd picks -- Liberty over Louisville, Florida Gulf Coast University over Georgetown -- so I simultaneously hope he didn't wager too much money on this bracket and wish I'd had the presence of mind to invite him to the one I may or may not be participating in, depending on how you view the legality of NCAA bracket pools. (I consider them to be an experiment in outcomes modeling, based on rigorous statistical analysis and the fact that I have a Masters Degree from Virginia Commonwealth University.)
A map of the tax rates Norquist was working with is here. As you can see, Indiana (where Valparaiso is located) has lower marginal tax rates than Michigan, where Valpo's first round opponent -- the Michigan State Spartans -- resides. From there, Valpo prevails over Memphis (Tennessee), Cincinnati (Ohio), and Colorado State (it's in Colorado, sorry to be so pedantic), before finally falling in the semifinals to Gonzaga, whose home state of Washington has no state income tax.
Florida, which also has no state income tax, provides the other side of Norquist's bracket -- the University of Florida and the University of Miami. Interestingly enough, Norquist's technique yields a championship between Gonzaga and Miami that is well within the range of plausibility, though everyone essentially believes Gonzaga is a paper tiger and a weak No. 1 seed.
Unfortunately, Valpo was the very first team to lose today, falling to the Spartans 65-54 in a game that wasn't as close as that score suggests. Yeah, Michigan's top marginal tax rate is 4.35 percent, as compared to Indiana's 3.4 percent, but that's close enough to warrant giving Michigan State coach Tom Izzo a special dispensation.
Calling all HuffPost superfans!
Sign up for membership to become a founding member and help shape HuffPost's next chapter
BEFORE YOU GO
PHOTO GALLERY
GOP Lawmakers Run Away From Grover