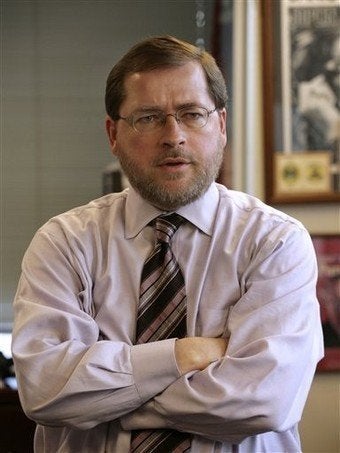 One of the leading conservative figures in Washington D.C. said on Monday that he supports Attorney General Eric Holder's decision to open an investigation into the use of torture by the Bush administration.
"I think it's a good idea," said Grover Norquist, president of Americans for Tax Reform, during a guest-host appearance on MSNBC.
Norquist immediately became the most high-profile conservative voice to express his approval for the Obama Justice Department's preliminary probe. And while his position was unexpected - prompting a double take from co-host Carlos Watson - his reasoning was equally surprising: He said he wants the precedent to launch post-presidential investigations into the Obama administration.
"Holder is making a decision that one administration should go back and second-guess another administration. Yes, it's political but he is also opening the door to what will happen after Holder and Obama's legacy here," he said. "I think that someday when we have a different Justice Department, people need to go back and look at how all of this money in the stimulus package was paid. And who it went to. What about all of those secret meetings that were never transparent about who was going to get what?"
"The Bush administration started their administration foolishly, not seriously looking into the cash for pardons challenge that the Clinton administration had," Norquist added. "They were wrong to decide not to do that and I think that the next Republican administration will follow Holder's path rather than the Bush path of the past."
Norquist is correct that the Bush administration declined to look into the pardons Clinton issued during the end of his presidency. But congressional Republicans, expressing indignation over the matter, did hold hearings into the pardon scandal, while the U.S. attorney's office in New York initiated an investigation. Republicans in Congress also investigated allegations that Clinton aides had trashed the Oval Office and Air Force One shortly before leaving the White House.