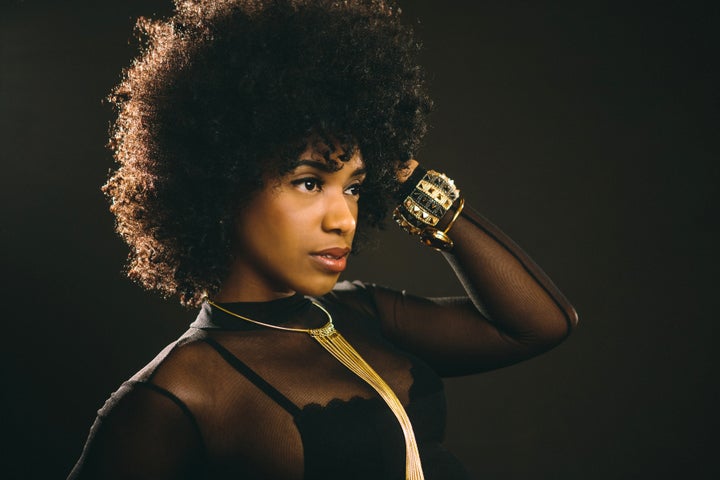 If you know me, you may remember that three years ago I attempted to go natural. My hair had grown halfway down my back and I couldn't believe that it was as full, thick, and shiny as it was. Things were going really well until I let the world get to me. I looked at the trends and noticed how I was approached 10 times more when my hair was straightened. So in an attempt to go with "the accepted norm" I relaxed my hair again. Right after I washed the chemical out I was completely traumatized. I immediately got in my bed and cried myself to sleep.
After that day I decided to let my natural hair grow back one more time. About three months ago, I sat on the floor of my room in front of a huge mirror and cut off my long chemically treated hair ― all of it. Afterward, I sat there and stared at myself not sure if I should freak out or cry (again, because I was going through things don't judge me guys). My hair was completely uneven, short, and so different from what I was used to. I couldn't even put it in a bun, and I live for a good bun! I ran my fingers through it, massaged my scalp, and realized that what I was feeling was so much healthier and softer than what I was used to. Suddenly, a wave of peace hit me.
They say that when a woman cuts her hair she is getting ready for a change...I would have to agree. Oddly enough, around that same time I had hit a few growth walls. I was talking to God every day (sometimes every minute) and I would ask Him, "What now, Lord?" I felt lonely, both of my sisters were in another state; I had just ended a relationship; and this made me spend some real time getting to know myself by myself.
As my hair grows back, simultaneously, I feel as though my life is on the verge of blossoming. I know that everything I have ever wanted is right beyond this dark valley. Each day I reminded myself that God sees our growing pains! He knows what we have cut off to be the best we can be and fulfill His purpose. It is so beautiful reconnecting with yourself and not caring what other people want or expect from you.
Comments that no longer mean a thing to me:
"I like you with long hair."

"We love it, but I'm not sure if pageant judges will understand that."

"If you want a man to notice you straighten it, they won't talk to you if it looks like that." (The opinion of an older woman)
Comments that reinforce how amazing I feel:
"You look so sophisticated!"-My Boss

"Sam, your curls are poppin!"- My Sister

"I like this on you, it's so brazen." - A really nice guy who took me on a date

"You look like Angela Davis." -My Dad

"It's just hair, Samira, cut it off, it will grow right back...no big deal" -My Mom
Now, please understand! I am not saying all of this to bash any woman who may love her straight hair. Just because I have embraced my curls doesn't mean you won't catch me rocking my extensions or straightening my natural hair. Being a woman of color is beautiful, because I can always switch it up! You never know what I will do to my hair on any given day, it really just depends on how I may be feeling that week. I mean, I love Chaka Khan hair, but I also love Beyonce hair, I'm allowed to like both. 
Now for all of the people who have uplifted me through this journey, where do I begin?
I have to thank my dear pageant friend Delesia Watson for inspiring me to be a carefree black girl and embrace my curls for real this time. I saw you compete last year with your fro and cried when you held hands with the current Miss Virginia USA in the Top 2. You gave me my push, you really are an amazing woman.
Thank you to my mother, my strong, beautiful, and vivacious southern belle for never allowing big hair to go out of style in my house. 
Thank you Mylah and Nandi, the coolest sisters in the world, for going natural before I did and supporting me as I change. I know I am the oldest but you two inspire me every day to be a better woman.
Thank you Diana, the sweetest and most supportive coworker I have ever had. Stepping into the office with a fro for the first time scared me, especially working on Capitol Hill. As soon as you said "Ooooh! I like this Samira" I stood up a little straighter, you rock girl!
Kea, you were the first photographer to look at me and think that I had something amazing to share in a photo. Years ago you took my first official pageant headshot when I had no idea what I was doing. I will never forget how hard I laughed when I texted you "can you shoot me with my natural hair?" and you replied "hell yea!". Love you, thank you for believing in me. 
Finally, Thank you, Lord, for growth in every area of my life. You never leave me, and you constantly support me in my good and bad times. I am the woman I want to be right here and now.
This post is part of HuffPost's My Natural Hair Journey blog series. Embracing one's natural hair — especially after years of heavily styling it — can be a truly liberating and exciting experience. It's more than just a "trend." It's a way of life. If you have a story you'd like to share, please email us atMyNaturalHairJourney@huffingtonpost.com.
REAL LIFE. REAL NEWS. REAL VOICES.
Help us tell more of the stories that matter from voices that too often remain unheard.