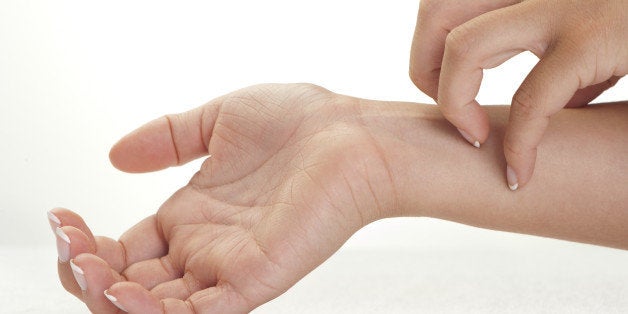 Researchers examined eczema symptoms experienced by 7,157 children who were enrolled in the study between ages 2 and 17; the average age of eczema onset for these children was 1.7 years. They were followed for up to five years by the researchers, answering surveys every six months (which were usually completed by a parent).
At every age examined in the study, almost all the children -- more than 80 percent -- experienced symptoms of eczema, or were using eczema medication.
Researchers also looked to see if the participants experienced any relief in eczema symptoms at all throughout the study. They found that a majority of them -- 64 percent -- never had a six-month period where they were symptom-free without needing medication. And it wasn't until age 20 that researchers found that half of the patients were able to go six months being symptom-free without medication.
"In our PEER cohort, during the second decade of life most enrollees were very likely to have had at least one period when their skin was clear while not requiring medications," the researchers wrote in the JAMA Dermatology study. "However, this finding did not persist and should not be confused with a 'permanent' remission in that at most ages the majority of enrollees had symptoms and were using medications."
The findings go against what was previously thought about "growing out" of eczema -- before, it was believed that 50 to 70 percent children with eczema would have their condition resolve by age 12.
"Interestingly, the persistence of AD symptoms noted in our study is consistent with findings in recent investigations that have shown that in the United States the yearly prevalence of AD or eczema in childhood and adulthood does not differ dramatically, as would be expected if few with childhood AD continue to have AD in adulthood," they wrote in the study.