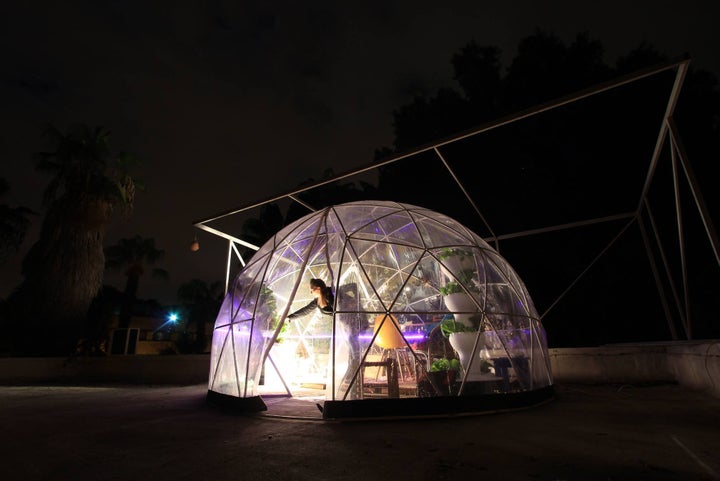 My house has loads of space, so finding a place to grow my indoor hydroponic garden would be no big deal. But when I saw an image of the Garden Igloo, a geodesic dome plastic tent, my heart jumped. This is it: the perfect modern conservatory for my roof.
I've been working on building a technology called Eddy. It's a grow robot that uses artificial intelligence to make hydroponics accessible to anyone. It will also grow food (and cannabis on Mars). Hydroponics is growing plants without soil, on a treated medium based on water. It's something super easy to do once you have some of the chemistry and science down pat. That's what Eddy is going to help you with.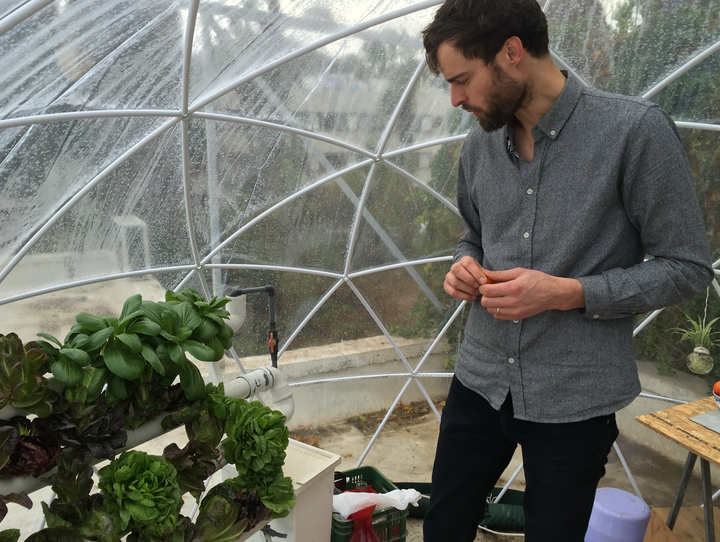 Since I live in the Middle East, I have the luxury of being able to grow year-round outdoors, as long as I had a greenhouse. Greenhouses that I found online were clunky and expensive. They looked like garbage and they would not pass my husband's aesthetics test. Any of the decent ones would cost me a fortune to buy or ship to Israel. (That's me below in an image taken by Bloomberg)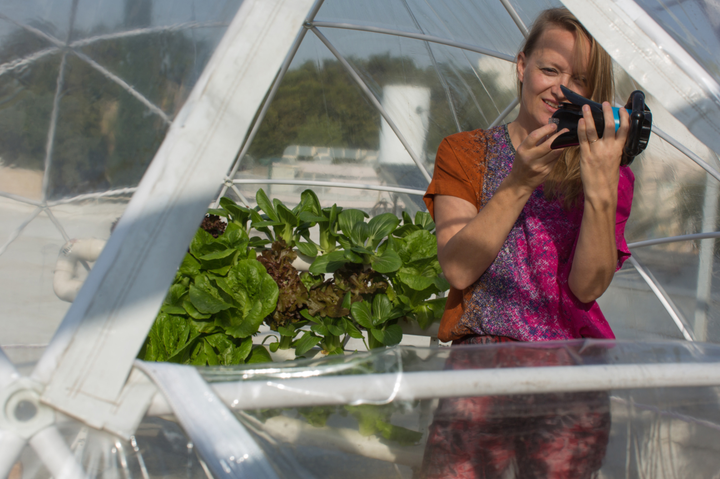 An admirer of Buckminster Fuller and all the proponents of round rooms –- Hassan Fathy and Nader Khalili who pioneered Super Adobe, I knew that I wanted my space to feel organic and comfortable. I investigated building my own Buckminster geodesic dome using bamboo poles and netting. After much investigation, people on the street told me that I would basically need a hippy to help set it up, "because only hippies understand the geometry and how to do it," according to one sound guy who was helping us renovate our music hall.
When I saw the Garden Igloo online, I knew I had to have one: Two small windows zip open to let you control temperature and humidity. A nice touch is that it doesn't cost thousands and is in the price range for most Americans who own a home or who rent an apartment in an urban area like New York City.
Great for global nomads. Grows with you, wherever you roam. Nails not needed
If you live in an area that doesn't get colder than -4F ( or -20C), you can use it year long but you will need to remove plastic cover and replace it with a shading bug net around now as the weather heats up. Amazingly sturdy sandbags secure my Garden Igloo to my rooftop where winds from the Mediterranean Sea can be intense in winter. Perfect because I can't nail a thing to my roof.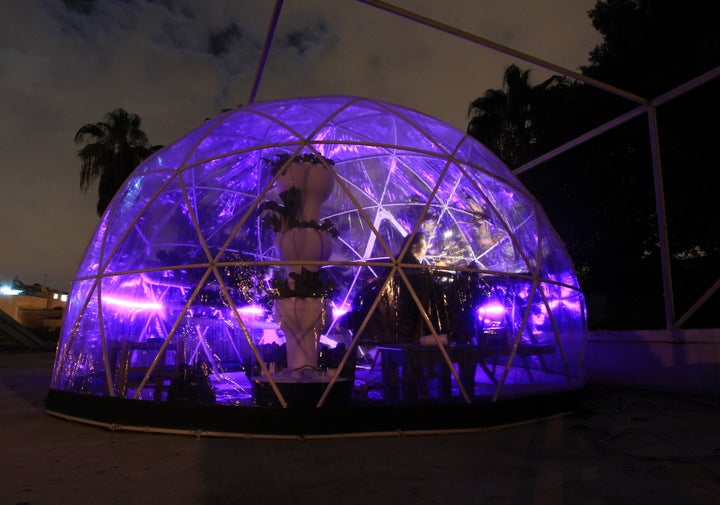 Once you have plants in your Garden Igloo (I have two hydroponic systems in mine), add some touches to make it feel like home. I added some LED lights for growing, as well as a desk, some stools and a chair, small wicker couch I found on the side of the road, some cushions, my favorite books and a reading lamp.
When people enter my roof garden something feels good and right to them, like when you visit a straw-bale home for the first time. The round interior embraces you, and protects you while letting your outside environment in. You can be in a noisy city like I am, and still feel protected.
The effects become more pronounced at night. With some basic lighting (not necessarily needed for growing, but for your comfort), you can create an awesome looking space that will impress your friends and dinner dates!
Since I wanted to use mine primarily for growing plants (I am growing bok choy, lettuce, all kinds of herbs for tea and spice) I needed lots of space on the ground for my hydroponic systems. With the help of my father I flashed back to Grade 7 Geometry class and figured out the circumference of my dome on the ground and built and then hoisted a demi-platform up to the roof. The wooden platform, made from chipboard, was assembled in pieces inside the doe and gives an even and protected raised floor from the rain.
When set up, the Garden Igloo looks like a high-tech biodome from Mars. In fact, I am using it as such as we build out experiments for highly controlled food production suited to space travel, space stations and Mars (join me at Mars Farm), but in reality the structure itself is made from plastic poles and a strong PVC-like shower curtain material. No doubt there has been years of thought and engineering into the product, as the pieces fit together perfectly despite being of different lengths. The instructions are color-coded and harmonize to any language.
Note to all the girls and women and men out there who shy away from big box assembly: while it does take some wheels turning in your mind, the Garden Igloo is easily assembled by hand. I used no tools except a rubber hammer to help me secure some hard-to-push joints. I used a chair to reach higher spots later on as the tent expanded. The Garden Igloo was 100% assembled by me alone in about 6 hours, a project I enjoyed every single step of the way.
And the story has a Middle East twist... the Garden Igloo story began in a small studio in Istanbul. For two years, Cagla Isin Alemdar worked meticulously and experimented with different materials, colours and designs for the Garden Igloo. Her plan was to create a convertible greenhouse which could be used all year round and which also looked good. The geodesic dome for optimal temperature distribution is one result of this period of experimentation.
For the retail price of about $900 everyone in suburbia and cities should be growing their food – and where laws permit in the US – cannabis this way. The dome is really perfect for hydroponics. And it is exactly what the industry has been missing with all the over-priced and extremely inefficient one-plant grow box appliances (YAIGUs) coming on the market - some for $3000 a pop. The Garden Igloo is an antidote to this way of thinking, helping us expand our food and medicine possibilities, and ultimately ourselves.
Related
Popular in the Community