The U.S. National Masters Swimming Championships are underway in Mesa, Arizona, and this is an emotional moment for 55-year-old Dr. Susan Helmrich. As she climbs onto the starting blocks, Susan looks every bit like the world-class athlete that she is. She's fit, trim and filled with determination. Only a few of the thousands of spectators know that Susan is missing most of one lung, her gall bladder, her entire reproductive system, her duodenum, half of her pancreas, part of her stomach, her bile duct and her lymph nodes. Most of her digestive tract and everything from her liver has been rerouted. As she cheerfully notes, "Literally I have many, many missing body parts -- and here I am."
The journey to get here has been nothing short of amazing. Susan has battled and beaten three very serious cancers. They are battles that began decades ago with one of the darkest chapters in U.S. drug history.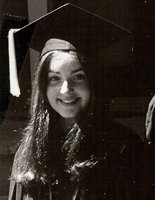 In the late '70s, Susan was captain of the Syracuse University women's swimming team and unaware of the DES (diethylstilbestrol) time bomb that was about to go off. Shortly after graduating, Susan was diagnosed with a rare vaginal cancer -- a hallmark of DES exposure in the womb. DES was the first synthetic form of estrogen and thought to prevent miscarriages. The FDA approved DES without controlled studies and it was prescribed to 10 million women worldwide, including Susan's mother.
By the mid-'50s, research revealed that DES not only didn't work but was potentially highly toxic and carcinogenic. But it was a big moneymaker for more than 275 U.S. drug companies and it wasn't until 1971 when the New England Journal of Medicine published a study confirming a link between DES and cancer that it was removed from the market. The wonder drug had become a nightmare that would haunt families for generations.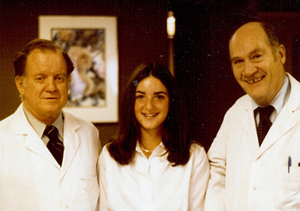 Two million DES daughters were just beginning to experience its devastating legacy, including 21-year-old Susan Helmrich. In a 10½ hour operation, doctors removed Susan's vagina, uterus and lymph nodes -- reconstructing her vagina with her colon, a process requiring multiple major surgeries over the next three years.
An important part of Susan's recovery was swimming. As soon as she was able to, she was back in the pool, swimming one very painful lap at a time -- stroke-by-stroke battling to regain her strength.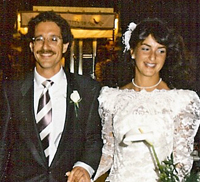 Cancer free for two decades, Susan earned her Masters from Harvard University and her Ph.D. in epidemiology from University of California, Berkley. She became an advocate for other DES Daughters, got married, had two beautiful children through surrogacy and continued to swim.
But in 1999 doctors diagnosed Susan with lung cancer -- even though she had never smoked a single cigarette. Doctors removed nearly her entire left lung and once again she got back into the pool in an effort to recapture her life.
Ten years later, in 2009, doctors diagnosed Susan with a rare form of pancreatic cancer. On the day of her surgery, she got up early to take one final swim with her daughter and husband.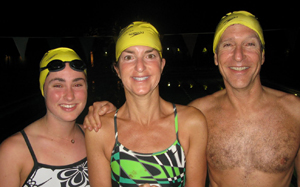 Later that day, doctors removed part of her bowel, part of her stomach, her gall bladder, half of her pancreas, her bile duct, lymph nodes and rewired her digestive tract.
"You can't imagine that your body can function without all of these body parts," she says. "A duodenum? Before it was taken out I thought you needed a duodenum. Why do you have it? You don't need it. A gall bladder? I have half of my pancreas. You can live without all of these organs. It's kind of astonishing."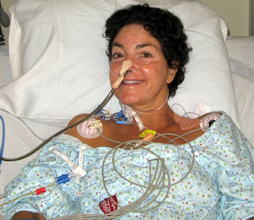 Susan spent 23 days in the hospital unable to eat anything. Her post-surgery routine included sessions with ancient Tibetan singing bowls, acupuncture, massage, foot reflexology, along with Jin Shin Jutsu treatments to balance energy flow. And she had a single goal in mind. "My goal when I was in the hospital was to swim in the next nationals that I could be ready for."
A few weeks after surgery, Susan was back in the pool -- and it didn't go well. "I swam two laps and I thought, 'I'll never swim again.' I swam two laps and burst into tears. My husband was with me and he reminded me that it was worse when I had my lung removed."
And so she kept swimming; kept dreaming of her return to the national championships. "I remember this surgery saying, 'I can't wait to wake up each morning because I feel better every day.' And that's what swimming taught me. If you keep at it you get better every day."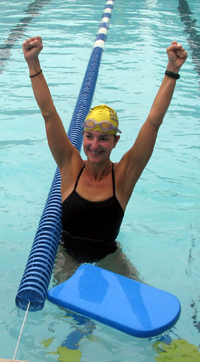 Susan is back and better than ever, finishing 2nd in the national championships in the grueling 1650 and 3rd in the 500. Eager to share her unique experience and knowledge, she's reinvented herself as one of the nation's top health and wellness coaches and is a tireless advocate, fundraiser and event director for Swim Across America. "It's an amazing organization because it combined swimming events with raising money for cancer research."
While Susan acknowledges the importance of a positive attitude, she bristles at the suggestion that a positive attitude alone can beat cancer. "There is a lot of luck involved with cancer. I could have easily been one of the ones that didn't make it. And I have a lot of friends and wonderful positive people who have not made it. Beyond the cells and the tumors that you just can't do anything about, I think having a positive attitude really helps. And I have never not one day I when I've been depressed. I'm just not a depressed person. I've been sad and I've been mad and I've been pissed that I have had to deal with this so many times but I've never been depressed."
Susan has overcome one of the darkest chapters in U.S. drug history. She's done it with the support of her family and friends and her not-so-secret weapon, the one thing she credits above all else for her amazing comebacks -- swimming.
All photos are courtesy Susan Helmrich.
Video of Susan Helmrich at U.S. Masters Swimming National Championships
Note to HuffPost readers: There's a revolution underway, and it's good news for everybody of every age! It's never too late to achieve your dreams. It's never too late to give back to your community and leave a meaningful legacy. It's not about age. It's about attitude. Join the revolution. Watch "Growing Bolder" on PBS stations coast to coast and connect with me on Facebook, Linkedin and Twitter.
Related