Co-authored by Katie Smith Milway, writer on sustainable development.
Ghana's road to democracy has been paved by investments in pro-business policies and access to microcredit, which has helped to build a generation of business owners and broaden the middle class.
At a time when several African nations (Egypt, Libya and Tunisia, to name three) are struggling in the transition from dictatorship to democracy, they have much to learn by looking south to another African neighbor, Ghana.
Only two decades ago Ghana itself emerged from military dictatorship, and, to be sure, Ghana's early history reads like its Arab Spring counterparts: all four cast off colonial rule in the 1950s, followed by military entrenchment or military overthrow of civilian rule. Ghana had its first military coup in 1966, amid Cold War politics, then lurched back to civilian governance. Another coup, in 1972, entrenched a corrupt military dictatorship. The bloodiest chapter began in 1979, when Ghana's junior officers revolted against their superiors: Flight Lieutenant Jerry Rawlings, railing against corruption, took power with his confrères, and publicly executed senior military cadres. At first, he cleared the way for elected government, but re-seized power in 1981, turning his "housecleaning" on the wealthy and influential; a regime marked by murdered judges, public whippings, and businessmen fleeing abroad.
No surprise, the economy went into free-fall. Yet that's where the story starts to improve (other emerging democracies, take note). Faced with high inflation and falling exports, Ghana entered a phase of governance driven by economic reality and multilateral financiers. President Clinton's campaign slogan is apt: "It's the economy, stupid." With little choice but to follow the World Bank's agenda, Rawlings divested money-losing state companies, raised prices to cocoa producers and cut the civil service. By 1992, with foreign aid now flowing and pressure mounting from multilateral donors, Rawlings converted to a constitutional government, retired from the military, campaigned in a multiparty election and won the presidency. In the end, international pressure to amend economic policy paved the way back to elective government - if a skewed race.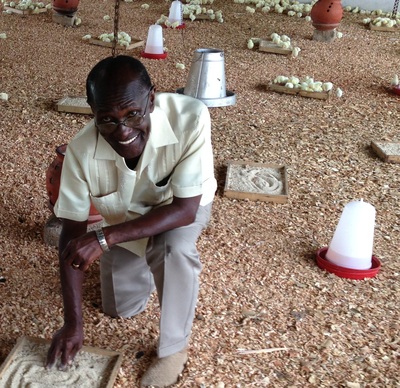 Caption: Poultry farmer Kwabena Darko helped build Ghana's microfinance sector
And international influence persisted from above and below. After the election, international non-profits began to build the grassroots economy joining forces with now-growing local businesses. Kwabena Darko, a commercial poultry farmer who survived the Rawlings years, and became a Ross Perot-like entry in the 1992 election, joined with global microfinance agency Opportunity International in a movement that ultimately empowered the broader electorate: giving the working poor access to capital. In 1994, Darko established nonprofit micro-lender Sinapi Aba Trust, with a $1.5 million grant from Opportunity International. The microfinance agency has since granted hundreds of thousands of small loans to "trust groups" of poor entrepreneurs who act as each other's collateral, and the institution has grown to 45 branches. Their repayment rate is north of 90 percent.
With the electorate economically empowered, the big step into real democracy came when Rawlings stood down in 2000, observing his constitution's two-term limit. Lawyer John Kufuor gained office on a pro-business platform. Reelected in 2004, his eight-year presidency pushed through reforms that included lowering taxes on cocoa farmers, opening up rural credit and building feeder and trunk roads to connect markets, structural investments that helped entrepreneurs large and small. He named microfinance pioneer Darko to the Board of the Bank of Ghana, who championed credit for farmers and agribusiness and helped three of the Sinapi Aba branches convert to savings and loans (branded Opportunity International S&L) that honor the credit history of micro-entrepreneurs and let them step up to individual loans. During this time of economic intervention, both macro and micro, the country's currency stabilized and GDP quadrupled.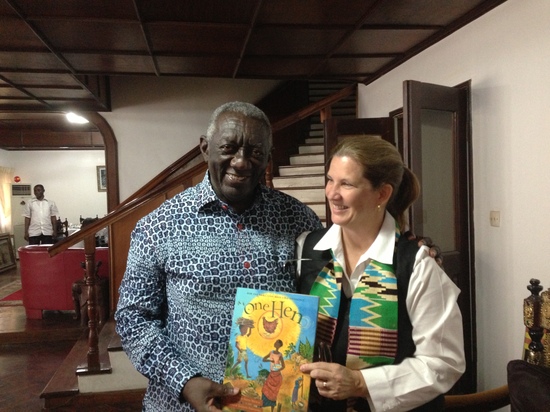 Caption: Ghanaian president John Kufuor (left) with author Katie Smith Milway holding her book, One Hen, which tells the story of Kwabena Darko's rise from petty trader to commercial poultry farmer.
Kufuor plowed gains into education and health reforms, and won $547 million in U.S. aid to build infrastructure -- schools, health clinics, electrification in remote areas -- as part of the Millennium Challenge, established under the Bush Administration. Investment in natural resource exploration uncovered new oil fields off of Ghana's coast in 2007, which by 2011 began generating revenue to fund further state investment. Ghana's rise from low- to middle-income in the past decade flowed from these free-market policies and civilian rule. Today, micro-lending institutions have grown to become a regulated industry, and yesterday's poor entrepreneurs are building today's middle class.
The clues are there: Democracy stands a chance when leaders in emerging economies can see their way to subordinating ethnic, religious and class differences and put the economy first. It stands a chance when investment builds infrastructure that gives the working poor access to capital and markets and when international financial aid -- from the micro to the macro -- comes only with policy change.
"My government pushed democracy but we wanted pragmatic economics," said Kufuor in a recent interview. "We built roads. We enriched the farmers, and the ripple effects were huge."
Katie Smith Milway, a partner with The Bridgespan Group, has worked in development programs across a dozen African nations. She authored best-seller One Hen: How One Small Loan Made a Big Difference, a story of microfinance in Ghana, and co-founded One Hen, Inc. a nonprofit that seeks to empower a generation of social entrepreneurs through hands-on business building opportunities in developed and developing nations.