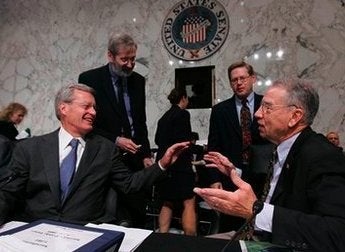 In a surprising vote Tuesday, ten Democrats voted to add a public option to the most conservative of the five health insurance reform bills working their way through Congress. That's just two votes short of passage.
This robust support for the public option -- in what most observers consider the most conservative committee in the Senate -- signals a sea change in Congressional opinion toward the public option. The odds are now very high that some form of public health insurance option will be included on the final bill when it emerges from a House-Senate Conference Committee later this fall and is ultimately passed by Congress.
The three bills that have passed House Committees, and the Senate Health Committee bill, all contain a public option. And increasingly it appears that the strongest form of public option will come out of the House.
In the midst of the right-wing, town hall onslaught last August, the pundits -- public option opponents -- all but declared a public option dead and buried. This narrative was amplified by the private insurance industry that doesn't want to compete against a not-for-profit public health insurance program focused on providing health insurance instead of maximizing the ever-ballooning profits of Wall Street investors and the salaries of CEOs that take home tens of millions.
The big private insurance companies don't want to change the status quo that has allowed a few big players to corner the market in most markets. An AMA survey, released in late January, gives a score gauging the concentration of the commercial market for 314 metropolitan statistical areas. The report showed 94% had commercial markets that were "highly concentrated" by standards set by the Federal Trade Commission and Justice Department.
A Robert Woods Johnson Report indicates that over the last ten years wages have gone up 29%, health insurance rates have gone up 120% and the profits of the private health insurance industry have gone up 428%. No wonder they don't want competition.
So why the resurgent Congressional support for a strong public option? There are three reasons:
1) First and foremost, voters' support for a public health insurance option is as strong as ever. All of the right-wing talk about a "government takeover" has not fooled voters who are forced every day to deal with the stranglehold that the private insurance industry has on their health care.
Last weekend's New York Times poll showed that 65% of all voters support giving Americans the choice of a public option and only 26% oppose it.
More importantly, the public option is also popular in swing Congressional districts. The firm of Anzeloni Liszt just released the results of a poll it conducted in 91 Blue Dog, Rural Caucus and Frontline districts. The poll found that 54% of the voters in these battleground districts support the choice of a public option.
And the poll also found that the voters in these districts want reform and want it this year. The polling report says:
Overall, 58% of voters believe the health care system is in need of major reform or a complete overhaul, and almost 59% are concerned that Congress will not take action on health care reform this year. The risks of inaction to Democrats in swing districts increases if voters perceive opposition stems from ties to the insurance industry, as 74% are concerned that the health insurance industry will have too much influence over reform.
Those kinds of polling results get the attention of Members of Congress.
2) Members of Congress have begun to realize that they will have to live with the consequences of what they pass for years to come. And what the voters will care about in the future will not be slogans or ideology. Once the program is passed, the voters will care most about one thing: affordability.
All of the health insurance reform bills contain mandates that every American buy health insurance or pay a fine. All the bills allow relief for hardship cases, but most people -- or their companies -- will have to buy health insurance.
Members of Congress are beginning to realize that if they are requiring the voters to buy insurance, it has to be affordable. The public option is an extremely powerful tool to assure affordability.
First, its presence in the market place will drive down the prices of premiums for private insurance. That, of course, is why the private insurance companies hate it. Insurance companies aren't seriously worried they will be forced out of business. They just don't want to cut their prices and profits.
Second, the Congressional Budget Office has found that it will save the Government huge amounts in subsidy monies that it would otherwise have to pay to make more expensive for-profit plans affordable. The most robust version of the public option saves over $100 billion over ten years.
If you don't have a public option, Congress' only choice is either to cut subsidies that are the major means of providing affordability -- or they must raise more revenues. Given the massive need for affordability, and reluctance of many to raise taxes, the public option is looking better and better to many swing Democrats.
3) Finally, they have begun to realize that the public option helps protect them from potential political harm when they vote to support a health insurance mandate. Anzeloni and Liszt make clear in their polling report that in swing districts:
It's wrong to think about the public option in isolation from other elements of reform. Forcing an individual mandate without a public option is a clear political loser (34% Favor / 60% Oppose), and only becomes more palatable when a public option is offered in competition with the private sector (50% Favor / 46% Oppose)
Turns out that a public option provides a political inoculation against backlash to a mandate. That's because people have no stomach for being herded into the arms of private insurance industry like sheep to the slaughter. They want to know that if the government is going to require them to get health insurance, that it also provides the choice of a not-for-profit public plan -- that they are not left at the mercy of private insurance CEOs.
Here's the bottom line: the odds are better by the day that before the holidays President Obama will sign a health insurance reform bill that for the first time provides Americans universal health insurance coverage -- and includes the choice of a robust public option.
Robert Creamer is a longtime political organizer and strategist, and author of the recent book: Stand Up Straight: How Progressives Can Win, available on Amazon.com.
Popular in the Community