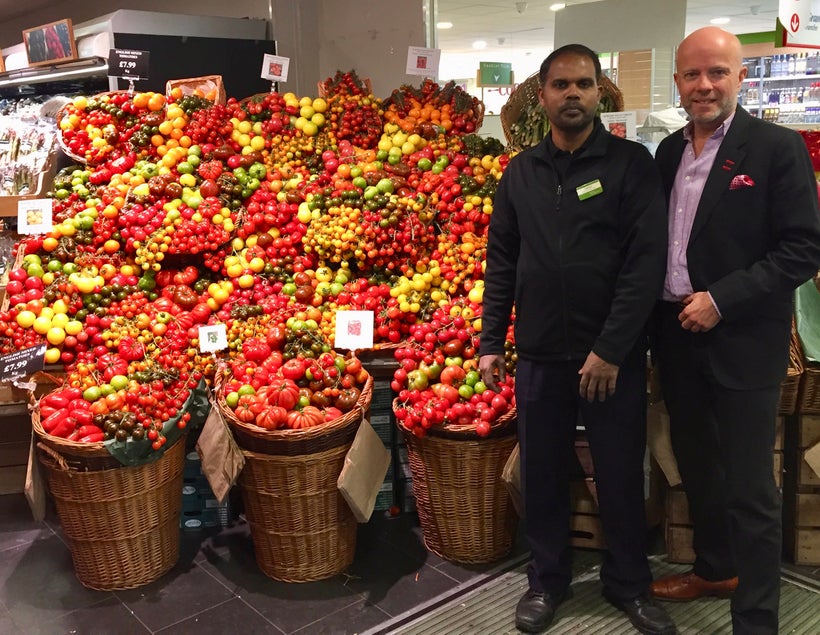 I have worked in businesses most of my life, since my first job at the corner shop in Dublin aged 13. Through my time at Mars and Ogilvy & Mater, and then founding and running three different businesses over 30 years, I love the buzz and energy of business. And that businesses can impact on so many people, both positively and negatively. The latter concern lead me to a mid-life crisis in 2005 when I was running a consultancy I had founded; I had enough of the short-term profit focus of most clients and felt there had to be a better way. So instead of the classic (male) mid-life crisis "I must buy a Porsche", I bought two supermarkets in North London!
Why – to see if I could run them differently, focusing beyond the well-being of the shareholder (in this case me!). It took 8 years to realise what I was doing, was running a business with a heart; and the desire to do this, and spread the word, gets me out of bed in the morning. And that my supermarket, Thornton's Budgens in Belsize Park, is the laboratory for figuring this out and proving it works.
My aim is to do business in a way that benefits everyone. I know deep in my heart that this will lead to positive bottom line results, yet I am realistic enough to understand that business leaders remain focused on profit, and that if "Heart in Business" is to take off, I need to prove it enhances the bottom line. So, I collected a group of people whom I had met on my personal development journey, formed Heart in Business Limited and set them loose on Thornton's Budgens!
We call what we created Human Potential Coaching. The principle is simple: we as humans are full of potential and we want to use it. Yet from an early age, we start to shut down as parents, teachers and then employers tell us how we should or should or not be. What we have done at Thornton's Budgens is to start to reverse this, helping people see their natural skills and giving them the confidence to use them. Let me give you an example. Seelan (pictured with me) runs our fruit and vegetable department. He's been working in the store for 15 years, runs his department very efficiently and does what he is told. Last summer, after his second coaching session, he started to build impressive English tomato displays, displays that get bigger and bigger as his confidence builds.
That summer, tomato sales grew +28% and overall department sales grew +8.2%. The British tomato season is with us again, and the other day Seelan told me he'd just ordered 140 cases of tomatoes – trust me, that's a lot of tomatoes!!!
And the great thing is, you can measure Human Potential. Last year I met the founders of Being at Full Potential who are on a very similar journey to me and have developed a measurement tool, the Human Potential Index. When we implemented this in our store, we found that we were using 8% more of our Human Potential as compared to a comparable nearby (control) store than had done no coaching; and our sales are 10% ahead of them - a direct and clear correlation between unleashing more Human Potential and the bottom line. Not only are our sales greater, our average length of service is 50% longer and our margin is up 1.5 points.
The other good news is that we're only using 64% of our Human Potential, so we have loads more upside. Using this data, our whole management team are currently focused on self-leadership.
To me this result is obvious: my team are flourishing, growing in confidence and happier – so of course that positive energy spills over into how well they do their job and how they interact with our customer – and hey presto, sales go up!
To close, let me ask you a question – what Human Potential percent do you think your organisation is using? And what do you think would happen if you could access 8% more of it?
Pioneers for Change is a seed-bed for innovative thought. An activator of personal potential. A catalyst for collective energy. A community to drive social change. Pioneers for Change is an initiative of Adessy Associates.
Adessy Associates believes social and business objectives are mutually reinforcing. We equip organisations with sustainability / social responsibility strategy, management and communications. We focus on benefit for people, planet and profit, with bespoke services that harness sustainability, innovation, consciousness and purpose. We are proudly B Corp certified.
Do you have a story of positive change or social impact to share? Contact us to discuss being featured on the blog.
About Andrew Isaac Thornton
Andrew Isaac Thornton is an entrepreneur, the founder of Thornton's Budgens and Heart in Business Limited.
His life purpose is to put the Heart back into Business and encourage the shift from an obsession with profit, towards a world where the focus in on 'growing people, growing business to full potential for a better society'.
Andrew was a founder director of social enterprises "The People's Supermarket" and "Food from the Sky". He lives in London with his partner and daughter, and has two grown up sons. Andrew grew up in Dublin and is a graduate of University College Dublin, doing both a B.Comm and an MBS.
Calling all HuffPost superfans!
Sign up for membership to become a founding member and help shape HuffPost's next chapter
This post was published on the now-closed HuffPost Contributor platform. Contributors control their own work and posted freely to our site. If you need to flag this entry as abusive,
send us an email
.