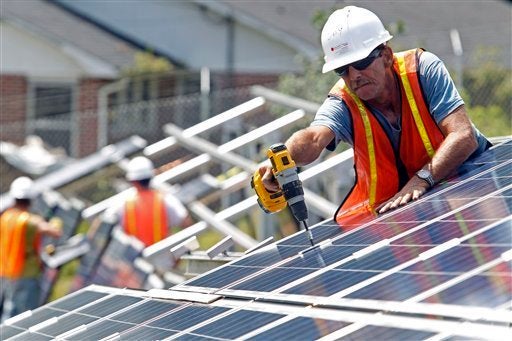 WASHINGTON -- Clean energy advocates have long looked to solar power as a way to break the country's dependence on foreign oil. However, the cost of obtaining the energy has so far outweighed the economic and environmental benefits. That may now be changing.
During the first six months of 2011, the installed cost -- combined hardware and installation costs -- of solar power dropped 11 percent. This comes after the installed cost fell 17 percent during 2010. The reduction in cost comes from an expanding industry, pushing down economies of scale.
Despite these promising price drops over the past 18 months, renewable energies such as solar continue to receive just one-tenth of the funding that nuclear energy did in its infancy.
An analysis done by DBL Investors, a group that backs clean energy ventures, reported that more than 1 percent of the federal budget went toward nuclear power for the 15 years following World War II. In that same time oil and gas received 0.5 percent of the federal budget. For comparison, all renewable energy sources combined have received around 0.1 percent of the federal budget.
"Our findings suggest that current renewable energy subsidies do not constitute an over-subsidized outlier when compared to the historical norm for emerging sources of energy," said the report.
However, advocates of solar energy say that the declining costs and potential benefits of solar energy mean it should receive more support, not less.
"The more solar we're seeing installed the more we're able to take advantage of other cost reductions," Cai Steiger, an energy analyst for the Natural Resources Defense Council, told HuffPost. "As you see more installed, the permitting process gets more efficient, local governments get more familiar with the process and that brings the price down also, so combining that you see all these solar price reductions."
Regarding Solyndra, Steiger noted that a lot has been accomplished with solar energy.
"It's just unfortunate that people are using this one project as political football," he added. "[They are] claiming things that aren't true, ignoring what has already been accomplished with solar and conflating the entire solar industry with this one company."
In a statement on Wednesday, Secretary of Energy Steven Chu defended the loan guarantees, saying, "If we want to be a player in the global clean energy race, we must continue to invest in innovative technologies that enable commercial-scale deployment of clean, renewable power like solar."
The push for solar energy also extends down to the state level.
This past Monday, during a visit to Aragon High School just outside of San Francisco, California State Superintendent Tom Torlakson touted the school's recently-installed solar panels and announced plans to modernize California's schools by urging legislators to put measure on the November 2012 ballot for the statewide sale of school bonds to raise $3 to $5 billion.
"We believe that all students deserve to have buildings -- school environments -- that are 21st century, not relics of the past," he said. "[Solar energy] creates jobs, saves money, protect the environment and creates tens of thousands of teachable moments."
Related
Popular in the Community