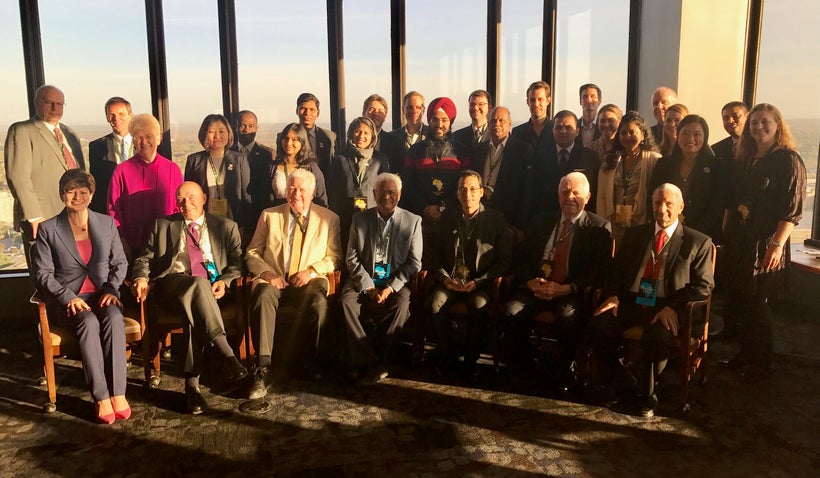 A few weeks ago, as I listened to the acceptance speech delivered by year's World Food Prize Laureate, Dr. Akinwumi Adesina, I was inspired on several levels. For one, it's amazing how much one person can accomplish by working tirelessly to help modernize and improve agriculture in Africa; the World Food Prize Foundation says that Dr. Adesina, president of the African Development Bank Group, has "led millions on the road out of poverty." If you haven't yet heard of him, I highly recommend taking a few minutes to learn about the man who is being called "Africa's Norman Borlaug."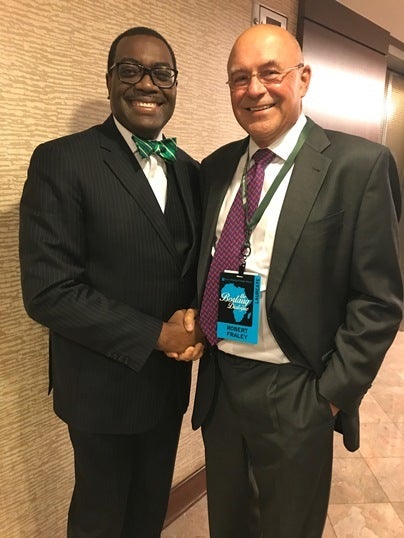 Dr. Adesina spoke of his commitment to "continuing Dr. Borlaug's legacy of taking agricultural technologies to the farmers," which is a goal I recently wrote about and strongly support. The other part of his message that stood out for me was the need to accelerate investments to get younger African commercial farmers and ag entrepreneurs into agriculture. "To succeed with its agriculture, Africa needs younger and educated people in the sector," he told the audience, as he donated his $250,000 World Food Prize award to provide fellowships and grants to young Africans dedicated to making a living through agriculture. "They will take agriculture as a business. They will make agriculture 'cool.'"
That's not a phrase you hear used very often, but I loved it! Because you know what? Agriculture is cool – it's just that most young people who haven't grown up on farms don't know it. Here in the U.S., where only 2% of the population are farmers or ranchers, pop culture tells us from a young age that farming is simple. Books, movies – even toddler songs like "Old MacDonald" – paint a picture of a "straw-hat-and-overalls" farmer with an old tractor and a red barn filled with a few animals. And it's completely wrong.
We should start teaching our kids to sing "Old MacDonald had a drone," because that's what you'll actually find on today's farms – along with sensors, self-driving tractors, and other digital tools that use algorithms and artificial intelligence to give farmers access to actionable data about every crop in every field. And there is a huge demand for the engineers, mathematicians and data scientists that develop this exciting new technology, in addition to the biologists, chemists and other scientists that develop better seeds and find new ways to protect crops from weeds, pests and diseases.
It's so important that we find better ways to help students understand that a career in agriculture can be just as "cool" as designing the next smartphone or video game app. And then, for those that do decide to pursue a career in ag, it's key that we (older generations) mentor them and provide them with fellowship and scholarship opportunities that help them grow and inspire them to dream big.
At Monsanto, we have established many scholarship and fellowship programs over the years – two of which I have been closely involved with. In 2009, we established the Monsanto Beachell-Borlaug International Scholarship (MBBIS) Program to cultivate highly educated breeders who will develop the next generation of improved rice and wheat varieties. These young scholars will continue the legacy of Dr. Norman Borlaug, who saved a billion people from starvation by breeding improved wheat, and Dr. Henry Beachell, who also saved millions by breeding better rice. In the first eight years of the MBBIS Program, 89 students from 30 countries were awarded fellowships – 37 in rice breeding and 52 in wheat breeding. That group includes 35 women, which I think is especially important, as the world needs more young women to pursue STEM-related (Science, Technology, Engineering, and Math) careers.
When I won the World Food Prize in 2013, that need is what motivated me to use my award to create a scholarship specifically for women in science. Since then, the Fraley-Borlaug Scholars in Plant Science scholarship has funded four female PhD students at my alma mater, the University of Illinois (U of I), who are studying plant breeding and biotechnology. I'd love to brag a little about each of them.
Laura Chatham, the first recipient of the Fraley-Borlaug scholarship in 2014, is blending her interests in medicine and plants as she wraps up her doctorate at U of I, focusing on research that identifies plant properties that could benefit humans in new and interesting ways. For example, she's investigating plant phytochemicals that could have cancer-fighting properties, and she's looking at whether corn pigmentation could offer alternatives to artificial dyes.
I'm very happy that two Fraley-Borlaug scholarship recipients have decided to bring their talents to Monsanto after completing their doctorates. Olutoyosi (Toyo) Ajayi-Oyetunde (2015) is a Plant Health Scientist who is currently helping us to develop integrated platforms that combine multiple modern agriculture solutions to help farmers grow more while using less. Toyo has nurtured a strong interest in agriculture since childhood, helping her family to grow beans, tomatoes and other food in the backyard garden of her home in Nigeria. Much like Dr. Adesina (who is also from Nigeria), Toyo said she is inspired by the potential of her work to help smallholder farmers in Africa – most of whom are women – to adopt and benefit from the improved seeds, crop protection and practices that modern agriculture enables.
Lillian Brzostowski (2016) is now a Product Assessment Scientist for Monsanto, helping us to identify new biotechnology traits that could help farmers to improve their soybean harvests. Lillian developed an interest in genetics in high school and was quickly drawn to plant science as she continued her studies at Kansas State University and U of I. She said she's always been inspired by helping others, and sees no better way to do that than to help ensure that families have ample, nutritious food options every day.
Our 2017 Fraley-Borlaug Scholar, Jessica Bubert, grew up on a farm and still farms about 1,000 acres in Illinois with her father. She is hard at work this fall preparing her dissertation and final work on her doctoral degree. She plans to focus her career in plant breeding on corn advancements. Jessica says that plant breeding provides her with the ideal combination of career qualities: plenty of hands-on field work as well as an opportunity to apply science to help farmers on a broader scale. I had the opportunity to catch up with Jessica when she joined me at the World Food Prize in October.
I'm proud of Jessica and each of these scholars – not only because of what they've accomplished with their research – but also because of their passionate drive to build and maintain food security and environmental sustainability for the next generation. These are the future leaders of agriculture, and we need to grow more of them – in the U.S., Africa, and all over the world!
Since National STEM Day falls on November 8, now is a great time to help share the importance of Science, Technology, Engineering and Mathematics skills to advance agriculture. But really, any time is the right time. There are a few links below where you can find helpful information about STEM careers and new technology being used in Modern Ag. Check out the sites – share them on social media – or share YOUR food/ag career story to help inspire others. As far as I'm concerned, there's nothing cooler than watching young people turn their STEM skills into a career that helps feed the world and protect the planet!
Calling all HuffPost superfans!
Sign up for membership to become a founding member and help shape HuffPost's next chapter
This post was published on the now-closed HuffPost Contributor platform. Contributors control their own work and posted freely to our site. If you need to flag this entry as abusive,
send us an email
.