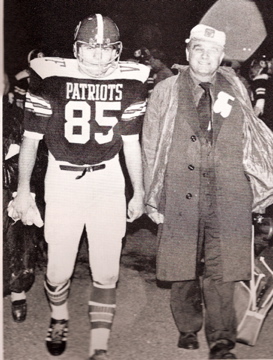 Before I even was eligible to became a US citizen I was a "Patriot." On the football team I wore the emblem on my helmet. The "Star Spangled Banner" served as an inspiration for the upcoming game and reminder of how fortunate I was to be an American after having arrived only a few years earlier with my parents as political refugees. Fellow students, families, and neighbors cheered me on the football field on Friday nights, but classmates elected me to the Student Council to help represent them, and to emphasize -- before I became a US citizen.
By now you might think this story is about my accomplishments. The credit though is to my fellow students and to the openness and inclusiveness of America, at least the culture and climate that had blossomed in the 1960's and 70's. My classmates saw beyond the differences and not only included me as friend but trusted me to be their Student Council voice. My name Muhamed provided an obvious pretext for exclusion, as well as an accent, (more British from being educated in an English school in Libya.) Think I was the only student of Bosnian or Muslim heritage while there were several others -- Croat, Macedonian, Serb, and Slovene backgrounds from the ex-Yugoslavia. The differences that at times had erupted into violence among the immigrant parents were not manifested in animosity among their children at school.
Valley Forge High School Patriots:
There was nothing particularly exceptional about the Cleveland suburb of Parma, Ohio. It was middle-class with white and blue collar jobs linked to manufacturing. (The Cuyahoga River had become so polluted it became the butt of jokes after it caught fire.) Largely the product of waves of Slavic immigrants, Parma was overwhelmingly white. The homes were modest and the apartment complexes even more so. We played football and other sports against other big Cleveland suburban schools, many of them with more wealthy demographics. But, our aptly named Valley Forge High School provided an education and encouragement that would serve as base for exceptional success of so many, and for me at least a deep respect for America's democratic traditions and a diversity that nurtured progress.    
It was our 40th Class Reunion - a time to reflect even as life still holds out new turns on a road well traveled. I wanted to be there to pay respect to so many who had been my fortune to call friend and classmate. (I had been there for our 10th Reunion but for the 20th I was in the middle of a war and for 30th in a prison.) My fellow students, teammates and sometime pranksters in collaboration had exceeded expectations, especially for a public school with modest means. Many have reached the pinnacle in careers in medicine, clinical research and technology. Others have carved out a place in entrepreneurship and business. Some have served their country in the military and law enforcement while others have found musical and artistic talent leading to lives of creativity. A large number returned to the classroom and school fields to nurture the next generation as teachers and coaches with a few instructors for the disabled, the underprivileged, and the newly arrived American - one reminded me how I was her first experience with a student to whom English was at least initially a second language.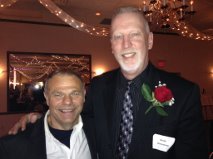 Early on, my classmates and friends had come to call me "mo." (It would lead to the nickname that President Bill Clinton and others would relate to me as "Ambassador Mo".) What surprised though is that after 40+ years so many took satisfaction in calling out to me "Muhamed Sacirbegovic" in almost perfect pronunciation of the Bosnian version of my full name. When I was at Valley Forge High, I never felt my Muslim or Bosnian identity to be in contrast to my adapting American identity or in conflict with the religion(s) or culture(s) of fellow students.
American diversity, pluralism and inclusion to me had a universal translation. As Bosnia & Herzegovina (BiH) began to transition from the old Communist Yugoslavia to a reestablished Euro-Atlantic democracy, the lessons of an inclusive Valley Forge would fashion my ideals of how the country would ride forward on its own history and tradition of multi-ethnicity and religious/cultural diversity. Some told me that I was naive to think that BiH could be like America. I must admit that the current health of BiH leaves some room for doubt as some press exclusionary visions from schools to politics. My experience with diversity, including with Croat and Serb classmates at Valley Forge, evidenced that the deciding factor was the environment not ethnicity. More importantly, so many young Bosnian Americans who came to the US since the war and genocide of the 1990's have shown that Bosnians make great Americans. Beyond the personal success of the "American Dream" in career, business and family, many have committed to public service in their adopted home, (including in the US Armed Forces.)  
America's Founding Fathers, Native Born & Immigrant:
Assimilation is a two-way street. Embracing America, I also devoted myself to being educated about its history, good and bad. My mentor was both my football coach and Civics/History teacher, Ken Konchan (who also has come to be well-respected as Holocaust educator/lecturer.) Ken and I have evolved to lean in different directions in today's political alignments, and we differ substantively on the legacy of Andrew Jackson. Nonetheless, Ken helped make the study of America's Revolutionary and Constitutional history an in and beyond class experience. There were school trips to Colonial Williamsburg. The novelty of presenting the Colonial Congress independence debates in the art of a musical: "1776," was also a class exercise.
America was born with the good fortune as the issue of diverse, brilliant, self-aware founding fathers. Flawed undoubtedly (from slave owners to perhaps egotists) but all understood that the new country needed as much protection from those who might betray its vales and freedoms from within as might assault it from beyond its borders. The ideals of the American Revolution had roots in Europe's Enlightenment philosophy. Some of our greatest Patriots were not born in America from Thomas Paine to Thaddeus Kosciuszko. However, perhaps the most important contribution was made by George Mason (who also mentored George Washington and Thomas Jefferson) who insured the separation of Church and State in the US Constitution and whose "Virginia Bill of Rights" served as foundation for the US Bill of Rights, the American Declaration of Independence, and the French Revolution's "Declaration of the Rights of Man & of the Citizen." One of America's modern ironies is how those who brand themselves as "Constitutionalists" want to reassert the control of organized religion in our political life. If the recent and current wars of Asia, Africa and Europe employing religious pretext is not enough, perhaps these self-serving, newly coined patriots should study America's own history. See: The Decadence of Persecuting Deviance
America is not free of mistakes, flaw or sin. However, even before I came to Valley Forge, I felt the welcoming breadth of this country in Oklahoma and a rural middle school (Scioto) in Ohio. After Valley Forge in the early 1970's, I traveled to New Orleans to play football for Tulane University and a newly integrated team where segregation had just been forced to abdicate its dominion. My disagreements with US Government policy are not infrequent, and I felt at times left alone to defend American values negotiating peace across the table from Washington's representatives. Patriotism is perhaps born in the heart but it is nurtured by an open mind exploiting the opportunities of a dynamic society, and the duty to disagree as well as obey when conscience demands. 
When I served on behalf of BiH, I willfully placed my life at risk to serve citizens targeted and a state under assault. I would do no less as an American on behalf of the US. As Bosnia's Ambassador, I also coherently perceived my efforts as promoting American values. Today, I see many of such values also helping shape the foundation of a "global citizen." Contrary to any contradictions, the American Patriotism and global citizenship are symbiotic. The threat to the US, as in most other countries, today is projected as coming from the outside, "the other." However, we have most to fear from those who would manipulate us to fear difference.
Let me thank my classmates, teachers, and Valley Forge for having educated me to be still that Patriot even as America and the globe around us changes.  
Some songs say it all but may have a different meaning to each individual. "I Am a Patriot" was written by "Little Steven" - Steven Van Zandt of Bruce Springsteen and the E-Street Band and "The Sopranos" fame. The New Jersey resident, inducted into Cleveland's Rock and Roll Hall of Fame in 2014, wrote and originally performed this song over three decades earlier when he warned of nationalism masquerading as the "new patriotism" and urged his American audience that it was our duty to question government. The Patriotism of 1776 also questioned authority dressed in divine rule and obedience. A great song, "I Am a Patriot" is not too frequently heard because its straightforward title is not a simple message of obedience and duty. Listen to the song and Steven Van Zandt's intro.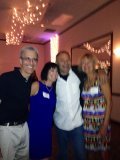 PHOTO ID - My father, Dr. Nedzib Sacirbey, & I greeted by Valley Forge High School fans at Beyer Parma Stadium, 1973.
PHOTO ID - Blake Avenmarg, then star basketball player, now teacher & coach
PHOTO ID - Dr. Chuck Biscotti, (with wife Janet) went from a skinny "free safety" on the football team attacking much bigger runners to an MD with the world renown Cleveland Clinic.
Calling all HuffPost superfans!
Sign up for membership to become a founding member and help shape HuffPost's next chapter