Steve Schwartz is a master tea blender and founder of Art of Tea. The 39-year old entrepreneur oversees a 25-employee business that sources and hand crafts the best organic and specialty teas for hotels, restaurants and cafés worldwide. His mission: to infuse origin with craft, and create a delicious experience.
This year marks the 10th anniversary of the company that has been providing tea to some of the most acclaimed restaurants in town including Pizzeria Mozza, Bestia, Sotto, Spago, and Hinoki & the Bird. In addition to his vast knowledge of the wellness profile of teas (stemmed from personal tragedy -- his mother's cancer), Steve is known for his passion for creating custom blends and tea programs, including a tea for the Getty Malibu Museum inspired by the aromas of the flowers and ocean air, and a tea for the launch of a Vera Wang perfume.
What kind of kid were you growing up?
Kind, curious, shy, imaginative, and athletic. I loved the outdoors and acting in theater. I was always curious about the deeper meaning in things.
What did you want to be? (profession)
A Rabbi.

Who were/are the major influences in your life?
I started living on my own at the early age of 14 when my parents went through an ugly divorce. I essentially went from riches to rags since they lost everything. It really pushed me to strive for a better life, as well as to maintain close relationships with my sister and brother. My kids are also a major influence for me - I'm driven by my desire to provide them with an opportunity to grow.
Tell me about Art of Tea and why you started the brand.
My mom was diagnosed with terminal cancer when I was 19. I had just started school on a full-scholarship, but moved back home to Santa Monica to take care of her for the 10 months before she passed. The whole time she was battling the disease, we were going from doctor to doctor to help heal her, and when she passed, I had this awakening. If cancer had been around for thousands of years, and Western medicine was only in practice for the past hundred years, what other options were there? I became fascinated with the principal of Eastern and Preventative medicine as an alternative to the Western medicine that failed to save my mom, and enrolled in the Ayurvedic Institute in New Mexico. It was during this time that my passion for the alchemy of blending, and combining herbs and botanicals to create unique wellness profiles that they wouldn't have on their own, was unearthed.
I saved up so I could travel the world to see firsthand how these herbs were grown - I met with farmers in Asia, India, Africa, and the Middle East, searching for the best possible teas and botanicals available. At the time, I had no plans to turn this curiosity into a tea business, but after settling back in Los Angeles, I began applying the knowledge and experimenting with blending different teas and botanicals in my living room. I caught the attention of a few local chefs, including Wolfgang Puck, then a hotel, and it just continued escalating from there. I had boxes piled up in my living room and was hand-delivering teas to restaurants, and it got to a point where it became clear that this was the path I wanted to pursue. I founded Art of Tea in 2004 and haven't looked back.
We pride ourselves on carrying the largest variety of organic teas in the world and consider it one of our key differentiators. In today's world it's important to eat as cleanly as possible, to know where your ingredients are coming from, and to feel confident that they are being produced in the most pure way possible.

What were the most challenging aspects of going into business?
It was challenging for me to find the right entrepreneurs to coach me on how to go about starting a business. There weren't a lot of people to lean on for support, so I basically turned my car into a university - I started listening to CD's on marketing, business strategy, management, etc., and saturated myself in that world to build the confidence to start Art of Tea.
With that in mind, I now strive to be a coach in my leadership role. I look for the best potential candidates and talent possible and help to coach and mentor them to be the best they can be.
Glen Levant (my Godfather and the founder of D.A.R.E.), Brad Grob, my wife and my kids. They keep me accountable and give me a purpose. My "why" becomes strong when I'm with them. I also volunteer for the Entrepreneurs' Organization, and I've learned a lot of valuable insights from my peers.
What qualities do you most admire in people?
Tenacity and Grace. The ability to get things done with a smile while executing without drama.
What skill do you wish you possessed?
To fly. And to make an espresso. I'm a tea guy and I have no idea how coffee works.

What has been your greatest work achievement?
Creating Art of Tea's core values. These have been our foundational building blocks as we look to hire, and work with new vendors, farmers, and new customers. Before we set our goals for the year we always review our core values and make sure they're still in-line with our direction.
How do you find balance in your life?
I drink our Sencha fukamushi with fresh squeezed whole lemon and turmeric in the morning followed by meditation and an intense exercise regime for one hour before sunrise. I figure if I can do the most challenging thing mentally physically and emotionally at the beginning of the day then the rest of my day becomes that much easier.
Where do you see yourself in 20 years?
Comment on:
Twitter, Facebook, Pinterest, or Instagram?
Love Instagram. You can get a behind-the-scenes snapshot of a brand and the artisans/craftsmen behind it.
Book or Kindle/Tablet?
Audio. Audible.com via my iPhone.
Favorite fictional character?
Word Girl. I watch the cartoon from time to time with my kids. She's super cool.
Best decade? Why?
Is now. I'm inspired by the entrepreneurial spirit in this current generation - their drive and ambition to go after their dreams is beautiful.

Kale Chips or Potato Crisps?
Kale, baby.
Snow or sea?
Sea - there's nothing like salt air to invigorate the senses. I like to drive down to the beach for sunrise on a Sunday and walk and hike the cliffs along the shore.
Mac or PC?
I would prefer to tap out of technology for the majority of the week, but when I do use the computer, I'm a Mac man

Where is home?
I live in LA. And love it.
What advice would you give to your younger self?
You have two ears and one mouth. You should use them in the same ratio.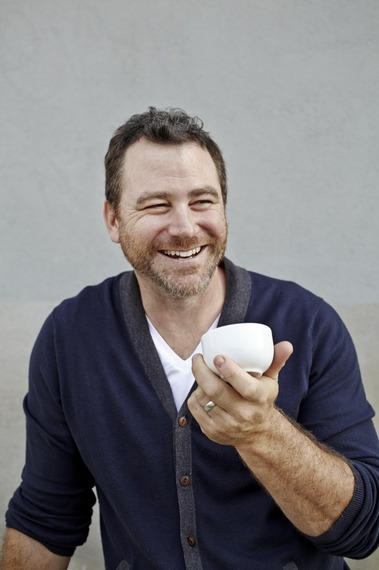 Support HuffPost
The Stakes Have Never Been Higher
Related
Popular in the Community