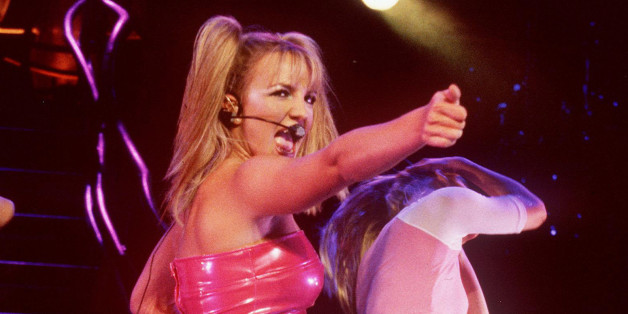 Britney Spears has been on my mind a lot recently. The Queen of Pop, Miss Britney Spears, is always on my mind but much more so now. I find myself lying in bed at night before I go to sleep thinking about what she's doing, why is she doing it, and how long will she be doing it. Her experience and strength gives me hope that I can one day be "Stronger." Perhaps it's because her debut album, ...Baby One More Time just celebrated 16 years in the music industry. It has me thinking where I was 16 years ago and how she has helped me carry on throughout my adolescence and young adult life.
...Baby One More Time debuted days before my 11th birthday when I was living in Conway, Arkansas. I was in fifth grade, short and overweight, and brimming with homosexuality. This was the same birthday that my sister gave me a calendar with pictures of women in bikini's. I can remember her pointing to the pictures and saying, "I got you this because we are getting worried about you." At that point, I threw the calendar down on the floor in the living room, rushed to my bedroom crying, slamming the door and blasting my new Britney Spears CD that I had bought earlier in the week. It was the birthday gift to myself that saved my life.
A year later, Britney would be coming to Little Rock on her Oops!...I Did It Again tour. I can remember begging my father to please let Britney Spears be my first concert. I still hadn't come out of the closet yet, but my family was well aware of my diva tendencies. I had plastered the poster from her second album on my wall, I had an affinity for satchel bags and wanted nothing more than to be in theater. This year, I confided in my other sister that it was important to me to see Britney Spears as my first concert. Deep down, she knew that her little brother just wanted to see his idol and she tried to explain to our father that Britney would be a perfectly acceptable concert for someone my age of any gender. Unfortunately, I did not get to see Britney but I did get to see *N Sync. I don't quite understand the thought process behind that one but when Lance Bass came out of the closet, all was forgiven.
I'll be turning 27 years old this week and I have yet to see Britney Spears in concert. But it has had me reflecting on how I have grown up with Britney. She's not some celebrity to be mocked or made fun of in social settings. I take Britney very seriously. She can do no wrong in my eyes and has been nothing but an inspiration to me throughout my endeavors.
She was there for me when my father and stepmother sent me to rehab for being too gay. I remember listening to her as one of my rehab friends played "Toxic" in the art room, simulating Britney pushing her cart down the airplane. That moment is forever ingrained in my memory. Her personal struggles before and after the ensuing years helped me as I readjusted back to school and into college. I didn't care if she shaved her head. I just wanted her to be okay and yes, just wished everyone would leave her alone. Her music got me through my first gay dance clubs living in Dallas, sashaying to "Piece of Me" and long car rides with friends listening to her album Blackout on repeat.
She was 27 years old when she came out with Circus and her life began to settle down. No longer was she notorious for her party days. I hope that that is what happens for me. The past will always be there, but she pushed forward and continues to do so despite her critics. At the end of the day, I'm sure she has come to believe that it's none of her business what others think of her. She's Britney Spears, who cares what the haters think.
As for when I will finally get to see her in concert, I don't know when that will happen. First, I need to "Work Bitch" but when I do, I will be dancing "Till The World Ends."
REAL LIFE. REAL NEWS. REAL VOICES.
Help us tell more of the stories that matter from voices that too often remain unheard.