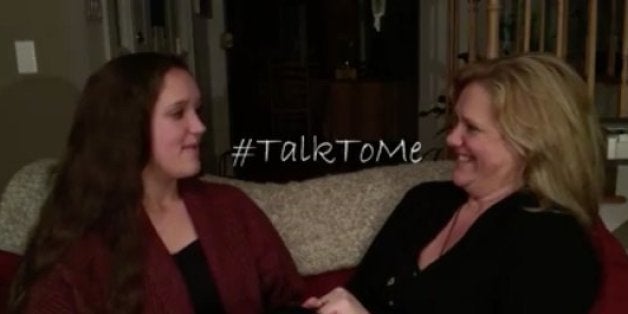 My daughter is beautiful, smart and almost sixteen. When she agreed to interview me for #TalkToMe for the HuffPost challenge on Facebook I was surprised. She is somewhat shy like a teenager (except of course when it comes to snapchat and her million followers.)
Her questions were about the things I learned as a teen that I could pass on to her. And how I found my passion. The thing that moved me was how much it mattered how I answered. Suddenly I was struck by the power my words carried, that my experiences had meaning, that as a woman, growing up as a girl, I had something important to pass down to my daughter.
Growing up I never thought about how my behaviors would affect another young woman thirty eight years later. It was the 70s. I drank, I did drugs, I skipped school, I was deeply unhappy. I never thought about how my actions would be viewed by a child of my own. I was honestly just trying to survive.
I didn't have the same childhood that she had. I had less advantages, I had fewer parents, I had more problems. And now, here I sat, barely a survivor of my own teenage years, passing on the only advice I knew: be strong. Be independent. Follow your passion. Don't try to be like anyone else. Lessons I didn't even know I had learned until I said them out loud.
Emma is her own amazing person. Last year she came home from summer camp (a luxury I never experienced) and told me that her girlfriends had been sitting around the campfire one night and, in fun, talked about what "Disney Princesses" they would be if they could choose a magical princess identity. I asked her which one she had picked, wondering if it was Cinderella. Emma has long dark hair, so I thought she might go for Snow White. She said,
"Mom, the only one I could think of was Rapunzel. She is the only Princess that has a choice of who she lets in her castle. She has total control of her own destiny."
I looked at her with awe and a deep respect.
"Plus, mom, she is the only Princess that doesn't get Roofied."
I laughed, kind of. I knew in that moment that my daughter had not only learned from me but surpassed me in many ways.
In the interview, after I passed on what little advice I could give her, she asked me one last question, to tell her what I love about her. It is, no doubt, the best moment for me. She is a joy to be around and as I watch her grow into the woman she is becoming I wonder, truly, how she got that way. And how I got so lucky.
I'm a blogger for the Huffington Post and was asked to participate in the #TalkToMe series to begin meaningful conversations between children and parents.Here I am with my daughter, Emma Piorkowski, who interviews me in the HuffPost challenge on Facebook Live. #TalkToMe

Posted by Tammy Nelson on Tuesday, April 5, 2016
Tammy Nelson, PhD is a therapist in private practice and the author of several books and the mother of several wonderful children.